If you ever doubt the power of nostalgia to inspire people to pluck down their hard-earned money and party down, you should check out one of these traveling package tours like the "
I Love the '90s
" show that stopped by Northern Quest Resort & Casino Thursday night.
A lineup of Young MC, Color Me Badd, Sir Mix-A-Lot, Salt-n-Pepa and Vanilla Ice nearly filled the newly reconfigured outdoor stage at Northern Quest, drawing fans of all ages (thanks to parents bringing their kids along) to pay between $40 and $80 for a few hours of fond memories, and performances that ranged from lackluster to highly entertaining.
The best part of these multi-act packages is that they're designed to be all-killer, no-filler, meaning the audience gets the hits and few (if any) new songs. That would explain why opener Young MC only did two songs (maybe three — it was hard to tell as I was stuck in the Will Call line when he started, more on that issue below), and "Bust a Move" was clearly the one the crowd knew. Good thing, since the not-so-Young MC had the audience "sing" roughly every other line.
The rest of the artists involved all had plenty of fans going totally apeshit at the sounds of, say, Color Me Badd's "I Wanna Sex You Up," or Salt-n-Pepa's "Push It." It seemed like there were a lot of birthday parties or bachelorette parties going on — either that or people have started wearing the exact same Vanilla Ice t-shirt in groups of 10 when they go out together.
Sir Mix-A-Lot was the clear highlight to me, the most assured performer. The Seattle native comes around these parts often, so he knows how to work a crowd with namedrops of Pig Out in the Park and towns like Cheney, or having Gonzaga and WSU fans alternately cheer to see who was louder. "I'm 100 percent Washington!" he hollered at one point. More important, though, is that the man knows how to work a stage and can still rap with the same rapid-fire cadences of his youth — something not everyone Thursday night could match (sorry, Color Me Gassed). Big bass, a bare-bones stage show that forced focus on Mix-A-Lot's lyrical skills and a monster hit like "Baby Got Back" made his half-hour or so on stage enjoyable from beginning to end.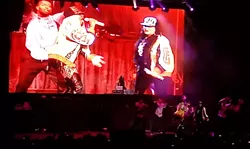 Salt-n-Pepa brought a lot of energy to the stage, as well as hot young male backup dancers to worship at the feet of the two rappers. Live drums certainly gave their sound some added oomph. They talked —
a lot
— to the audience as much as they sang/rapped, and as they told the crowd — repeatedly — they have 31 years in the game, so deserve all the adulation that comes their way as being survivors of a fickle field. DJ Spinderella was given plenty of love, and songs like "Shoop," "Let's Talk About Sex" and "Push It" all made appearances, albeit some in abbreviated form.
Vanilla Ice closed the show, but I bailed to beat the traffic and because he's Vanilla Ice. I'm no masochist.
A few things about the "new" outdoor stage at Northern Quest. It's definitely an impressive set-up, with a new seated area rising dramatically skyward opposite the stage. There's really not a bad seat in the place, and the large video screen in position for this show made the action on stage seem even closer — hopefully that's a full-time feature for the summer shows. Bathrooms, concessions and band merchandise is all underneath/behind this new grandstand, essentially in the same areas where they were before, but now on pavement instead of grass.
The new configuration added about 1,000 new seats to Northern Quest's summer stage. I'm not sure if that's the reason, but I somehow spent 40 minutes in line at Will Call when there were only maybe 20 to 30 people in line ahead of me when I arrived. I'm sure they'll figure out how to fix that, but be forewarned — if you have tickets to
an upcoming show
and have to pick them up at the Will Call booth, get there
way
early.