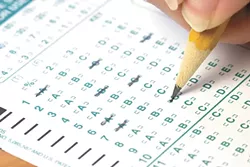 With thousands of high school seniors in jeopardy of not graduating because of one failed test, the state legislature has taken action to make sure those students get their diplomas.
Thursday, legislators announced they had come to an agreement on a bill that would allow high school students to graduate even if they failed an end-of-course biology test that was required for graduation. The full legislature is expected to pass the bill next week.
In a statement, Sen. Andy Billig (D-Spokane) praised the bipartisan bill.
"Our schools today perform at high standards and no one should become a dropout at the end of their senior year simply because they do not perform well on a single, make-or-break test," Billig said. "This bill offers a path to a better future for thousands of hard-working students in our state and I am glad lawmakers were able to come together and find common ground."
The Washington State Board of Education
asked the legislature to take action in May
, saying that the graduation status of 3,000 students was at risk because of the biology end-of-course exam. An English language arts test and a math test were the final obstacles to more than 1,000 more students each. The board wanted the legislature to eliminate the end-of-course biology exam because it impacted more students than the other two exams.
The agreement came as a result of a collaboration between representatives of the House and the Senate and Superintendent of Public Instruction Chris Reykdal. They agreed that the biology assessment would be delayed as a requirement until the graduating class of 2021. The English language arts and math exams are still required, but will have "additional opportunities to demonstrate proficiency," according to the news release. Those two tests will be taken by 10th graders, not 11th graders, starting in 2019.
Alissa Muller, spokeswoman for the board of education, says the bill meets three of the board's priorities: ending the biology test as a diploma requirement, expanding alternatives for math and Enghlish language arts, and strengthening the role of
High School and Beyond Plan
for graduation.
Even though most students are out of school already, the plan would apply retroactively to the class of 2017 once the full legislature votes on the bill next week.
Rep. Sharon Tomiko Santos (D-Seattle), chair of the House Education committee, said that the agreement lifts a "cloud of uncertainty" for the seniors.
"Linking high-stakes tests to graduation is a deeply flawed policy," she said. "The bipartisan agreement reached today supports each and every child by recognizing alternative pathways to earn a high school diploma that will allow them to take the next step toward realizing their college and career goals."
Drew MacEwen, R-Union, said the bill represents a "fair compromise."
"In the future," he said, "I hope we can avoid spending months working on long overdue fixes by thinking more critically beforehand about the policies we're implementing in our K-12 system."