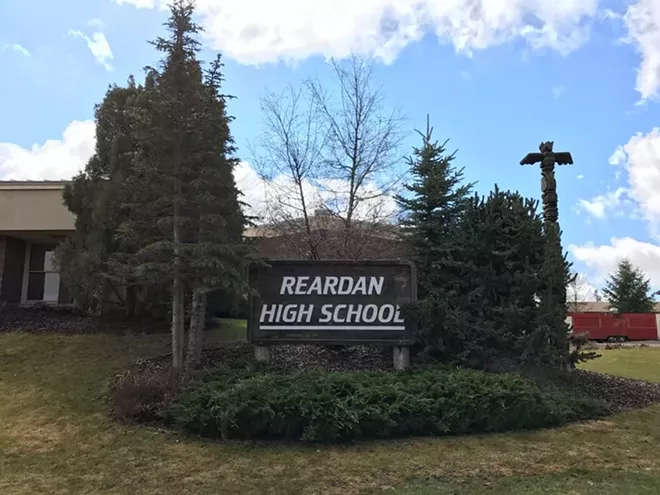 Schools in the Reardan-Edwall School District were locked down briefly last week after a student posted on social media a picture of himself holding an assault rifle with a comment that he was "ready to gun down some bitches," according to the district superintendent.

The student, a high school senior, posted pictures of himself on Facebook and Snapchat on Wednesday, Sept. 21, says Reardan-Edwall School District Superintendent Marcus Morgan. The student held an AR-15 with roughly 150 rounds of ammunition around him, Morgan says.
"Obviously, we took it seriously," Morgan says.
The posts did not make any direct threats against specific students. Someone reported it through the district's anonymous tip line the next day, and the school was locked down for a few hours. Morgan says when the school principal confronted the student, he refused to talk and ran out of the building. Police arrived and detained the student within 20 minutes.
Police found no weapons at the school. Reardan Police Chief Gary Redmond says the student was detained and interviewed. He has not been charged with any crime, and his name has not been made public. Redmond says the investigation is ongoing.
The school lock-down occurred eight days after a
deadly shooting at Freeman High School
, where a student shot and killed one student and injured three others, authorities say.
Morgan did not say if the Reardan student has been disciplined by the school, citing federal privacy laws. But generally in these situations, he says, the school will do an emergency expulsion while conducting an investigation. School officials conduct a risk assessment of the student that includes interviewing parents, teachers and other people close to the student. The student would then have to go through a mental health evaluation before returning to school with a safety plan in place, which may include regular counseling sessions.
In a statement on the district's
Facebook page
, Morgan referred to the situation as an "online threat" and wrote, "please excuse us if you believe we over-reacted; however in light of recent events, we are always going to err on the side of student safety."
The Freeman shooting, he says, heightened tensions around a possible school shooting.
"It puts us all on edge," Morgan says.