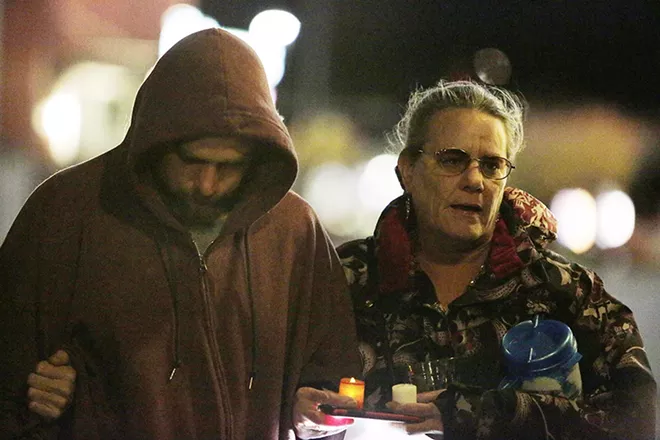 When Scotty Keller went to Union Gospel Mission looking for a place to sleep this year, he was told he would need to pay $3 for a drug test.
"I said, 'I'm just trying to get a place to stay,'" Keller says.
On the morning of Oct. 8, just after dawn, Keller was under a blanket on a North Spokane sidewalk when he and two other people were hit by a car. The driver, Brittney Moen, has been charged with vehicular assault and homicide. Julius Bradley Cooper and Sheera Cunningham died as a result of the crash, and Keller suffered a broken hip and broken hand. This week, the
Inlander
wrote about
the tragic circumstances that brought the three of them together
in that moment.
But their story also reveals the difficulty some people have getting into shelters that are full or have barriers to entry. Keller isn't the only one who ran into issues when he tried to stay at a shelter sometime in the last year. Sheera Cunningham's husband, Damian, told the
Inlander
that he and his wife tried to get into a shelter, but couldn't, either because the shelters were at capacity or because Damian and Sheera had lost their IDs.
"She actually tried to stay in shelters right before she died." Damian tells the
Inlander.
"But they were all full and she couldn't get into one. And she didn't have ID and some places you need ID."
It's a growing problem in Spokane. Shelters are filling up and sometimes have to turn people away. Ryan Oelrich, chair of the Spokane Homeless Coalition, says he's heard twice already this week that families with children in need of shelter were sent back to the street because
Open Doors
, an emergency family shelter run by Family Promise of Spokane, was at capacity. And Spokane's other overnight family shelter, Union Gospel Mission, takes a much different approach when it comes to allowing people in.
Dave Wall, UGM community engagement director, says it's not true anymore that its
men's shelter
, at 1224 E. Trent, or new
crisis shelter for women and children
, at 1515 E. Illinois, require ID. That used to be the case, he says, but UGM recently has started offering alternatives, like giving them a bar code, if they don't have identification. (In December, the
Inlander
reported how UGM started
asking people wanting a meal for ID
.)
At the same time, UGM, within the past year, has started testing homeless people if the shelter suspects they're high or drunk. A breathalyzer to test a person's blood alcohol level is conducted free of charge. But a drug test will cost a homeless person $3, if it's the second time UGM has tested that person, Wall says. It tests for cocaine, meth, heroin, and marijuana — "the popular street drugs," he says. If any substance is found in their system, then that person is turned away, according to UGM's zero tolerance policy. And that includes any amount of marijuana found, despite the fact that marijuana can linger in someone's system for weeks.
"It's kind of like alcohol, [marijuana] is one of those drugs that can affect behavior," Wall says. "We're trying to provide a safe environment."
UGM has a recovery program that supports people trying to get off their drug addiction. And while safety is one major reason it has a zero tolerance policy for drugs and alcohol, the second is because having drug users around makes it more difficult for those trying to get clean, Wall says.
UGM absorbs the cost of the first urine test for a person they suspect to have drugs in their system, he says. The $3 for subsequent tests covers only the cost to UGM.
Open Doors may direct someone elsewhere if a person has drugs, alcohol or weapons at the shelter. But it won't do drug tests, and it has no requirement for identification.
House of Charity in downtown Spokane doesn't require ID for entry to the shelter, and doesn't turn away anyone even if they show signs that they're drunk or high, no matter how crowded it may get. To get into Catholic Charities' housing program, as Damian and Sheera Cunningham attempted, you do need an ID because of federal and state laws.
Damian, who is still mourning the loss of his wife, says something needs to be done about the number of homeless people who can't find shelter. But he's not sure what.
"It's so bad right now," he says. "I'd say, like, 80 percent of my friends right now are homeless. There's no room in shelters for anybody."