ON INLANDER.COM
NEWS:
A member of the Kettle Falls Five
wants Congress to keep states' protection for medical marijuana
.
NEWS:
Days before regulators will decide whether to grant the final permit needed to begin construction on the controversial Keystone XL pipeline, a pipeline constructed by the same company
spilled 210,000 gallons in South Dakota yesterday
. (via
New York Times
)
IN OTHER NEWS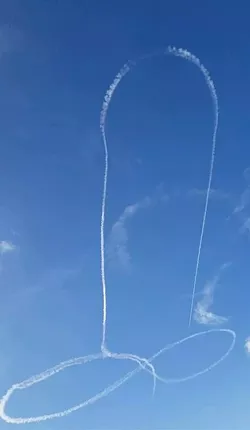 Look up! No, don't...
A Navy pilot thought it would be funny to
trace a penis in the sky
with an aircraft's contrails above Okanogan County. The Naval Air Station in Whidbey Island is taking the matter very seriously, telling KREM that "we find this absolutely unacceptable, of zero training value and we are holding the crew accountable."
Choose your own outrage
Donald Trump, the president who has been accused by more than a dozen women of sexual harassment or misconduct and has bragged about sexually assaulting women,
criticized Sen. Al Franken yesterday
after allegations surfaced that the Minnesota Democrat forcibly kissed and groped a woman on a USO tour in 2006, two years before he was elected to the Senate.
Trump remains silent, however, on the allegations that Alabama Republican Senate candidate Roy Moore sexually assaulted several underage girls decades ago. (
Associated Press
)
Lake City HS student arrested
Following a string of threats at the school, a Lake City High School student was
arrested yesterday
for referencing a gun while verbally threatening another student. (
CdA Press
)
Tax reform
Republican members of the House passed a
sweeping $1.5 trillion tax cut yesterday
, despite objections from Democrats that it only benefits corporations and the rich at the expense of the middle class. The Senate is coming up with its own bill. (
New York Times
)