ON INLANDER.COM

NEWS:
The Rev. Billy Graham, a pastor to presidents and the nation's best-known Christian evangelist for more than 60 years,
died Wednesday at his home
. He was 99.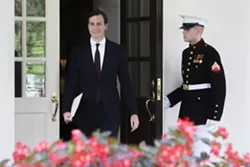 NEWS:
White House senior adviser and President Donald Trump's son-in-law Jared Kushner
is resisting giving up access to highly classified information
, prompting an internal struggle with Gen. John F. Kelly, the White House chief of staff, over who should be allowed to see the nation's most sensitive secrets, according to White House officials.
SPORTS:
Zag fans should be cautiously optimistic
entering the final week of the regular season... but don't let that outweigh the optimism, writes Will Maupin.
IN OTHER NEWS
Ban on bump stocks
Under pressure from grieving students from a Florida high school where a gunman killed 17 people last week, President Donald Trump ordered the Justice Department on Tuesday to issue regulations
banning so-called bump stocks
, which allows for even more rapid fire. (
New York Times
)
Midterm interference
Top Democrats are calling on Congress to give the FBI
$300 million to fight potential foreign interference
in this year's midterm elections, a request that comes just days after the Justice Department indicted Russians for meddling in the 2016 presidential contest. (
Washington Post
)
Rifle raffle in Idaho school
A school in Post Falls, Idaho, plans to move forward with
a previously planned raffle for an AR-15 rifle
, the same gun that was used to kill 17 people at a recent school shooting in Florida. (
Spokesman-Review
)
Walkout
Students in the Spokane area plan to participate in
a national walkout to press lawmakers for stricter gun control
. (
Spokesman-Review
)