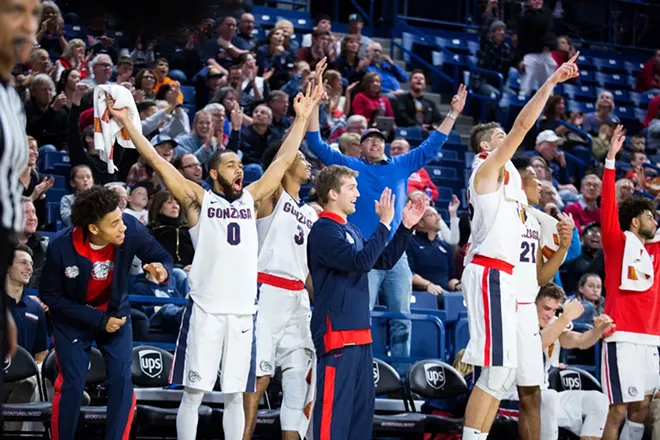 On the morning of Saturday, Feb. 10, Gonzaga was a game behind archrival Saint Mary's for first place in the West Coast Conference standings. Quite a bit has changed in the nine days since, and Zag fans should be cautiously optimistic entering the final week of the regular season.
When Gonzaga defeated Saint Mary's 78-65 on that Saturday evening, the Bulldogs moved into a tie with the Gaels atop the league standings. Each team had just one loss in conference play: Saint Mary's won in Spokane and Gonzaga won in Moraga. The Gaels, though, were still in control when it came to the race for the top seed in next month's WCC tournament.
But then, last Thursday, Saint Mary's lost to San Francisco. And with that result, the only team capable of stopping Gonzaga's run of conference championships from extending to six straight years became none other than Gonzaga itself.
At 25-4 overall and 15-1 in league play, the Zags are right where they always seem to be. That said, there's still one week left to go and we only need to look back at last week to understand how much can change over the course of a couple of games.
Saint Mary's wasn't the only team to lose on the road to an inferior team last week. Third place Brigham Young University did it, too.
With a 10-6 record in WCC play, it's mathematically impossible for the Cougars to finish any higher than third place, but still possible for this proud program to finish outside of the top three. Which is something that has never happened in the six years BYU has been a member of the league.
So, the Cougars have a lot to play for when they host the Zags in the regular season finale this Saturday, Feb 24. San Diego, the team that beat BYU last week, does as well.
The San Diego Toreros host Gonzaga on Thursday and need to win if they want to keep hope alive for a top-three finish. Entering WCC play, the Toreros seemed like the first team truly capable of breaking up the WCC's triumvirate of the Zags, Gaels and Cougars. They entered conference play with a 9-3 record and were off to the best start to a season in program history. They've stumbled since and now sit at 17-11 on the year and 8-8 in the WCC.
They're still just as talented as they were back in November and December, though. Earlier this month they played a tight game against Gonzaga in Spokane before losing by only 10 points. Among WCC teams, only Saint Mary's and BYU have played closer games against the Zags this season. And now the Toreros have a shot to play even better on their home court.
Those are your reasons to be cautious as the Zags head down the home stretch, but don't let them outweigh the optimism.
Gonzaga's on a nine-game winning streak that includes wins over both teams they'll face this week. Granted, those were at home and this week the Zags take to the road. But, also, that winning streak includes a pair of back-to-back road wins, at Pacific and at Saint Mary's, even more impressive than the two they aim to pick up this week.
The final third of this season has been about as brutal as it gets in the West Coast Conference, yet Gonzaga's made it look pretty easy. If they make it through these final two games there won't be any need for caution. Just as Gonzaga will sit alone atop the WCC, optimism will rule alone, as usual, in Zag Nation.