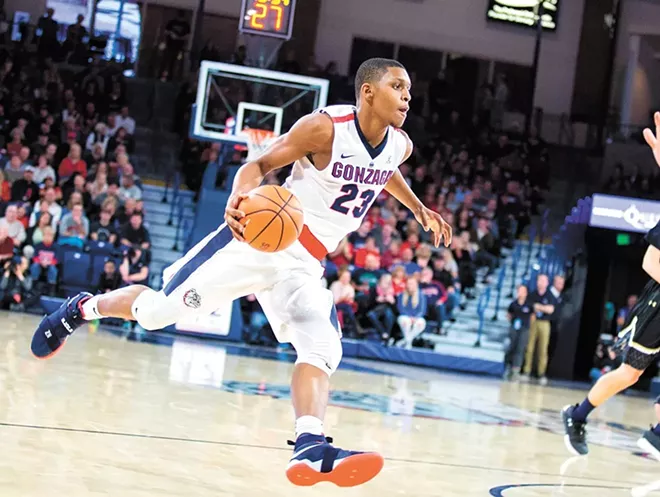 Fans who made the trip from Spokane to Boise's Taco Bell Arena spent
a lot of time with nervous hunger. Thankfully, Gonzaga had snacks.
"Growing up all I wanted was candy and chocolate," guard Zach Norvell says. "Everybody called me 'Snacks.'"
The freshman saved Gonzaga's season in each of the team's two games during the opening weekend. On Thursday the Zags found themselves in a tight battle with UNC-Greensboro. Late in the game the Spartans made a run and took the lead, as well as all of the momentum. It looked like an upset was likely.
And then Norvell, who was one-of-seven from long range at the time, knocked down the game-winning three pointer with 21 seconds to play.

On Saturday, against an Ohio State team that followed the Spartans' game plan and used a second-half comeback to steal momentum from Gonzaga, Norvell did a lot more than just make one big shot. He made a bunch of big shots.

With a career high in points (28) and rebounds (12), Norvell again willed Gonzaga away from the jaws of defeat. His numbers were impressive, but it was what didn't show up on the box score that was most important in ensuring victory.

"I call him our spiritual leader," head coach Mark Few says. "He's got a persona that we really need in our program right now. We have an overabundance of introverts, and that's one thing he's not."

Norvell may be one of the team's few extroverts, but he's far from the team's only big-time, clutch performer. Which is what makes Gonzaga so dangerous this year in the big dance.

Against Ohio State on Saturday it was Norvell who led the way, while point guard Josh Perkins scored a relatively ho-hum 10 points. But when the Zags played the Buckeyes earlier this season, it was Perkins who had the impressive outing. The junior guard drained six three pointers and opened up the Buckeyes defense so that Johnathan Williams, who led the game in scoring with 21 points, could go to work in the paint.

Williams followed that initial Ohio State game with a monster performance in a loss to Florida. The senior forward went for 39 points and 12 rebounds and cemented his position as the Zags' No. 1 option on offense this season.

If opposing teams try to lock down Williams, or Perkins, the Zags have guys like Norvell who step up.

In the West Coast Conference tournament earlier this month, it was Killian Tillie. The sophomore from France led Gonzaga to three straight wins with lights-out three-point shooting. Tillie was named West Coast Conference tournament MVP as a result.

At other times, notably in both games against arch-rival Saint Mary's, it has been Rui Hachimura. An electric option off the bench, Hachimura's raw athletic talent and unrelenting motor can overwhelm just about anybody. His 25-point, four-block performance on Saturday was just as instrumental in taking down Ohio State as Norvell's, if only less flashy.

"It's a luxury to have," coach Few says of his team's scoring balance. "We have seven guys who have scored 20 points (in a game) this year."

When Florida State takes on Gonzaga in the Sweet 16 this Thursday, the Seminoles will be presented with a pick-your-poison scenario for which there is no antidote.