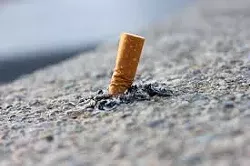 ON INLANDER.COM
NEWS:
Despite opposition from Spokane County commissioners, Gov. Jay Inslee signed a bill that will
expand the number of commissioners
from three to five by the 2022 election. Voters will elect commissioners according to districts, rather than county wide.
NEWS:
To build up or out? That is only one of the questions facing
Spokane's development plans
. Another question: What about the neighbors?
DRINK:
A once popular bar in east Spokane
reopened with a new name, and new owners
. The old Scotty's Doghouse is now the Logan Tavern.
IN OTHER NEWS
Butt out

Spokane received a $5,000 award to clean up discarded cigarette butts around the courthouse and downtown. (
Spokesman-Review
)
'He threatened to burn down my house with me in it'
A top financial advisor at Morgan Stanley has for years been accused by at least four Portland area women of threats, violence and intimidation. Executives reportedly knew about Douglas E. Greenberg's behavior, but only put him on administrative leave after reporters started asking questions. (
New York Times
)
Fire and jail riot in Venezuela
At least 68 people are dead after a fire sparked during a jail riot in Venezuela. Sixty-six of the victims were men. Two were women who were visiting the police station where the jail was located. (
NPR
)
Conversion therapy illegal
Gov. Jay Inslee signed a bill that outlaws sexual orientation conversion therapy for minors. (
Seattle Times
)
Football player tackles building
An Eastern Washington football player reportedly crashed his truck into an apartment building — causing an estimated $100,000 in damage — and then fled. Defensive end Keenan Williams is now looking at a misdemeanor hit-and-run charge after turning himself in the next morning. (
Spokesman-Review
)
Boys of summer
At long last, they're back. Today is Major League Baseball's opening day. (
ESPN
)