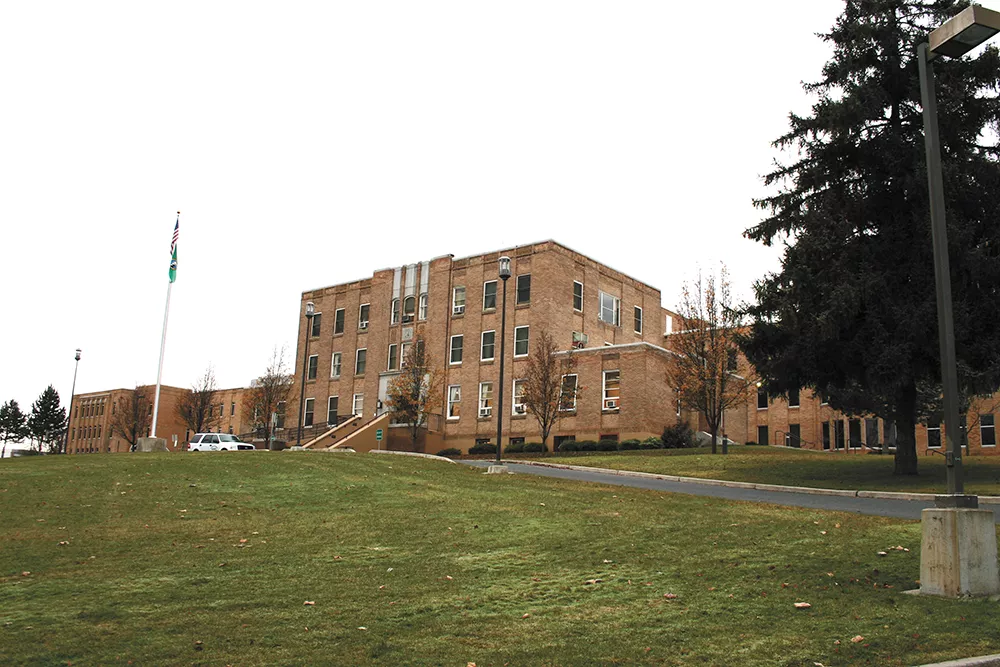 The public tends to believe that criminals who plead not guilty by reason of insanity, or NGRI, are taking the easy way out, that they're cheating the system, that they walk away from their crimes scot-free.
That's just one of the many myths surrounding the insanity defense, says Spokane County public defender Jeff Leslie.
Defendants who are acquitted using the insanity defense often spend far more time — sometimes twice as long, if not much longer — confined in state psychiatric hospitals than defendants convicted of the same charges in prison. That's why Leslie avoids using the insanity defense and advises other attorneys in his office to stay away from it.
"I think the breaking point was when I just realized that because of the bureaucracy and all the red tape, it's really difficult to get people out of confinement on these cases," Leslie says. "It seemed like their liberty interests were being deprived. From a defense attorney's perspective, they would have done far less time in prison than they would have in a hospital setting."
Washington, like most states, uses a version of the M'Naghten rule to determine insanity. Named after a 19th century Scottish woodworker who was acquitted for murdering the secretary of the British prime minister, the rule places the burden on the defense. In Washington, a defendant must prove that as a result of his mental illness, he was "unable to perceive the nature and quality of the act" or that that he "was unable to tell right from wrong" at the commission of his crime.
"Just like we don't hold a 4-year-old responsible if he picks up a gun and pulls the trigger," says Howard Zonana, a psychiatrist at the Yale School of Medicine. "It comes from a lack of understanding produced by a severe abnormality. It doesn't reflect a sort of culpable personality or actions. It's not bad judgment or character."
High-profile insanity cases that draw breathless media coverage have created the impression that the insanity defense is overused. "People think people fake it a lot more than in fact is the case," Zonana says.
In reality, the insanity defense is raised in less than 1 percent of all felony charges and is successful in just 15 to 25 percent of those cases. Nonviolent crimes, like minor misdemeanors, account for at least half of all cases in which insanity is pled. Murderers represent only 15 percent of NGRI acquittees.
But like the M'Naghten trial 170 years ago, public outrage has continued to shape the insanity defense, for better or worse. Following John Hinckley's attempted assassination of President Ronald Reagan in 1981 and subsequent acquittal by reason of insanity, 36 states toughened their insanity defense standards.
A handful of states, including Idaho and Montana, abolished the insanity defense altogether. In these states, says Mary Pat Treuthart, a constitutional law professor at Gonzaga University, the inability of defendants to use the insanity defense violates their 14th Amendment right to due process.
"People are frustrated about what they don't understand," she says. "I think for some people, there is still fear associated with people with mental health issues. It's a form of sanism: We're going to hold you responsible for your actions even though you did not know or understand exactly what you were doing."
Despite Leslie's reservations about the insanity defense, he says it's a useful tool in some scenarios, such as homicide cases in which a defendant is facing a lifetime behind bars, or if charges were substantially reduced. Unlike NGRI acquittees who are charged with violent Class A felonies and face indefinite confinement at Eastern State Hospital, those charged with Class C felonies max out after five years.
In that case, "it might be advantageous for them to get that treatment," Leslie says. "There are some wonderful psychiatrists in the hospital and some wonderful people that are really trying to help these individuals."
Mental health advocates tend to agree. Sandi Ando, of the Washington chapter of the National Alliance on Mental Illness, says the insanity defense is another means to divert people with mental illness from prisons and jails and into the mental health system.
"It keeps them out of the hands of the Department of Corrections and puts them, frankly, where they're going to get the treatment they need to get better," she says. ♦