Viljo Basso is excited about his pickle plate — asparagus, beets, fennel and onion — one of many unusual dishes on the menu at the Bluebird restaurant, which he and his wife/business partner Autumn Basso recently opened in midtown Coeur d'Alene.
There's a daily toast trio ($7), three crostini with options like anchovy on goat cheese and strawberry-rhubarb jam over Brie. Try charred octopus and warm potato salad with cucumber-mint yogurt ($10). The Muscovy duck is cooked confit-style and served with Brussels sprouts, cauliflower and bacon ($18).
"The menu is the culmination of things that Autumn and I have eaten over the years," says Basso, whose 20-year culinary history includes working at such acclaimed Seattle restaurants as Rover's, Cascadia and Mashiko.
Popular items include frisée salad with a fried egg and crispy pig ear ($5/$10), and hanger steak with wilted pea vines and fries ($22). For dessert, have crème brûlée ($5) or doughnuts with mascarpone cheese, jam and chocolate hazelnut spread ($6).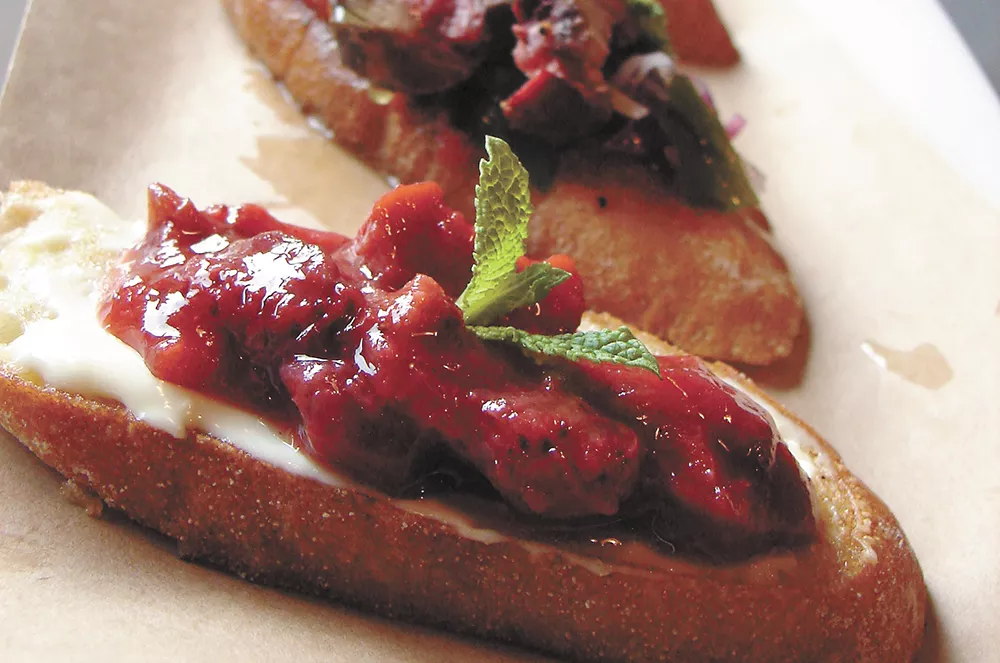 Seasonal ingredients and local vendors are featured: Pilgrim's Market bread. Spokane produce. Local breweries, mostly from Idaho. The back of the menu — it resembles the paper used for brown paper bags and features a watercolor painting of a bluebird — includes a note about how dining out helps support an entire community, from dishwashers to the folks who deliver the food.
The Bassos relocated to the area from Seattle and opened first one, then another midtown restaurant. They started Syringa Japanese Café & Sushi Bar, which they still run, in 2007. Next door to Syringa is the Garnet Cafe, which they created as a breakfast-only place until they sold it in 2013.
The Bluebird space was too good an opportunity to pass up, says Basso. They kept most of the prior owners' interior — fashioned as an old Western saloon — the same. Basso says that, and its unusual menu, adds to the Bluebird's appeal:
"It kind of morphed into an eclectic bistro." ♦
The Bluebird • 816 N. 4th St., Coeur d'Alene • Open Tue-Thu, 4-10 pm; Fri-Sun, 11 am-10 pm • 208-665-3777