In 2018, voters sent an overwhelming message to school districts across the region: Go ahead and build more schools.
Schools are overcrowded throughout the region, including in Coeur d'Alene, Mead, Central Valley and in Spokane. And because of that, districts asked for approval to build more school facilities to keep up with the demand.
But now it's time to actually build the things, and that takes some time. Here's a guide to the schools you should expect to see pop up in the coming years.
SPOKANE
No local school district is undergoing a transformation quite like Spokane Public Schools. In November 2018, voters approved a $495.3 million bond that will pay for several facilities.
Up first, LEWIS AND CLARK HIGH SCHOOL will finally get a cafeteria. If you didn't know already, students at LC used to simply eat in the hallway or off campus at the strip of fast food joints downtown. It's become clear that isn't working. The cafeteria is expected to be finished by May 2020.
For the next project, both SHAW AND GLOVER MIDDLE SCHOOLS will be replaced. Construction will begin in 2020, with the expected completion in August 2021. That project will create additional space for ON TRACK ACADEMY.
It was the choice of Spokane citizens not to build a new stadium downtown. Instead, the school district will replace JOE ALBI STADIUM with a smaller multiuse stadium on the existing site in northwest Spokane. That should be finished by October 2021. By downsizing, it will create space for a new middle school — currently just called "NORTHWEST MIDDLE SCHOOL" — at the former Albi site, with a completion date of 2022.
That new middle school is one of three new middle schools that will be built as part of the bond. Spokane is moving the sixth grade up to middle school to solve overcrowding at the elementary school level, and building a few new middle schools — instead of several new elementary schools — is more cost effective. The new NORTHEAST MIDDLE SCHOOL has the same expected completion date as the northwest school: 2022. With those new middle schools built, then all sixth graders feeding into them can transition into middle school at the same time, relieving overcrowding at more than half of the district's elementary schools.
Then, the district will build a new SOUTH MIDDLE SCHOOL and replace the old SACAJAWEA MIDDLE SCHOOL by August 2023. All south side sixth graders will also move to middle school at the same time that way, relieving overcrowding at the remaining elementary schools in Spokane.
CENTRAL VALLEY
The current capacity for high schoolers in Central Valley is roughly 3,200 students. The actual number of Central Valley students enrolled in high school? More than 4,300.
Yes, a new high school is sorely needed. And luckily for the students in Spokane Valley, one is already under construction. Central Valley broke ground on the new RIDGELINE HIGH SCHOOL in August 2019, and the idea is for it to be open by September 2021.
Ridgeline, home of the Falcons, will have space for 1,600 students. It will cost $102 million through bond money and a state match, and it will be located just north of the Saltese Conservation Area in Liberty Lake.
So why is it called Ridgeline High School? According to the principal, Jesse Hardt, that's because it fits the characteristics of the area.
"It is a powerful name that represents the beauty of the views of the hills surrounding the school site to the north, south, and east," Hardt says.
Hardt was previously the principal of Horizon Middle School for 11 years. In a message to the community, he says he's excited to be part of the new high school.
"It's extremely rare to have the opportunity to do something special and create a school from the ground up," he says. "This project will involve our entire community and will reflect our passion for education and pride in what Central Valley stands for."
Central Valley had been planning for this day for years. In fact, the district purchased the property where the new school will be way back in the 1980s. The bond approved by voters in 2018 to add the new school didn't raise the tax rate, which was a priority for the school district.
And that bond didn't just pay for Ridgeline High School. It paid for a new middle school as well. The newly dubbed SELKIRK MIDDLE SCHOOL (home of the Wolves) began in April of 2018 and is opening this fall. Selkirk is also located Liberty Lake, just off of I-90. It will have space for 600 students.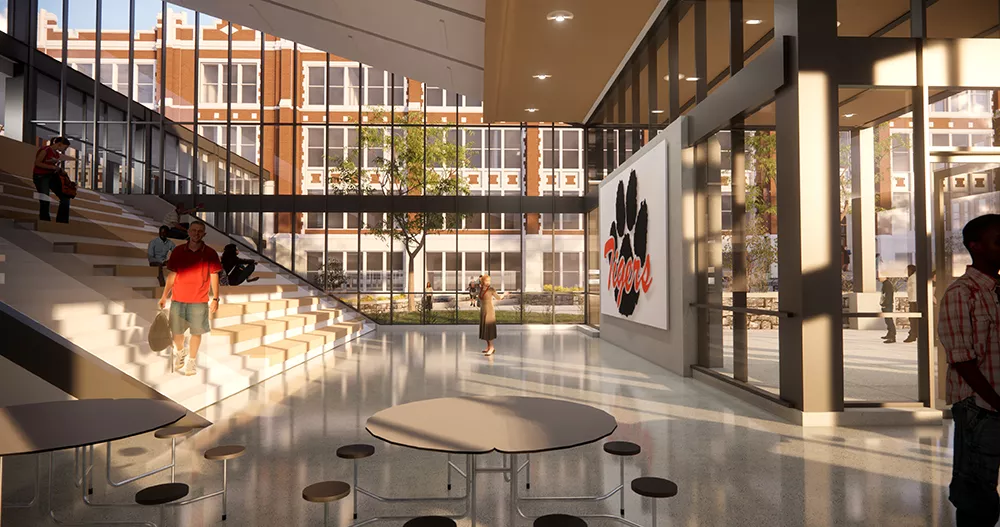 MEAD SCHOOL DISTRICT
Keeping up with growth in north Spokane, Mead School District plans to open two new schools by the beginning of the 2020-21 school year. CREEKSIDE ELEMENTARY SCHOOL is a $21 million project that will be located at 3525 E. Hastings Ave. And HIGHLAND MIDDLE SCHOOL, to be located at 3515 W. Hawthorne Rd., will cost $38 million.
NORTH IDAHO
Post Falls is growing like crazy, and you know what that means. In March 2019, voters approved a $19 million bond, which will fund a NEW ELEMENTARY SCHOOL. The district has grown by 180 students last school year, leading to overcrowding. Plans are still in the works for the $12.5 million school.
Coeur d'Alene Public Schools passed a bond in 2017 that pays for a variety of upgrades to its schools. It also included money to pay for a NEW ELEMENTARY SCHOOL. The district hopes to finish it by August 2020, in time for the 2020-21 school year.