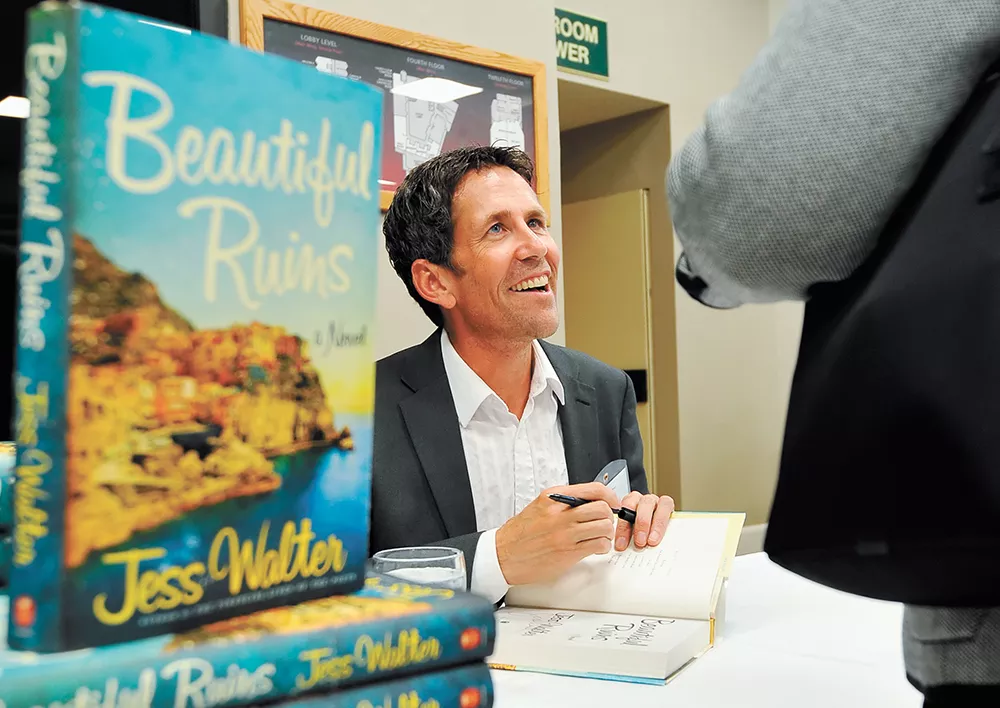 The writers involved in this year's Bedtime Stories fundraiser for Humanities Washington all sing the praises of the organization dedicated to using conversation, art and literature to connect every corner of the Evergreen State. And they all discovered the group in different ways.
Kate Lebo started attending Humanities Washington's Think & Drink events when she moved to Spokane a couple of years back as a means to connect with her new community. Chances are Shann Ray was on stage moderating the talk that night. Sharma Shields was invited by the organization to read when her first short-story collection was published and has worked with them ever since. And former Spokane poet laureate Thom Caraway discovered the group when he attended a lecture sponsored by its Speakers Bureau.
"The idea that someone is paying, even a little, for scholars and artists to travel around the state and talk to people about the things they are passionate about is very encouraging," Caraway says. "And the talks are not all just academic; they represent a broad spectrum of the humanities and really demonstrate how important the humanities are."
The Bedtime Stories fundraisers help raise money for Humanities Washington's Prime Time Family Reading, an elementary school education program that Executive Director Julie Ziegler says "creates these connections with children in our communities and improves their reading, analysis and communication skills." This year's event, the sixth in the Lilac City, will feature Lebo, Ray, Shields and Caraway, all reading original stories inspired by the concept of "beacon in the night" while attendees dine and drink.
A special highlight of this year's Bedtime Stories is Spokane author Jess Walter being presented the Humanities Washington Award. We asked each of this year's authors to share some thoughts on Walter and his role in Spokane literary life. Their responses were lightly edited for length:
Kate Lebo: "It took me a year or so to really feel at home in Spokane when I first moved here, and part of what helped me was how Jess reached out early on to get me involved with INK Artspace (now Spark Central). He not only was like, 'We need your help,' he was like, 'You're good at this' — which made me feel welcomed and empowered within my new city, and gave me something I really needed, a way to contribute to this place I was learning to call home ... Jess seems to me to be one of those people who know the heart and history of Spokane. Or actually is that heart and history."
Thom Caraway: "For a long time, it felt like Jess was the literary community in Spokane. We've got the academic side, and in the last several years, things like Broken Mic and the Spokane Poetry Slam, but before all that we just had this unassuming guy in West Central cranking out these amazing books. I think it's really important, and even notable, that Jess stuck around. As he talks about it, he wanted to leave, but he didn't, and his commitment to Spokane I think encouraged other writers to stay, and now to come here, because it has developed into such a rich, robust community. I think Jess has modeled unpretentious success in a really great way."
Sharma Shields: "I was in college when Jess left journalism and took up writing fiction. I watched his dedication and drive with much interest; it was really inspiring to me ... I was working at the University Book Store in Seattle when he published his first book and won the Edgar Award, and I gloated to everyone there how I knew him. I still gloat about it to everyone.
"Most impressive about Jess is, of course, his compassionate nature, the way he loves our town and the way he tries to make this town better. His work with Spark Central and The Native Project is a perfect example, but he also supports the town in a thousand little ways: Eating in local restaurants, shopping at our local bookstore, writing his next opus at the local coffee shop ... His advice and support have been instrumental to my writing career, and this kindness and generosity, so palpable in his work, is also what has made Spokane's literary scene such a healthy, encouraging environment."
Shann Ray: "From the moment I first met Jess, I've been touched by his care for me, and for so many writers here in Spokane and throughout the nation. He's one of the most wise, thoughtful and artistically talented people I've ever known ... He is worthy of being honored because he is a good man, a profound artist, and a beautiful friend." ♦
Bedtime Stories Spokane • Fri, Oct. 27 at 5:30 pm • $100 • The Spokane Club • 1002 W. Riverside • humanities.org • 206-682-1770