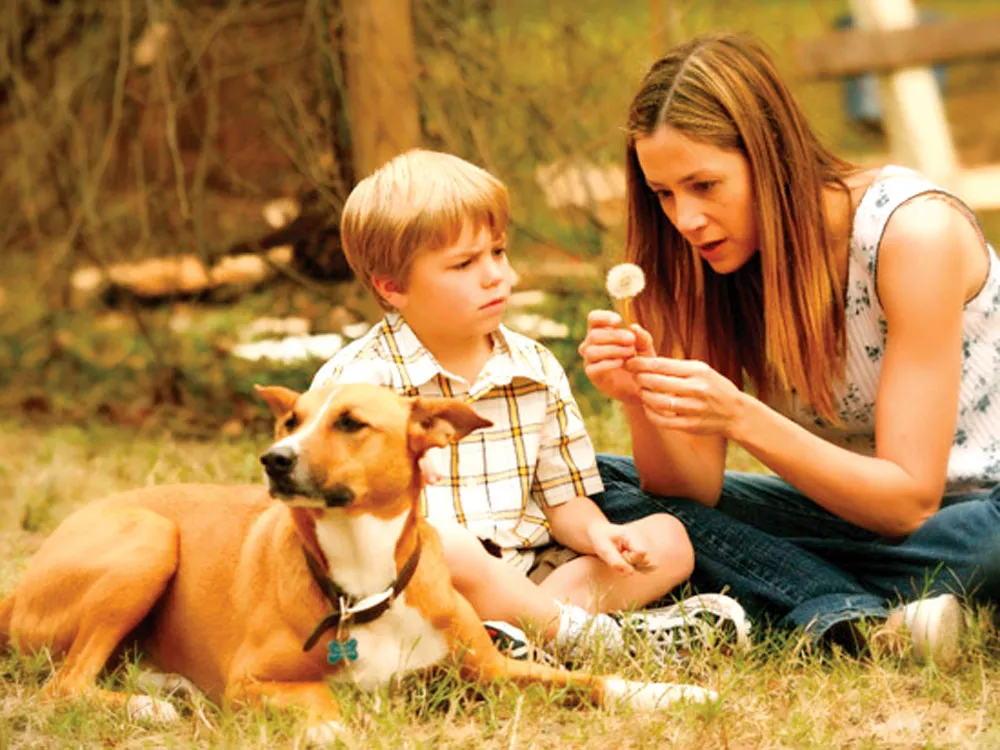 It's a scene that could be taking place anywhere, if it weren't for the accents: A belligerent drunken Ohioan is being escorted to a waiting police car while his sobbing wife is being attended to by paramedics on the porch. It's the very first scene in Like Dandelion Dust, the only backstory we get — and it's just so utterly clichéd.
Joey is the 6-year-old child of that couple, given up for adoption after the abusive husband, Rip (Barry Pepper), went to jail. Now Rip's out, reformed, and didn't even know he had a son. When he finds out Joey was adopted out — and Joey's mother had forged Rip's signature on the adoption papers — Rip wants Joey back. The adoptive parents (Cole Hauser and Kate Levering), understandably, are willing to do anything to make sure they don't lose their son.
Cinematic déja vu is a recurring sensation throughout this movie —you've already seen these scenes and heard these lines somewhere before. We hear Rip say he's "a new man" when he gets released from prison, we see shots of fathers playing catch with their sons to underscore their bond and, during the confrontation between the two fathers, this exchange occurs: "What do you want, Rip?" "I want my son."
And yet … it doesn't matter. The sheer emotional power, from the both the story and the actors themselves, rips right through the paper-thin dialogue, grabs the audience by the heart and keeps wrenching.
The emotional connection between the various sets of actors and actresses, whether you call it chemistry, casting or the very essence of acting, makes this movie utterly compelling. You already know what a child-custody case sounds like — Lifetime original movies and the various Law and Orders have made sure of that.
But you can't convey losing a child — either to adoption or having the process reversed — through words. It's not a linguistic problem — it's a deeply emotional one. What both mothers can't say, they can definitely express in the anguish etched on their faces and the desperation evident in their eyes.
The whole crux of the story pivots on who "real" parents are. The movie makes sure there are no easy answers. Both couples have strong claims, and both love Joey very much …. and perhaps that's the answer. Joey can only live with one family, but maybe it's more important for him to know he has parents who love him very much — there just happen to be four of them.