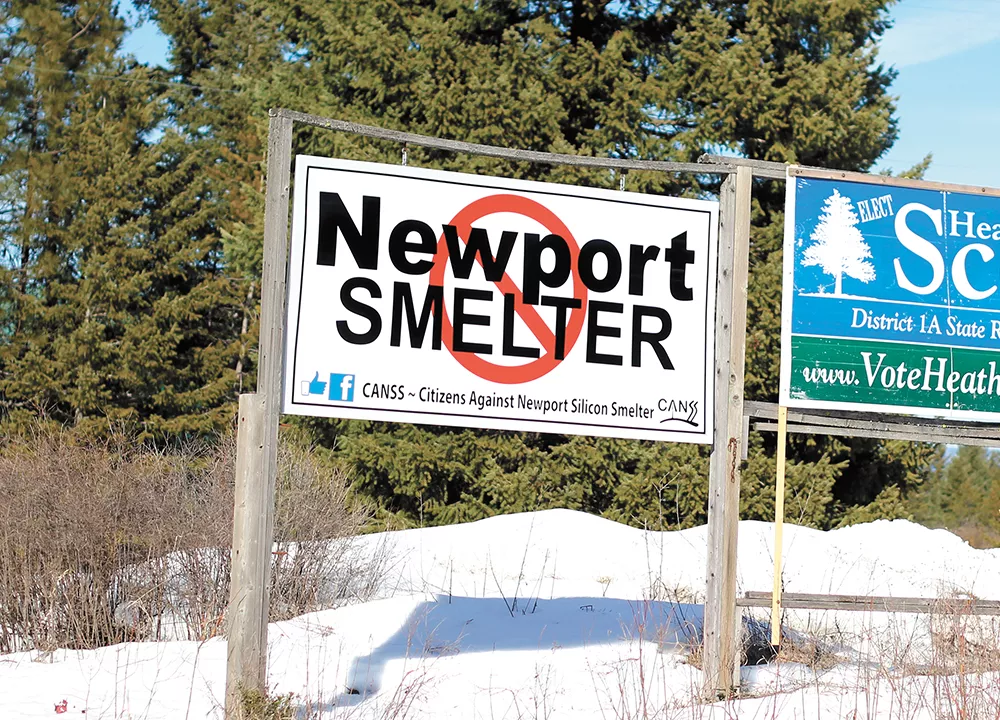 On a nearly 200-acre site that sits south of Newport, Washington, on the Idaho border, a Canadian company supported by local and state agencies plans to build the newest silicon smelter in North America.
Using extremely high-temperature furnaces powered by more than 100 megawatts of electricity (more than the Pend Oreille utility district's Box Canyon Dam produces), the smelter would melt quartz rock to produce about 66,000 tons of silicon metal per year. That would be sold to other companies to be further refined and used to make everything from solar panels to aluminum, chemical compounds, computer chips and more.
But since the project was widely announced to the public last fall after HiTest Sand Inc. bought the site from Pend Oreille Public Utility District, there's been pushback. Questions about the project have come from people who live close by as well as others who live along possible trucking or rail routes, many of whom point to emissions and issues with other silicon smelters as cause for concern.
For their part, Alberta-based HiTest is enthusiastic about the more than $325 million project, which they say will bring about 150 permanent jobs to the economically depressed area and hundreds more just for the construction. That, coupled with a need for silicon metal to produce solar panels manufactured in the state, is partly why Gov. Jay Inslee and the state Department of Commerce awarded the company $300,000 for engineering costs and named it a "project of statewide significance."
"As a leading innovator in their industry, HiTest shares our commitment to enabling the great promise of the clean energy economy," Inslee said in an August 2016 press release announcing the grant. "I look forward to watching the resurgence of hard-working Washington communities spurred by this exciting new development in our northeast region."
But now at least one major group opposed to the project has lawyered up, and the company still hasn't applied for major permits while it's been waiting for out-of-date county processes to be updated. The project, once scheduled for completion at some point in 2019, is now behind schedule, and if the opponents have their way, there's an even longer battle ahead.
"We've had challenges, and the challenges have gotten greater," says Jayson Tymko, HiTest president. "I think they are likely going to be coming to a head very shortly."
ACID RAIN
One of the main concerns among nearby residents like Bill Ellis is the potential for emissions from the plant to contribute to acid rain.
In addition to melting tons of quartz gravel, which will come from a mine HiTest owns about 300 miles to the north in Golden, British Columbia, the process of smelting silicon also involves the burning of tons of wood chips and coal. That's largely so carbon combines with oxygen in the furnace so it doesn't get released and create potentially more harmful gases, Tymko says.
Basically, that results in a lot of carbon dioxide — the plant would be one of the largest emitters in the state. But the process also ends up creating smaller amounts of other gases, such as carbon monoxide, sulphur dioxide and nitrogen oxide, which are far more dangerous, says Ellis, who is a licensed mechanical engineer with a background working at nuclear and aerospace companies.
Those components can all contribute to smog or acid rain.
"It's not as though everything is going to descend in a toxic cloud on everybody, but it will mix with the air," Ellis says by phone from the Idaho home he shares with his wife Cindy, about 5 miles from the site. "Acid rain is very complex, but it basically starts sterilizing the area it's in. That means fish, water, air, everything. It's not a good thing."
Tymko acknowledges that the plant could contribute to those issues and that it emits pollutants, but points to state and federal regulations that need to be followed in order for the plant to operate.
"We do emit, and we will contribute to acid rain," Tymko says. "That's where [the Washington State Department of] Ecology has really strict standards. We're not looking for exemptions from the government."
Also, because much of the metal is expected to be used to make solar panels, for every ton of carbon emitted at the plant, there's about 8 or 9 tons of carbon reduction, Tymko says.
Tymko also points to the specific type of coal that will be used — Blue Gem from Kentucky — as a low-ash, low-sulphur product specifically used for silicon smelting because of its purity.
"It is in our economic best interest to have the highest purity product come out of our furnace, because the higher the purity, the greater the price we're able to charge," Tymko says. "Any lead or mercury or whatever that is a contaminant in that coal, it enters the silicon metal."
If and when the plant is brought online, which may happen under a new business name and brand yet to be announced, it will be the only silicon smelter in North America creating "low-boron, low-phosphorus silicon metal," he says.
LEGAL HELP
As the company continues to prepare its applications for state and federal environmental review, the rallying cries of opponents has gotten louder.
Citizens Against Newport Silicon Smelter, or CANSS, a 501(c)4 nonprofit, has hired Boise attorney Norman Semanko and others at his firm in order to push back on the Pend Oreille PUD, Pend Oreille County and HiTest for actions they believe were improper.
Monday afternoon, lawyers for CANSS and fellow opposition group Responsible Growth*Northeast Washington (RG*NEW) sent a letter to the PUD, county and HiTest, claiming that parts of the land sale were illegal.
Specifically, one of the four parcels that the PUD sold to HiTest was bought from Pend Oreille County last year and promptly sold to HiTest with the neighboring parcels that the district already owned. The letter alleges both the purchase of the land from the county and the subsequent sale to HiTest was illegal.
"These statutes are clear and unambiguous," the letter states. "The PUD did not have legal authority under the Revised Code of Washington to purchase land solely for the purpose of selling it to a private corporation."
The concerned groups want the government agencies to remedy the issues within 30 days or know they may face legal action, says Michael Naylor, an affected property owner and CANSS vice-chair.
Naylor lives within about 1,000 yards of the property that HiTest bought in September 2017 and says he and his wife were never told their 20-acre property, which they bought earlier last year, might be next to a smelter. Yet HiTest had been shopping around for land in the area for nearly a year at that point.
"We were never notified by anybody that this was a potential when we purchased the land," Naylor says.
Tymko, who was interviewed before the letter went out, said he had already asked his attorneys to double check that everything had been done properly when he first learned there were questions about the land sale.
"They've started creating a rumor that the land transfer was not legal," Tymko says. "There's nothing illegal about it."
But Semanko says the PUD didn't follow proper procedures and questions why the citizens can't rely on their local officials to ensure everything was aboveboard.
"Citizen groups whose lives are impacted by this and whose lives are put on hold by HiTest's proposals shouldn't have to do this," Semanko says.
Pend Oreille PUD manager Colin Willenbrock says the land was sold as part of a public process and posted publicly for sale in the local paper of record, as required by state law, on multiple occasions. The utility district's parcels had originally been purchased for a potential natural gas plant the utility thought it might need in the '90s, but the plant never happened and the land was declared surplus before being sold to HiTest. But the letter claims the piece of land the PUD bought from the county wasn't put through that "surplus" process.
Reached before the letter had been sent to either agency, Willenbrock cautioned that the land transfer rumors were distracting.
"At this point the company hasn't even filed a permitting application with the Department of Ecology and we don't even know from a grid perspective whether the project is even feasible," Willenbrock says. "So the focus on the land is fine, but we think people should be more focused on the industry. What is the environmental impact? What are prevailing winds, particulate impact, what does that mean?"
OTHER CONCERNS
It's not only citizen groups that oppose the smelter: The Kalispel Tribe was recently joined by the Affiliated Tribes of Northwest Indians in saying the potential risks outweigh the potential benefits of the project.
Others question the public process, and due to concerns about potential health impacts, some residents are already considering moving or selling their homes.
Theresa Kuper, who owns land in the area, says she's concerned about a seeming lack of transparency throughout the process and the potential impacts to the environment and the health of people who live nearest to the site, like her brother.
Even residents who live farther away have joined the fight. Jade Huguenin and her fiance moved to Sandpoint, about 30 miles from the site, in October, and first learned of the plans for the smelter a month later.
"We moved here for the quality of life, the number of outdoor things you could do here. It's the kind of place you could raise a family," Huguenin says. "Then we get here and find out there's this huge battle to stop this thing from getting built. It's jarring, but we're invested in the fight. But not so much we can't just leave."
Deborah Barker, CANSS president, joined the fight because her family helped settle the area near Priest River in the 1800s, and she lives relatively close to the site, in Old Town, Idaho.
"Everything that I love about this area is being threatened as far as I'm concerned," Barker says. "I'm against anything that would harm the wildlife that we have here, our rural way of life and our clean air and our clean water."
PUD manager Willenbrock says there are some who've questioned whether the state and federal environmental guidelines are even strict enough, if the plant were to follow the rules in place.
"This same discussion happened when Ponderay Newsprint Company came to town, there was vocal opposition that all the trees were going to die. Now, they've coexisted for 30 years," Willenbrock says. "It's good to have that dialogue. ... Some say, 'We want this area to be pristine. We want it to be untouched.' Our response is, 'Great! Is that the consensus of the majority of the community? And what are we willing to give up to attain that?'" ♦