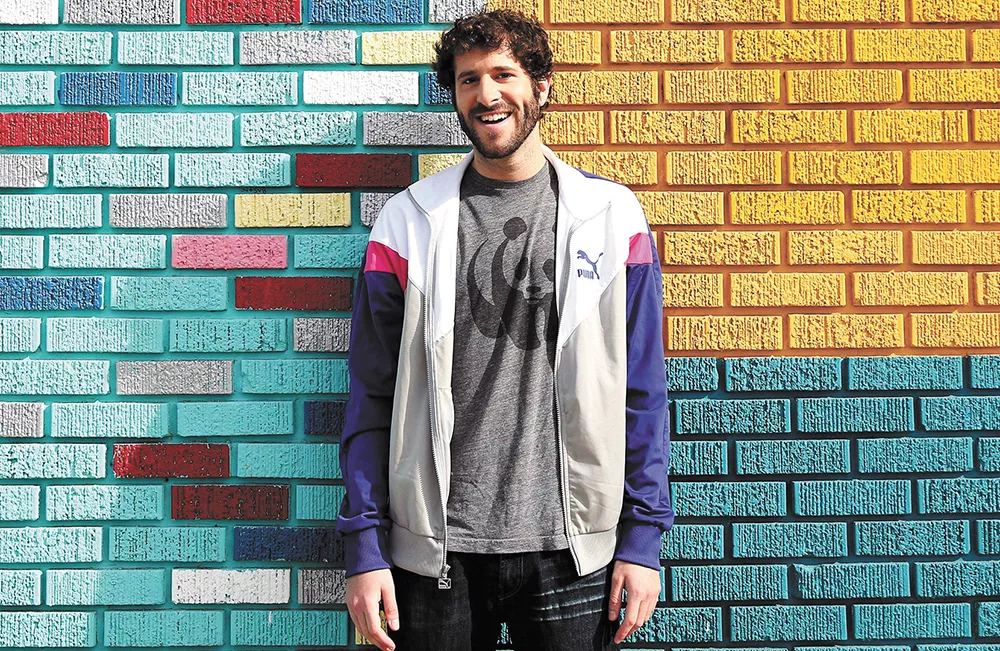 During the animated "Professional Rapper" music video, David "Lil Dicky" Burd sits in Snoop Dogg's office and rhythmically explains that he wants to "do the whole thing different." Lil Dicky's flow is relentless, as his character spits to Snoop his visions of changing hip-hop forever as an employee at the hypothetical Rap Game Inc.
Initially, the cartoon Snoop Dogg takes offense to Lil Dicky's apparent lack of respect, but is quickly swayed by his passionate explanation of why the rap game needs him. And cartoon Lil Dicky has a point — there aren't a lot of 27-year-old Jews bursting onto the rap scene.
Not surprisingly, some of Lil Dicky's work has proved controversial, in particular the track "White Dude," which attempts to satirically comment on white privilege in America. Not everybody understood the satire, earning him charming monikers such as "a defensive, clueless asshole" and "the sociopath's answer to Macklemore" from various online publications. In an interview with HipHopDX.com, Dicky clarified his motives with "White Dude."
"I'd say you are looking at it the wrong way if you are taking this song literally," said Dicky. "The song is about the realities of our society. I don't shape those realities. I just comment on them. So be mad at whatever is shaping those realities. I'm just the funny messenger."
This epitomizes what Lil Dicky is all about, and is exactly why he would be a valuable employee at Rap Game Inc. Originally from an upper-middle-class family in the Philadelphia suburbs, Dicky questions the current rap game through song. He can't relate to the life of crime, sex and drugs so often perpetuated in popular rap, but that's not the kind of rapper Dicky wants to be. Lyrically speaking, Dicky is the real deal, highlighted by killer metaphors and rhymes, and an ability to flow at any cadence.
Cashing in on today's social media-driven society, Dicky announced a Kickstarter campaign in November 2013. It blew past his goal of $70,000, reaching $113,000, and funded the creation of his first LP Professional Rapper, released about a year and a half later.
As prophesied in his Kickstarter video, the funding was exactly what Lil Dicky needed to rocket himself into the real rap world. Backed by features from big-time artists like Snoop Dogg and Fetty Wap, Lil Dicky's debut album has established his staying power as the next big humorous rapper — or according to Dicky, a rapper who's also funny. ♦
Lil Dicky with C.H., Bezzel, Neves and Artistic • Thu, Dec. 17, at 8 pm • $30 • All-ages • Knitting Factory • 919 W. Sprague • sp.knittingfactory.com • 244-3279