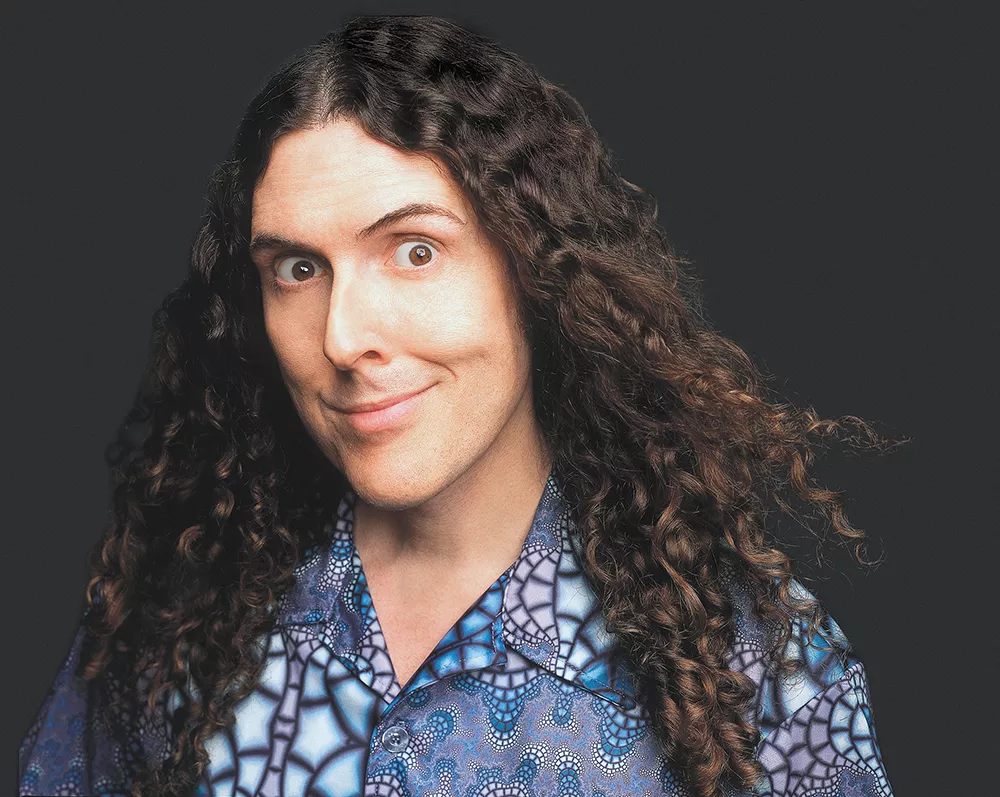 It was near the home stretch of his last international tour when "Weird Al" Yankovic wondered if he needed to change things up a bit.
His live shows have always been elaborate affairs, heavy on pyrotechnics and costume changes, with setlists spanning his 35-year career. But this realization happened specifically, Yankovic recalls now, as he was stuffing himself into a prosthetic fat suit — you know, the one he wore in the 1988 video poking fun at Michael Jackson's "Bad" — for what seemed like the thousandth time.
"I thought, 'Wouldn't it be fun to do a concert where I didn't have to go through all this?'" Yankovic tells the Inlander. "I enjoy doing the full theatrics and putting on the big multimedia show, but wouldn't it be cool to just go out there and play like a normal band?
"And if I'm going to do that, why don't I focus on the hardcore fans? What would the fans who have been following me from the beginning ... want to hear?"
Thus Yankovic's current show was born, and he's titled it — take a deep breath now — the Ridiculously Self-Indulgent, Ill-Advised Vanity Tour.
So what makes it potentially self-indulgent?
Well, if you're merely a casual "Weird Al" fan, you know him from his deep well of spoof songs: "Eat It" (another food-themed King of Pop pastiche) or "Amish Paradise" (a send-up of Coolio's "Gangsta's Paradise") or "White & Nerdy" (a play on "Ridin' Dirty" by Chamillionaire). But he's got just as many tracks that aren't direct parodies, either broad swipes at entire genres or fully original compositions.
It's those deeper cuts that make up this ongoing tour, which Yankovic says is the most fun he's ever had on the road.
"It's such a joy to do these shows," he says. "The fans are great. It's not stressful. We're not killing ourselves physically onstage; it's a nice, low-key vibe. We're going out there and playing like musicians, and we're having the time of our lives."
Here are a few of the questions we had for Yankovic during a phone conversation in the weeks leading up to his latest Spokane gig. (Responses have been edited for clarity.)
INLANDER: How does the process of writing an original song differ from that of writing a specific parody?
YANKOVIC: When you're doing a straight parody, it's more of a puzzle because the template is already there. You have the original song. You know exactly how many lines there are supposed to be. You know how many syllables are in each line. It's a very specific template that you need to form your ideas into. Any other song, obviously, there are unlimited possibilities. You can do whatever you feel like. Sometimes it's nice to have that structure in place, because I like to have limits.
Are you always listening to contemporary pop music for fresh parody ideas?
I don't write constantly. When I'm writing, it's a very focused kind of thing. My wife knows the experience very well, because I walk around the house with a dazed look on my face because I'm so in my own head. [laughs] She hates it. There are certainly big hits that have come along in the last few years that would merit the full "Weird Al" treatment. But I'm not actively looking for the next parody. A lot of songs that would have been good material at this point might be a little dated. I haven't given up doing parodies, but they're not quite my focus the way they were in the past.
How has the art of parody changed since you started?
When I started out, the only place that was an outlet for people doing that kind of material was The Dr. Demento Show, and I would send my material in to him on a cassette tape I recorded in my bedroom. And to my amazement, he played it on the air and changed my life in a very real way. But nowadays, you don't have to have anybody giving you permission or deeming you worthy of airplay. You can just put it online. If your stuff is good, chances are people will find out about it, so it's really leveled the playing field, which is a great thing.
You're touring with comedian Emo Philips, your co-star in your 1989 film UHF. It flopped when it was initially released, but has since found an audience. How does that feel?
It's very gratifying, because when we first made the movie, of course we were hoping it was gonna be a big hit. And it certainly wasn't at the time. But over the course of a few decades, it's developed a cult status. It got played a lot on cable television, and people found out about it after its initial theatrical run. It's nice now that there are so many hardcore fans of that movie. I've attended a number of UHF screenings and done some Q&As, and to watch it with an audience now 30 years later, it's amazing. People know every line of dialogue and chant along to the screen like it's The Rocky Horror Picture Show. It's mind-boggling to me.
How does this current show differ from your past tours?
We walk out on stage, we sit down on stools, and we play material from all 14 of our studio albums. It's all the original songs, so it's not parodies. I hate to give away surprises, but there might be a parody or two near the end of the show. But you shouldn't go in expecting that. We play for 90 or 100 minutes, and I chat a little bit, which is something else I don't normally do on a tour, because there's usually a costume change after every song and no time to hang out and relax. We give the impression we're hanging out in your living room, and we're just jamming. And it's not correct to say it's a low-energy show, because we're giving it everything we've got, but I'm not running around all over the stage working up a sweat. It's a nice mix. It's an engaging, funny show, but I'm not killing myself every night. ♦
"Weird Al" Yankovic with Emo Philips • Sun, May 27 at 8 pm • Sold out • All ages • Martin Woldson Theater at the Fox • 1001 W. Sprague • 624-1200
---
Some notable "Weird Al" originals:
"Dare to Be Stupid" — A tribute to the new wave oddities of Devo, championing idiocy as an act of heroism.
"Albuquerque" — One of Al's best, an 11-minute epic in which he encounters various pitfalls (including a stolen snorkel, rabid weasels and a grease fire) en route to New Mexico.
"CNR" — This White Stripes pastiche reimagines '70s game show staple and professional leisure suit model Charles Nelson Reilly as a folk hero.
"Midnight Star" — Ever look at those obviously fake tabloids in the supermarket checkout line? So has Al, and he wrote a song about them.
"Velvet Elvis" — Aping the Police, Al opines on the artistic value of those kitschy paintings of the King.
"My Baby's in Love with Eddie Vedder" — A fast-paced polka lament, wherein Al's love interest goes gaga over the Seattle grunge icon.