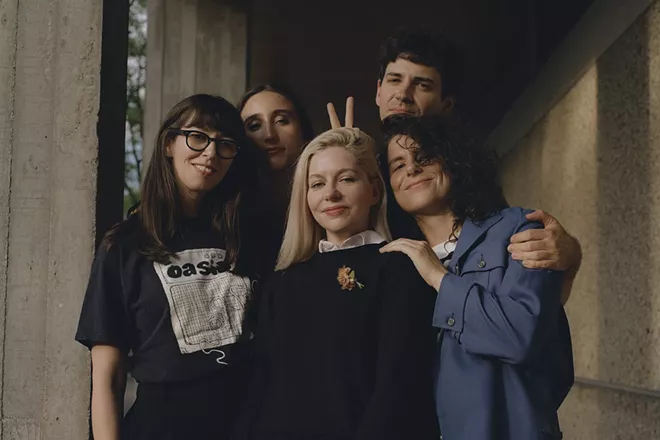 There will always be a place for angst in rock music. While the genre isn't only about a release of one's inner hangups, it certainly excels at offering a wide variety of ways to vent. Metal bands pummel feeling into a pulp. Punks speedily screech their anxieties away. Singer-songwriters wear their troubles on their sleeves as a way to keep them from simmering inside.
Toronto indie rock quartet Alvvays takes a slightly different approach. Led by singer/guitarist Molly Rankin, the group sorts through the angst of millennial young adulthood with a dreamy composure.
Debuting with 2014's self-titled Alvvays, the group arrived as an already tightly honed force, swaying waves of bright and hazy sound buoyed by the casual pop sweetness of Rankin's vocals. Rankin's lyrical stance touched on a certain adriftness that's certainly relatable to folks in their late 20s, early 30s — not feeling totally lost, but feeling like you don't have hardly anything figured out. A song like "Archie, Marry Me" examined the apprehension with societal pressures for settling down with both sincerity and a coy cuttingness ("So, honey, take me by the hand and we can sign some papers / Forget the invitations, floral arrangements and bread makers").
That trend continued on 2017's stellar Antisocialies, which cleared up some of the reverb-y fog to present a more lush pop polish. Be it relationship foibles ("In Undertow," "Not My Baby"), yearning for love and reciprocation ("Dreams Tonight"), or even being open about being wildly depressed and disconnected while trying to discover flickering moments of beauty in the face of these states ("Forget About Life"), Alvvays finds a way to address millennial angst without the melodramatic mess.
While top-flight contemporaries like Phoebe Bridgers tend to dwell in the sadness of the confusion around them, Alvvays tends to analyze situations with a level head and tries to figure out a way through. If anything, the group's heady approach to modern anxieties is similar to how Talking Heads sorted through '80s White yuppie hang-ups, but Alvvays does it with a more approachable warmth, and no trace of David Byrne's sometimes arty, Coastal elite distance. But Rankin certainly basks in making societal digs with a cheery demeanor and her tongue planted firmly in cheek.
"I do find it kind of fun to be scathing without even knowing at times," says Rankin. "That's sort of like the ultimate approach. But also, just try not to bring a ton of baggage onto a record. And sort of take responsibility for the character's own decisions in a way that they can poke fun at themselves and also be, you know, so self-critical. And that perspective just seems a little bit more interesting to me than, you know, resenting others or something."
Alvvays continues to try to make sense of our times on its 2022 album Blue Rev. This time around the group leaned heavily on creating continual wall of shoegaze-y instrumental noise ("Belinda Says", "Easy on Your Own") as Rankin tackles topics like insufferable internet dudes ("Very Online Guy") and spits venom at society's pressures for women to fit in stereotypical roles ("Pomeranian Spinster").
"[That wall of sound] is something that we chase a lot, and something that we did early on with our band, but to strike the balance of that with the vocals and getting the drums to sing during the fills and have the keyboards with the right volume, it gets a very tough balance to strike, at least for us," says Rankin. "And so, sometimes things can come out sounding a little bit [traditional] or something in our journey to seize that sort of, like, woozy, droney, constant sound. It just takes a long time to find that proper sweet spot."
The critical response to Blue Rev has been fairly overwhelming. Stereogum and Exclaim! named it the best album of 2022, Pitchfork and Paste both had it ranked No. 3 in their year-end lists, and Rolling Stone and The New York Times both cited it as one of the dozen best albums of the year. While Alvvays has been a beloved group since their debut — always earning raves and winning the Juno for Best Alternative Album for Antisocialites — the outpouring of adoration has bowled over the band.
"I think it's pretty difficult to thread the needle of resonating across the board with a guitar album now," Rankin says. "So I'm just overwhelmed about how kind people have been about the record. But, you know, it was a very painful process of creating. It took a really long time. We didn't know if we were still going to be able to be a band. We didn't know if people would think we are crazy with all the little idiosyncratic decisions that we grew to love over the years. [laughs] That takes time to sort of strike people in the same way."
"But we've had so much time with the little weirdness — sometimes it can be off-putting on the first listen or something," she continues. "But I'm aware that it's also a pop record, mainly, offset by some noisiness. And I really do try to make every song sing and elevate with fun, emotional shifts that strike me as moving and believed."
The painful process of creating Blue Rev that Rankin mentions is no overstatement. At one point a thief broke into her apartment and stole a recorder with demos of new tunes on it. The following day a basement flood ruined most of the band's equipment. Alvvays' rhythm section had a change over. Oh, and there was the whole COVID pandemic shutting everything — including basic band band rehearsals — down for a while. But all the bumps and delays helped shape Blue Rev into the heralded album that it ultimately became.
"I really didn't feel like if we had the record ready earlier, it would have been the right time to do that. We wouldn't have been able to tour. We would've canceled everything constantly," Rankin says. "And also, we wouldn't have worked with [producer] Shawn [Everett]. And he was such a fun, expansive presence for us — such an experimental guy that got us outside of our own heads... everything seemed to work out and I'm feeling quite Zen about it.""
Being the same mid-30s age as Rankin, I've found getting lost listening to Alvvays songs can often seem like a beautiful abstract stress dream. But unlike the actual ones that come at night, Rankin's there to serve as a guide to ease me through the rough spots with the calming confidence of her melodic voice, dashes of biting wit and undergirding Canadian niceness. She doesn't have all the answers, but she's unwavering in her commitment to sort through all the messiness with a level head.
It's alvvays nice to not feel alone. ♦
Alvvays, Disq • Mon, March 13 at 8 pm • $23 • All ages • Knitting Factory • 919 W. Sprague Ave. • sp.knittingfactory.com