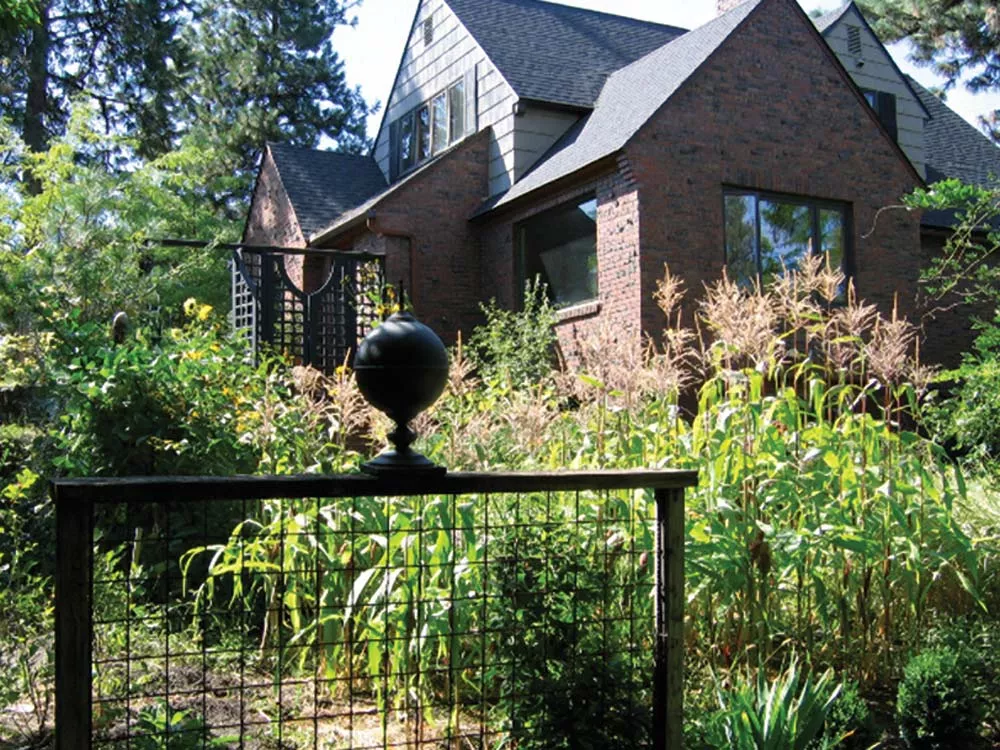 Art has taken root in Spokane's West Hills neighborhood. This Saturday's annual Art in the Garden event, organized by local artist Kay O'Rourke, is three times bigger than last year's, with live music, food and 25 art vendors. Part block party, part art show, part garden tour, it's like a mini-ArtFest, says O'Rourke, who adds that the original goal for the event was merely to make money and promote her artwork.
But Art in the Garden has grown past that. Today the show, in a residential area around the corner from the Finch Arboretum, draws around 500 people, O'Rourke says. She thinks it has become so popular because it's "a comfortable environment where people who never go to galleries or maybe have never experienced art can visit, buy a plant and see some really good art."
Among the artists who will show work this year is Rik Nelson, who is known for crafting fish from repurposed bottle caps and other recyclables. Jan Wilhelmi will present her mosaics, and Marianne Figgins will show watercolors. Rosanne Anderson sells rugs, baskets and yarn made from wool donated by her own sheep.
In addition to art, gardening and sustainability will be central themes. In past years, O'Rourke has invited Main Market Co-op and Washington State University's master gardeners — a nod to her own father, who brought his prized heirloom vegetables until he passed away. This year, Hungry Robin Garden will bring its heirlooms.
O'Rourke started the festival in 1998, when she lived in a rural area near the Little Spokane River, but brought it with her when she moved to the West Hills neighborhood in 2000. Over the years, she has transformed every inch of the sloping acre surrounding her 1930s brick home — built by one of Spokane's first brewmasters — into a meandering vegetable and herb garden. (Her home is also home to chickens, a pond and plenty of funky yard art.) She says the festival got off to a rocky start — the neighborhood was wholly unprepared for the hundreds of people who attended that first year. But her goal is to have a positive impact on the neighborhood.
She thinks it's working. O'Rourke broke her hip last year and suffered through a long recovery that prevented her from taking her usual neighborhood walks. But when she was finally able to get out again, she was surprised by neighbors who were eager to share their gardening news and who worried about the fate of their neighborhood event. Would she still be doing Art in the Garden, they asked? Could they be involved?
Two of those volunteers are Terry and Renee Best*, who run O'Doherty's Irish Grille. This year, they'll take a break from fish 'n' chips to provide barbecue and live music. Last year, Holly and Frank Dalke (3225 W. Seventh Ave.) were among the 13 arts vendors tucked into O'Rourke's garden property. This year, they'll not only sell Holly's refurbished vintage furniture, but they'll host vendors — Latah Nursery, jewelry designer Fielding Chelf and several clothing artisans — on what Holly describes as their mini-Manito perennial garden property.
"I created [this event]," O'Rourke says, "but part of me thinks it took on this life of its own."

Art in the Garden • Saturday, May 28 • 3123 W 9th Ave (and surrounding area),• Free • Email wakerobin @comcast.net or call 456- 2141
* A previous version of this story incorrectly identified the owners of O'Doherty's Irish Grille.