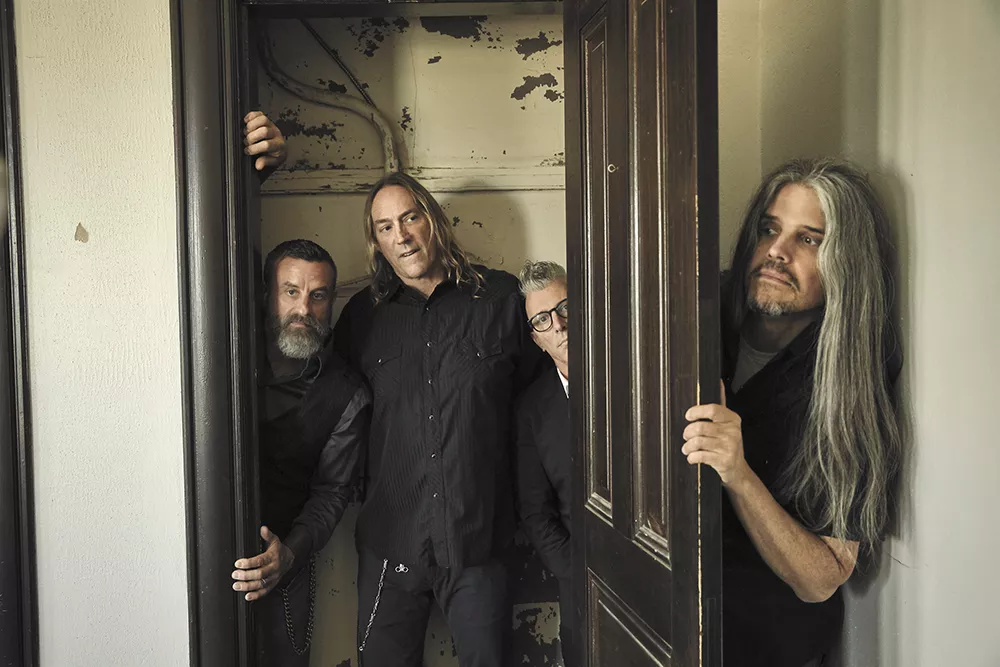 A primordial monster that emerged from the alt-rock ooze of the early 1990s, Tool became one the biggest bands in the world, then apparently got bored and did some other stuff for a while. Before last year's Fear Inoculum dropped, it had been 13 years since Tool had released an album.
But they've returned in a big way, breaking a bunch of streaming records and launching a world tour that's coming to the Spokane Arena on Monday.
On Fear Inoculum, the band's fifth album, frontman Maynard James Keenan's vocal approach is more melodic and less aggressive than ever, while still retaining the highly emotive quality that's at least partially responsible for extending Tool's popularity beyond the usual prog-metal circles.
What each member of the band contributes on an individual level, and the technicality of their instrumental performances, is another defining feature of Tool and the subject of much fawning from guitar-tab types. All four members are arguably virtuoso musicians, and we've all had to hear a lot about it because they have one of the most insufferable fanbases in the history of rock music, a vast army of scruffy dudes in cargo shorts insisting that you just don't get it.
For casual fans who prefer Tool in the bite-sized doses, like the 1993 debut single "Sober" and the radio-shortened version of their song "Jambi," well, you've come to the wrong metal epic. The songs on Fear Inoculum are longer and more complicated than ever, with several tracks clocking in longer than 10 minutes. They're both unlikely to turn listeners off with abrasiveness, like some early Tool tracks might, yet are less radio-friendly due to sheer length.
One album highlight is "Invincible," which fits right into the tracklisting of Tool's 2001 opus Lateralus, and ranks among the band's best tracks. It features everything one could want from a Tool song. There's the tricky song structures and hypnotic vamping, and the repetitive use of melodic phrases. You have brooding, coiling and ever-twisting basslines from Justin Chancellor. There are plenty of insanely technical-yet-somehow-primal-sounding drum fills, complete with auxiliary percussion, because that's what Danny Carey does, dang it. Searing solos and stupid-heavy riffage come courtesy of guitarist Adam Jones.
At one point in "Invincible," there's an echo of the stutter-step riff of "Jambi," but it's drawn out for several minutes in the manner of modern stoner- and doom-metal. Here, the band leans more heavily than ever on the power of repetition and the utter heaviness of drop-tuning riffage — and it really, really works.
Of course, it wouldn't be a proper Tool album without outlandish polyrhythms, changing time meters and lengthy ambient interludes. Thinking about how much head counting and toe tapping went into recording this album seriously kind of hurts.
Perhaps as a result of this difficulty for the sake of it, the band's instrumental prowess is on display more than the vocals. Maynard sagely takes a backseat to his bandmates, all three of whom take turns stunning with their abilities. Somehow, their technical precision is even more jaw-dropping than before (see 15-minute album closer "7empest"). Touring so regularly for the past several years, despite not releasing new music for a veritable eon, had to have helped hone their chops between albums.
Jones, in particular, goes crazy with the guitar wizardry across all 80-plus minutes of Fear Inoculum. Whereas many of his solos historically have been based around a few really well-placed notes and bends, amplifier feedback and manipulating his sound with a wah-wah pedal rather than traditional playing chops, he takes his lead guitar playing to a new level here. He's given far more opportunity to take us into space with layered harmonizing and straight-up shredding that threatens to melt your headphones.
On the whole, it basically sounds like you'd expect from four guys who have supposedly spent the past decade-plus maturing as people and musicians. After all, they all seem to have stuff going on outside of Tool. Maynard owns and operates a winery in Arizona — the recording sessions for Fear Inoculum reportedly took place around grape-harvesting times — and is the frontman of Puscifer and A Perfect Circle. Carey has been in a bunch of different bands, too. Jones is a prolific visual artist, and Chancellor has owned book and music stores on the side.
So much is the same with this new Tool music. They came back after 13 years and delivered an album that makes complete sense as the follow-up to their 2006 LP 10,000 Days, displaying an uncommonly solid understanding of their own sound. It's a natural progression from where they left off, lacking any really drastic sonic differences. You could even call it a crowd pleaser, which is a weird thing to say about an album featuring a five-minute drum solo.
But there is a noticeable shift in the lyrical perspective. "Invincible" is a beautiful song because in it we find Maynard — he of the nu-metal brohawks and incessant chest-thumping — at his most vulnerable. When he sings of a "warrior struggling to remain consequential" and "armor wearing thin," he's quite clearly referring to himself, the alt-rock star whose real heyday was like, 10,000 days ago. ♦
Tool with Author & Punisher • Mon, March 9 at 7:30 pm • $65-$125 • All ages • Spokane Arena • 720 W. Mallon • spokanearena.com • 279-7000