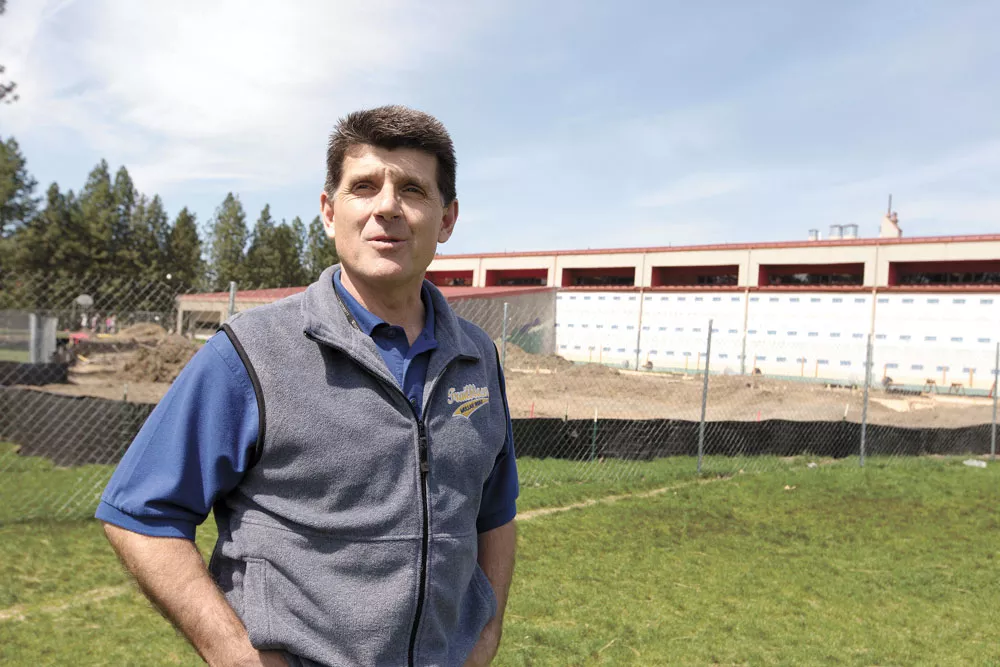 On a Friday afternoon at Longfellow Elementary, sixth-graders huddle around Patty Ratcliffe, an art teacher wearing a necklace of colorful beads. One by one, they proudly show off their drawings of amphorae — Grecian urns — with Viking ships and professional basketball players sketched in black alongside traditional Greek designs.
Unlike so many schools in the nation, Longfellow still has an art program. But today, it no longer has an art room. Thanks to a lack of space, the art room has been turned into a kindergarten.
Instead, Ratcliffe makes her way from classroom to classroom, pulling two carts of art supplies. Finger paintings of dinosaurs dry on a rack on a repurposed library cart, while a medical supply cart holds crayons, markers, scissors, origami paper and the "Mona Bucks" she uses to rewards students. A modified workroom in the library serves as her office.
"It has definitely compromised the program to not have the art space," Ratcliffe says.
Without an art room, she says it's not possible to wash tempera paints — it takes too long to wash all the brushes. "I can't use the kiln, because the kiln is in the kindergarten classroom," Ratcliffe says. "If you have a kiln running, it makes this 'rrrruuuuh' sound." It's too disruptive.
The Longfellow gym also faces challenges: Twice a week, two gym teachers teach two separate gym classes simultaneously in the same space.
"It's doable in a pinch," Ratcliffe says. "And we're in a pinch right now."
That pinch is being felt throughout the entire district, with music, art and resource rooms being used as conventional classrooms instead of their intended purposes.
This time, the trouble has nothing to do with budget cuts. Instead, it stems from two big, positive changes. Last fall, the full-day kindergarten was added district-wide. That growth took up additional classroom.
There's a bigger factor: Last year, legislation provided funding for districts to reduce kindergarten and first-grade class sizes in low-income schools to about 20 students for every teacher. It's basic math: Fewer students per classroom means more classrooms are needed for the same amount of kids. Combine that with increasing enrollment, and Spokane has a space crisis.
In February, a team of 15 administrators met to brainstorm solutions. The "art on a cart" model is currently being used at 10 elementary schools, and the committee recommended that nine more join them. In the fall, the district will build portable classrooms at three elementary schools, bringing two new classrooms to Longfellow, two to Whitman and four to Madison. Special alternative programs will be shuffled around the district to open up more space.
Yet 20 students per teacher is only a modest step toward funding basic education, defined in Washington's constitution and hammered home by the state Supreme Court as the "paramount duty" of the state. A 2010 bill requires teacher-student ratios in kindergarten through third-grade classes to average 17 students per teacher by 2018.
But meeting that ratio, Spokane Public Schools estimates, would take about 140 new classrooms — the equivalent of nearly six new elementary schools.
At Mullan Road Elementary in far south Spokane County, men wearing hard hats and bright orange vests drive heavy machinery as kids bounce basketballs off the playground backboards. By December, 10 new classrooms paid for by the 2009 bond will be built, and an older part of the building demolished.
But even after this construction is done, principal Mike McGinnis says, Mullan Road still will be completely full. That's despite the fact that Mullan Road isn't low-income enough to qualify so far for state money to reduce class sizes. McGinnis says it's not as simple as adding extra classrooms: "To me, it's about the unintended consequence: You add space on, and what other issues do you create?" Art, music and gym classes don't necessarily have time slots for extra classes.
Greg Brown, Spokane Public Schools' director of capital projects and planning, says the Mullan Road renovations were designed to allow additions. Why not add more room to grow? "We're working on what the voters approved," says Brown. "There isn't a lot of wiggle room to say, 'Let's add $3 million for this project.'"
Mullan Road isn't the only school constructed with the 2009 bond money to immediately be at capacity. When the new Jefferson Elementary was completed last year, the district announced it would have to move the "Designated Instruction" program over to Grant Elementary to make space for full-day kindergarten. Parents, incensed that a new school built with their tax dollars was out of space, launched protests. The district backed off.
The ultimate solution went like a round of musical chairs: Bancroft alternative school was moved to the empty Pratt Elementary building, the Community School in the Havermale building was switched to the Bancroft site, and Montessori programs at Balboa and Jefferson were sent to Havermale. That sparked a whole different wave of protest, this time from Montessori parents.
As Spokane Public Schools prepares for another bond campaign next spring, it plans to increase the number of K-3 classrooms to handle a ratio of 20 students per teacher district-wide. That's still three more than the ratio required by 2018.
"The perception I get is everybody's got a wait-and-see attitude," Brown says. The district is watching to see if the legislature will veer away from its requirement or give the district the extra funding necessary to build.
During this past legislative session, one bill would have budgeted $700 million in state lottery revenue for construction. It received near-unanimous support in the House but never got out of committee in the Senate. A proposed voter initiative for this fall could force the state's hand, making it spend an estimated $3.4 billion in order to reduce class size at every grade level.
"The good news is we're trying to do great things for kids by reducing the class size numbers, and that'll be great in the long run," McGinnis says. "But it creates some outside issues." ♦