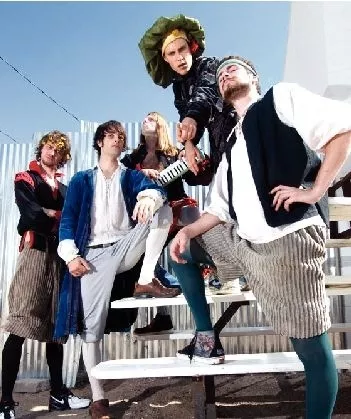 Quickly now: Which is from a Shakespeare play, and which is from an Iron Maiden song?
(a) "I will despair. There is no creature loves me,/ And if I die, no soul will pity me."
(b) "On this battlefield no one wins./ I sense the acrid smoke and horse's breath,/ As I plunge on unto a certain death."
Death, destruction, the futility of life — Shakespeare and metal have a lot in common.
And if you answered that (b) appears on the 1983 album Piece of Mind, go straight to the head of the heavy metal class.
The shared themes explain Jason Simms' idea of pairing up metal with Shakespeare's poetry and just, you know, startin' to thrash.
Two years ago, "Lord Simms" transformed his foursome from a group called Dagger of the Mind into (oh, the joys of truth-in-labeling) the Metal Shakespeare Company.
Picture four guys in sloppy Renaissance fair costumes. Wailing guitars. Self-mockery. Screaming soliloquies from Macbeth, Hamlet and Richard III (the source, by the way, of the first quotation above.)
Luke Dennis, the group's bassist, signed onto the idea because, as he says, "A literate metal fan would be hard-pressed to dispute that there is anything more metal than the tragedies that befall the likes of Macbeth and Hamlet — both victims of their own treacherous environments and their own agonizing thoughts. Why not go straight to the source? Shakespeare is the most metal lyricist of all time."
Simms adds that Metal Shakespeare's brand of comedy makes the group more approachable. "The average person spent painful hours in their teenage years being very serious about Shakespeare," he says. "To laugh at Shakespeare — even if it's just because I'm pouring beer on myself while performing the Porter's scene from Macbeth — can feel really good to people in our audience.
"I'm not worried about being looked down on as a gimmicky novelty act because we are a gimmicky novelty act."
There's a reason that the group's MySpace page proclaims, "Metal / Rock / Comedy."
"A big part of our act is acting dumb," Simms says in an e-mail exchange. "Our Elizabethan personae are really stupid. We are continually bewildered by technology, modern dress, modern expressions, and so on. Naturally, this is funny, but I also think it's healing. So many people are made to feel stupid while studying Shakespeare in school that seeing a band of faux-Elizabethans who can't keep their funny pants from falling down and who search for fairies in flashbulbs is a kind of vindication."
Dennis notes that along with all the crashing chords comes some widening of horizons for both Shakespeare geeks and metal fans: "Ultimately, we are a two-lane gateway drug, exposing theater and English aficionados to a rich genre of music that is often considered shallow and banal, and reminding loyal metalheads of the classic themes of the William Shakespeare they were perhaps too stoned to absorb the first time around in high school."
Perhaps in a baked moment of inspiration, MSC Googled Shakespeare and Iron Maiden and found Sonnet 66, in which "maiden virtue" is "rudely strumpeted." The poem lists all the reasons Shakespeare would just as soon kill himself: "art made tongue-tied by authority" and "simple truth miscall'd simplicity." After a horror-movie spoken intro, keyboards swirl, guitars throb, and "Tir'd with all these, for restful death I cry" — while it's the sonnet's opening line — begins to sound a lot like a typical metal lament.
Fun stuff. So I took up Simms on his offer to conduct an e-mail exchange in faux-Elizabethan, asking him to imagine sitting in a tavern and explaining bardcore to the Bard himself.
LORD SIMMS
Today I lead a groupe of brazen men
Who with loud lutes and drums lend melody
To thy words before crowds of drunken youths.
What say you, lyric poet?
WILL SHAKESPEARE
If my pen
Doth with thy minstrel's fingers and tongue mix
To overpower tavern's yells and ale,
Then we have won a familiar fight
Which at the Globe was fought near ev'ry night.
Elizabethans just wanted to get drunk and have a good time, and the Metal Shakespeare Company just wants to continue the tradition.
The Metal Shakespeare Company at Sunset Junction on Friday, March 5, at 9 pm. Tickets: $5. Visit metalshakespeare.com or call 991-2470.