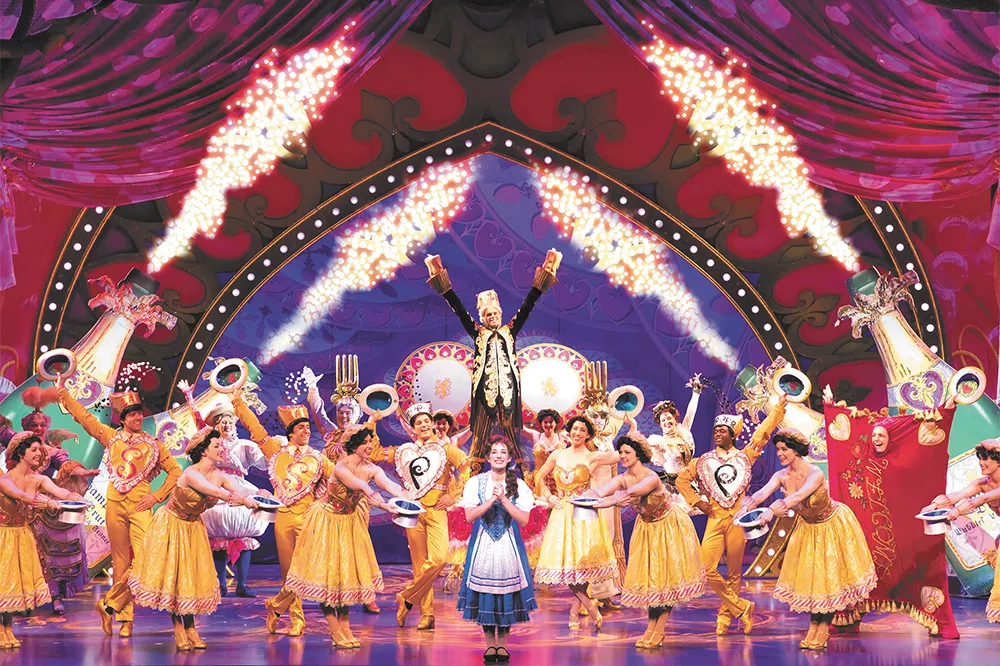 As kids of the 1980s and '90s, we grew up with Belle, Aladdin, Ariel and Simba by our side. We'd play our VHS cassettes until the magnetic tape stretched and the picture warped. We'd gather on the playground through grade school for impromptu renditions of "A Whole New World."
The peak of our childhood arrived in the midst of the "Disney Renaissance," that time between 1989 and 1999 during which Walt Disney Animation Studios underwent a major creative resurgence, releasing 10 wildly successful animated films — Beauty and the Beast, Aladdin, The Little Mermaid, The Lion King, Mulan, etc. — all based on classic stories and fairy tales. It was a great time to be a kid.
Of all films from that magical era, Beauty and the Beast has always held a special place in actress Brooke Quintana's heart. It wasn't Belle's enviable, sunshine-yellow gown or her princess character status. And not even entirely because the 20-something is now playing Belle in the touring Broadway production adapted from Disney's film.
"Belle was always my favorite princess, and it's because she's not a princess — she's a real girl," Quintana says on the phone from Columbus, Ohio, a few weeks before the show's two-night run in Spokane.
"She's smart and she's funny and witty and caring — she's not a damsel in distress. She's a strong, independent woman. She's very much a 21st century woman," Quintana continues.
The New York City-based actress grew up with Belle and company, and she names Beauty and the Beast as her favorite Disney film. It's also her mom's favorite, making Quintana's current role even sweeter.
"I am now doing something everyday I just love so much and adored as a child," she says, adding: "My mom and I are very close, so knowing I'm doing something she also loves is really special to me as well."
With a degree in musical theater from East Carolina University in Greenville, North Carolina, Quintana jumped right into the industry upon graduation, performing in several stage classics, including A Chorus Line and Peter Pan. About a year later, she moved to New York City and began auditioning, first landing the role of Éponine in Les Misérables for a production that took her to Indiana.
"I got a few [roles] pretty quickly, but not really what I wanted," Quintana recalls. "So I thought 'I'll stick it out,' because I wanted to do a show I really wanted to do, not just because it was available. It's important to do things you're passionate about in this business."
After Les Mis, she came back to the city and spent the next five months in and out of 11 rounds of auditions for the NETworks company's touring production of Beauty and the Beast. Last May, Quintana got the call she'd been waiting for.
"It was the best day of my life," she says. "This absolutely was a dream role for me."
While the story of Belle and her imprisonment in the Beast's enchanted castle is mostly familiar to both the show's cast and audiences, after nearly 200 performances so far for this tour, Quintana asserts that each show is a fresh experience for her. Though nuanced, each audience reacts differently, an observation the actress frequently notices as the company travels across the U.S. and Canada to perform, which they'll continue to do through July.
"Some nights you can hear a pin drop in the audience during some of the scenes. Those are the moments that you think, 'This doesn't get old.' They're so invested in the story and it makes it fresh for us every day," she says.
As Quintana grew up with the rest of us in that generation of children eagerly anticipating each new animated Disney creation, Belle's magical love story gained new meaning. Moments in life beyond childhood brought elements of the film's story to light that she'd never noticed before.
"As a child it was this amazing magical story, and now as I'm older it's still very magical, but it's a very real message," Quintana says.
"With everything we see going on today, the message of Beauty and the Beast is that's so important is to stop looking at the outside of everyone — to look inside and see what's there and stop judging people." ♦
Beauty and the Beast • Tue, April 5 and Wed, April 6, at 7:30 pm • $32.50-$72.50 • INB Performing Arts Center • 334 W. Spokane Falls Blvd. • wcebroadway.com • 279-7000