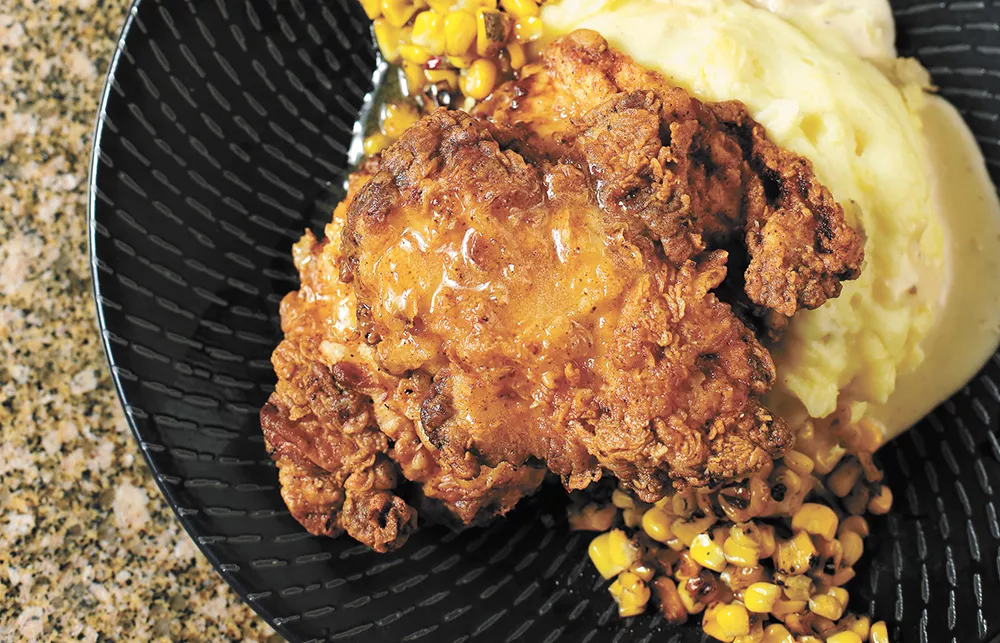 A 15,000-bottle wine list tended by a sommelier. Impeccable service from the moment guests step off the elevator on the seventh floor to the time they unfold their linen napkin. A priceless lakeside view. A seasonally changing menu with fresh seafood, anchored by classics like filet mignon and roast duck, and food show-worthy presentation. That's Beverly's at the Coeur d'Alene Resort, which has quietly and elegantly continued to shape fine dining throughout the region for more than 50 years.
The resort, which is one of only two restaurants in Idaho recognized by the Distinguished Restaurants of North America (Spokane list-makers include Masselow's and Churchill's), actually dates to 1965 when it was the North Shore Resort. Its flagship fine dining place, the Cloud Nine, was the place to go for special occasions.
In order to get more people familiar with dining there, recalls the resort's longtime executive chef Rod Jessick, then-owners Bob Templin and Jerry Jaeger wanted something accessible to area diners. For under $5, says Jessick, they served all-you-can-eat broasted chicken with mashed potatoes, gravy, beans almondine, coleslaw and dessert. It was a hit.
But chicken dinners didn't fit the format of what current owner Duane Hagadone of Hagadone Hospitality envisioned for the then newly christened Coeur d'Alene Resort, which opened on May 4, 1986. Named for Hagadone's mother and replacing Cloud Nine on the seventh floor, Beverly's Restaurant would redefine fine dining yet again.
In the early days, says Jessick, Beverly's was about the experience, like servers arriving tableside with a domed entrée, which they removed with a flourish. Now, they're much more food-focused, says Jessick, one of five chefs to lead Beverly's in the restaurant's 33-year history.
Jim Barrett is Beverly's current executive chef and a key to why chicken dinners have returned to the seventh floor.
After numerous requests, including from resort manager Bill Reagan, Barrett set out to create a dish that balanced expectations about fried chicken — crispy, tender, flavorful — with the panache Beverly's diners have come to expect.
"I knew it had to be good to get past chef Rod," says Barrett, whose 25-year career with Hagadone Hospitality restaurants includes resort pastry chef and executive chef at Tito's Italian Grill.
Barrett experimented with brining — he uses buttermilk — frying, and a balanced flavor combination of salty, savory and sweet. The result: truffle honey fried chicken with ultra-creamy Yukon Gold mashed potatoes, roasted skillet corn and a decadent chicken demi-glace ($32). Call it elevated comfort food.
Included with the meal is the resort's signature orange butter flake roll, whose history illustrates the degree to which Hagadone has been involved with the resort's continued success. After having one of Spokane Club's signature orange rolls, Jessick was then tasked with creating a Beverly's-worthy version.
A similar thing happened with the resort's new digital tablet menu, says Jessick. Hagadone saw a tablet elsewhere and brought the technology to the resort, says Jessick, who likes how it's held the culinary team accountable.
"It has to look as good or better than it does in the picture" on the menu, he says. ♦
For more great elevated fried chicken, also try: Honey Eatery & Social Club (Coeur d'Alene), 1898 Public House, Casper Fry
CORRECTION: A previous version of this story incorrectly identified the original owners of Cloud Nine restaurant and the current owner of the Coeur d'Alene Resort.