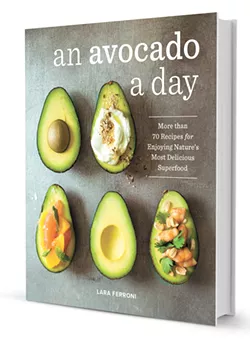 As a child, Lara Ferroni wasn't a fan of avocados (though she thinks this is largely because her brother used to chase her around with them) but since then, she's fallen completely under the avocado's spell. This is clear as soon as you pick up her new book, An Avocado a Day, which was released earlier this year.
The book is a vast exploration of everything the avocado has to offer, from the guacamole we know and love (Ferroni includes four recipes, although, she says, she could have added many more), along with more than 60 other recipes and uses you might not have expected, like a cocktail or smoothie, or as a substitute for cheese in your mac.
For Ferroni, who has styled and photographed more than 20 cookbooks, including Put an Egg on It and Real Snacks: Make Your Favorite Childhood Treats Without All the Junk, some of the most surprising uses discovered while writing the book came in the form of desserts.
"People don't normally think of avocado in a sweet context — although certainly in Southeast Asia it's actually more commonly used as a sweet than a savory ingredient — but just the texture it could give to a sweet dessert, replacing something like sweetened condensed milk to do a pudding, or in a shake to just give it a little bit of really creamy, smooth texture," she says.
Another unexpected standout was the avocado pickle.
"I wouldn't can them, but if you do a quick pickle on an avocado, it makes a really nice addition to sandwiches," says Ferroni. "It's a really great use of avocados that are maybe just a little firmer than you were expecting."
You may have heard about avocados' many health benefits — all good reasons to eat one every day — but might not be aware that avocados can also enhance other healthy ingredients.
"When you eat a lot of greens that are obviously very high in nutrients like kale or spinach, if you don't have some sort of fat, you don't get as much nutrients out of those as you might expect," explains Ferroni.
"If you have some sort of healthy fat — a salad dressing acts the same way, but if you can use an avocado which brings its own nutrients, you'll not only get the nutrients out of the avocado, which have all kinds of heart-healthy benefits to them, but you also get more nutrients out of all the greens in your salad as well. You're going to get more out of both."
This is also true if you like to throw a little spinach or kale into your green smoothie.
Although we can't grow avocados in the Inland Northwest, there's something else we can grow here, the author says.
"Avocado leaves can be dried, and they have a really nice flavor to them. In Portland, I grew some plants from avocado pits to make houseplants," she says. "Then, you can take the leaves off, dry them, and you can make an avocado salt. It's got a slightly anise flavor to it that's really quite tasty."
Avocado leaves are a staple of Latin American cuisine, with wide-ranging uses.
Just in case all of this wasn't enough to convince you of their benefits, avocados can be your new best friend when baking.
"If you want to swap out some butter or oil in some baking, it works really well," says Ferroni. "The chocolate chip cookies that it makes have a really nice texture to them — they hold up well over time — they don't get super crumbly, they maintain a nice softness; crisp on the outside but soft in the middle."
Even with all of her recipe testing, Ferroni still isn't tired of this versatile fruit: "I think I went through about 300 avocados making this book, and even after all of that, they're still one of my favorite foods."
Pick up Ferroni's book, available at Auntie's and other local booksellers, and avocados just might become one of your favorites, too — if they aren't already. ♦