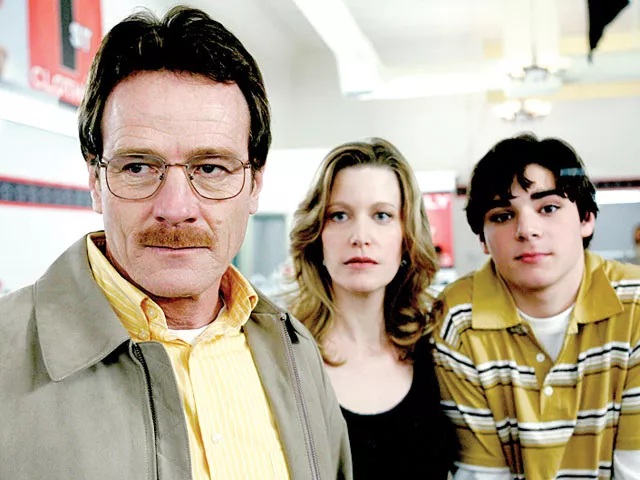 At first glance, the two sides of the same man couldn't be more different. There's Walter White (Bryan Cranston), the high school chemistry teacher whose midlife existential crisis only grows upon a cancer diagnosis. He's beaten down, he's world-weary, he's distant. Try to talk to him, try to make him laugh — engage him in any way — and get a far-off stare and a mumbled reply.
Then there's Heisenberg (Bryan Cranston), the street name of the most ruthless drug lord in Albuquerque, New Mexico. He's the bald white man, staring from behind a fedora and sunglasses, slinging the purest meth that addicts have ever snorted. He's capricious, he's temperamental, he's erratic. Try to measure him, try to predict him — cross him in any way — and die.
In Breaking Bad, however, Walter is more complicated than your typical Bruce Wayne/Batman split personality. And he's not just another iteration of Falling Down, of a man driven by circumstances to do horrible things.
For the first few episodes, I scoffed at how fast Walter decided, 'Hey, I got cancer, might as well make meth.' But by Season Two, I understood: Even before the cancer, Heisenberg — his simmering, unpredictable anger — had lurked inside Walter. And as the show progresses, the two sides, the milquetoast and the madman, begin bleeding together.
This is brilliant, brutal television, heightened by gorgeous cinematography and daring storytelling devices. Granted, Breaking Bad writers can't match The Wire's knack for drug-dealer dialect. (Any "gangstas" reading the Inlander, let us know: Do you still punctuate sentences with "yo"?)
But that's all a quibble when set against Cranston's acting.
It's easy for great acting to be about big yelling scenes or crying scenes. Sure, Cranston does those marvelously. But he does nuance just as well. He plays frustration slowly smoldering into a growling resentment. The creeping anguish at seeing the control of his future torn from his fingertips. A gasp of happiness washed away by regret.
As Cranston plays the willful suffocation of Walter's soul, you can see his soul struggle — its pulse quickening, then slowing, then thumping to a stop. Only dead eyes remain.
---
TIVO-WORTHY
The Pacific
It's a dream scenario for quality television: Stephen Spielberg, Tom Hanks and HBO teaming up for a Band of Brothers-style miniseries about the Pacific theater of operations during World War II. Its budget is three times Saving Private Ryan's. Its action is brutal; its intensity is unrelenting. This is the most hellish that war has ever been on television. (HBO, Sundays, 9 pm)
Sons of Tucson
Slobbish Ron Snuffkin (Tyler Labine, the Grocery Outlet version of Jack Black) is hired by three young boys (ranging from precocious to hyper-precocious) to fill in as their pretend father, so they don't have to go to foster care. The zany comic style falls somewhere in the middle between The Middle and Malcolm in the Middle. (Fox, Sundays, 8:30 pm)
Jamie Oliver's Food Revolution
Huntington, West Virginia, is a beautiful town. Well, its scenery is. Its people, however? Ranked the unhealthiest in America. But here comes British chef Jamie Oliver riding into town, packing a loaded salad-shooter and fistful of carrots, ready to take names and kick some candy ass. (Premieres Friday, March 26, 9 pm on ABC)
Follow Daniel Walters' TV commentary at twitter.com/danieltwalters.