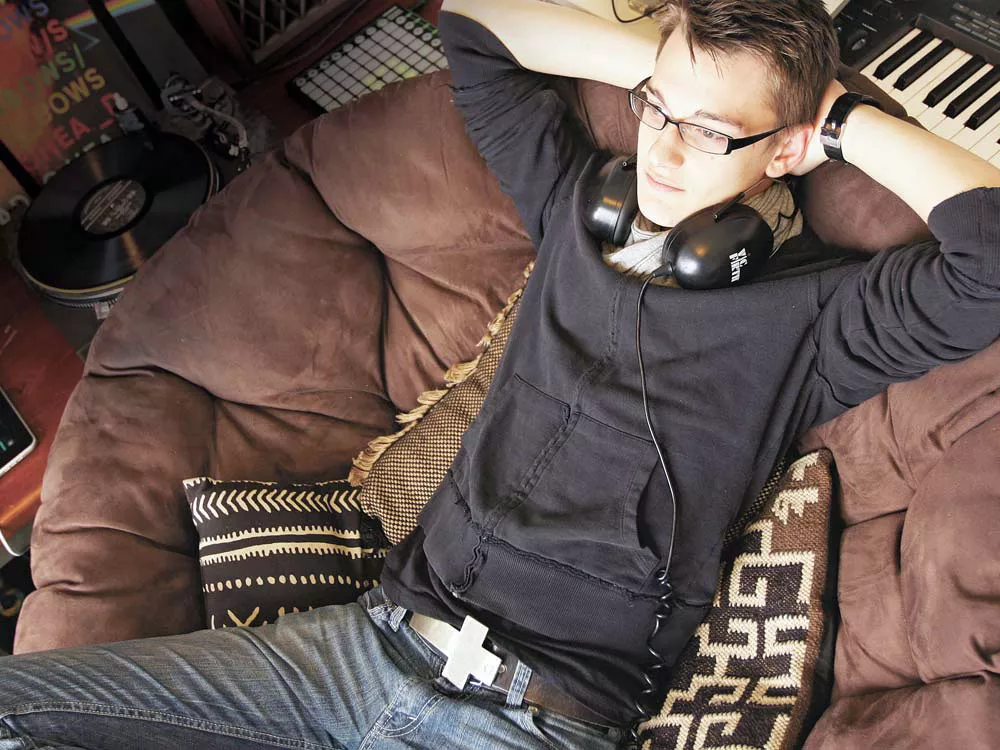 The Spokane music scene relies on a skinny 22-year-old. You've probably seen him. He wears thin black glasses, tweed sport coats and a classy array of men's dress shoes. His chariot is a yellow bicycle.
He'll DJ your house party or stand in for your drummer who's too drunk to play. And in the last year alone, he's filled in for more than 10 different bands at more than 100 different gigs.

"I like to call myself a multi-instrumentalist," Benjamin Jorgens says. "Not someone who can play multiple instruments, but someone who can do anything and fill multiple roles. I like being thrown into the mix — but that could just be Attention Deficit Disorder."

Jorgens is definitely afflicted with an inability to sit down. But it's in his character. He's always been that eager, immensely friendly 12-year-old theater and music buff in a suit and tie. He's earnest and driven — and the local music scene is all the better because of it.

The Spokane native claims to have been in the right place at the right time. He befriended a group of musicians, bought Locke's turntables (a longtime local DJ who moved abroad last year) and started inundating the local scene.

"I just started playing anything that people would ask me to do," Jorgens says. "I would tell musicians if you ever encounter a situation where you want production advice or you need a fill-in drummer or electronics, just ask."

Jorgens built up a reputation with bands and production companies as the stand-in, go-to drummer and DJ. He's toured with Mon Cheri, worked with Space Opera 77 and held a weekly DJ slot at the Seaside, to name just a few.

At the turntables, he spins a danceable variety of independent electronic music (think Gold Panda, Flying Lotus, Matthew Dear). As a drummer, he dabbles in and picks up on just about every genre. Jorgens says he likes the variety but worries about how taxing the workload and constant creative output are.

"I don't want to feel pretty good at a lot of things," he says. "I don't want to be like that. My goal is to be great at everything, everything that I call myself. I want to feel really strongly about it." This might be what's keeping him from playing his own — original — electronic music.

His first few gigs were as a solo electronic performer. He integrated live keyboard and drums over his own pre-mixed beats and loops. The drums were eventually replaced with synthesizers. And with more and more bands asking for him to fill in and venues asking him to DJ, the solo act retired altogether.

More than a year has passed since his electronic shows, and for now it looks like his solo creativity is left to the confines of closed doors and his own perfection. He's comfortable being the middleman. He's safe at an inch away from the spotlight. But he's gaining notoriety. Just give it time.

"Playing in between bands and filling in isn't about you," he says. "It becomes more of a job, like being a wedding DJ or something. I look forward to having more gigs more focused on my technical ability and my set."

Benjamin Jorgens spins before Character Flaw and Striking Back • Fri, Nov. 26, 8 pm • Jorgens also plays DJ-Explo #1 with Stone Tobey, Likes Girls, Forcefeed, Coz and Jah •Sat, Nov. 27, 9 pm •Aclub •21 • http://www.aclubspokane.com • 624-3629
{embed_video}