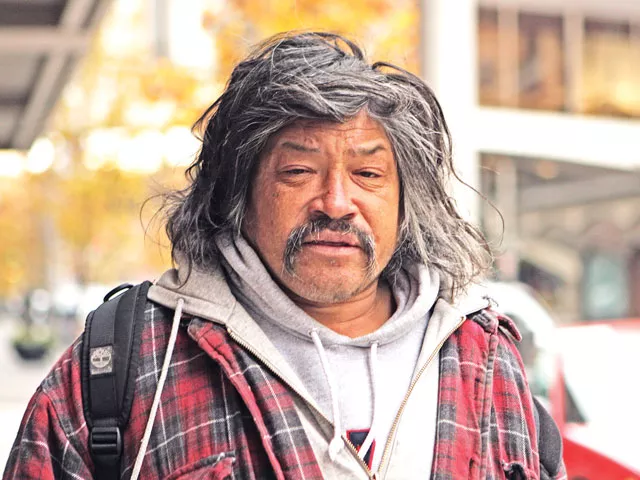 Michael, a bearded panhandler beside a woman carrying cardboard "God Bless!!!" signs, pulls out a slip of paper stuffed inside his glove. It's a citation — not having the proper business license — that he says carries $257 fine.
"We ain't been up here very long," says Michael, declining to give his last name. "I ain't know about the rules."
Unless Michael was panhandling in the middle of the street or on private property, he doesn't need a permit. Panhandling is legal. But not everybody knows that, especially after the Spokane City Council last November passed ordinances that targeted panhandling activities. Within the downtown core, the city banned sitting on sidewalks and panhandling next to business entrances or within 15 feet of ATMs.
To make matters even more complicated, the Ninth Circuit Court of Appeals in July stripped Seattle of many of its anti-solicitation ordinances, opening the door for Spokane's rules to be challenged. In light of the court's decision, Spokane City Attorney Mike Piccolo is revising the city's policies.
"There will be some proposed strike-outs," says Piccolo, who won't give specifics yet. "We'll restructure it a bit."
Bonnie Beavers, an attorney for Spokane's nonprofit Center for Justice, expects a dramatic rewrite of the rules. "I've got the feeling they're going to drastically change it," she says.
THE RULES
A year and ago, the city's only major restriction was against "aggressive solicitation" — behavior that would intimidate a reasonable person.
"Just being afraid because that person is dirty and has a beard is not reasonable," Beavers says.
But city businesses, especially after the 2007 Figure Skating Championships, wanted more. They said panhandlers were swearing, cursing, blocking sidewalks — licking windows.
Chronic panhandlers knew their rights and knew they didn't have to budge if they didn't want to, says Marty Dickinson, president of the Downtown Spokane Partnership. "There's a reason they're digging in," she says. "Their intent is to intimidate and disrupt commerce."

So the city passed more sweeping restrictions. One ordinance banned sitting or lying on a downtown sidewalk between 7 am to 9 pm. An exception was made for political protesters.
"I tell the panhandlers if they have a political sign, they can sit down," street musician Rick "Harpman Hatter" BoCook says.
Another ordinance banned panhandling within 15 feet of an ATM, building entrance, fuel pump, car wash, bus stop, taxi zone, pay phone or someone exiting a vehicle.
"We joked that you can't panhandle within 15 feet of any place downtown," Beavers says.
Since January, 18 citations have been given for the soliciting in the wrong spot, three under the sit-and-lie ordinance and 81 for "aggressive solicitation."
Beavers has seen a change:
She says she used to get asked for change all the time, but not anymore.
Once when she was walking home in the rain, she says a panhandler asked, "I'm probably breaking the law, but could I spare a dollar?" "You know, you're not breaking the law," she replied. "I can spare a dollar."
The Ninth Circuit Court of Appeals found Seattle's law not to be content-neutral — a problem with Spokane's 15-feet restriction, Beaver says. In other words, it's problematic, constitutionally, to ban, "Brother, do you have a dime?" while allowing, "Brother, do you have the time?" In the middle of this legal confusion is Downtown Spokane Partnership's private security force, known as Security Ambassadors, who are often the first ones to come in contact with panhandlers in violation of the current ordinance.
Security Ambassador Dan Hall says he'll continue to remind panhandlers of the ordinances on books, and let the police decide how to enforce it. (He says Ambassadors call police only asa last resort — about 5 percent of the time.)
Larry Killstrom, head of the Security Ambassadors, has found the ordinances a valuable tool to deal with panhandlers.
"If I walk up to somebody and he knows panhandling's legal… then I'm back down to begging," Killstrom says. But with these restrictions, he can say, "You and I both know it's illegal."

LIFE OF AN AMBASSADOR

Killstrom has been walking the streets for Security Ambassador program since it started 13 years ago. Killstrom estimates that there are 90 percent fewer panhandlers today than in 1996.
That's thanks, he says, to a revitalized core, better homeless services and the Security Ambassador program.
He knows the panhandlers.
He can rattle off their street names — Dollar Shirley, the Carpenter, Tomahawk, No Necker, the Spitter.
The ambassadors' goal is to be more social worker than cop. They start friendships with panhandlers, he says. They try to help them, by pointing them in the right direction instead of shoveling cash toward chemical dependencies. The ambassadors get rave reviews from the House of Charity and other advocates.
But panhandlers like Randy — a schizophrenic and recovering crack addict — call them rude, wannabe cops.
"They follow me, stalk me, start calling me 'goddamn f---ing scum,'" Randy says. "I've been searched, asked to empty out my pockets."
The Security Ambassadors admit occasionally following him, but deny cursing or searching him.
"There might be a guy going in his own pants, vomiting, I don't care," Killstrom says. "The first thing we go through in training: We treat everybody with respect."
Killstrom has brought in representatives from Center for Justice to teach a class on what sort of rights panhandlers have.
Killstrom says he's seen too many panhandlers dive toward the grave — beaten to death for their money, overdosed on drugs or alcohol bought with their tin cup proceeds.
"There's a lifestyle and there's those who are in need," Killstrom says. "Those who are in need, everybody's going to rush to go to help... I think [the ordinances have] reduced the number of people who do it for a lifestyle."