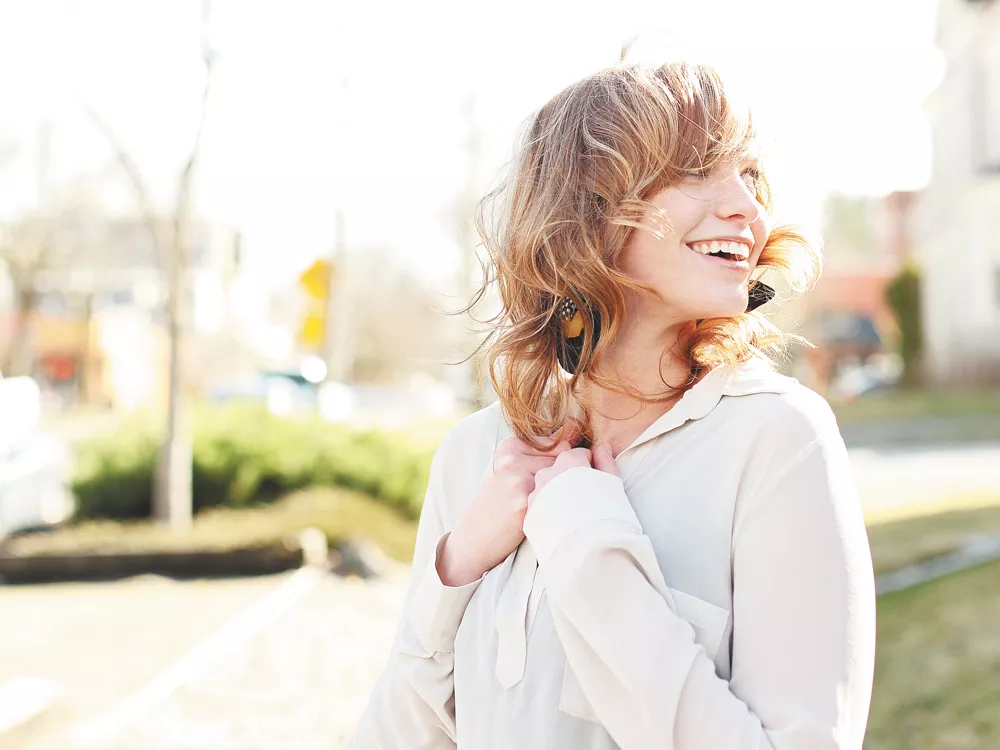 Someone has recognized Cami Bradley. She's caught off guard, but listens politely as a man hands her his iPad, hitting play on a video he's produced for the overseas health organization he works with. Bradley's voice can be heard in the background, then coming to the forefront as the credits role. She says it's a song she recorded with her church a while ago and smiles — maybe with a hint of embarrassment — before she hands the device back to the man, now seated at the table behind her in a Browne's Addition coffee shop.
Bradley says she's never searched out any sort of recognition of fame. But, as evidenced by this encounter, people in her hometown of Spokane are slowly starting to get hip to her talents. And with new music on the way and plans to make a musical push in the near future, it's likely more and more people are going to recognize the 23-year-old chanteuse.
"When people come to me, I'll say, 'Sure I'll do that,' but I've never really pursued playing anywhere or playing with anyone before. I never really cared about the fame thing, and I'm not sure I care about it now," says Bradley, seated across the table from her husband, Eric Bradley, who plays drums in her newly formed backing band.
That is changing, though. She's brought on the band to bolster her smooth, sometimes bubbly, sometimes jazzy take on piano pop and is playing a show this weekend at the Spokane Club to celebrate this new Cami Bradley. It's a coming-out show of sorts, and soon she and her band will lay down the tracks for the new album they hope to release this summer.
Sure, it's a new chapter for Bradley, but hardly the first foray into music for a performer who has matured more quickly than most her age. Growing up home-schooled in a highly musical family, Bradley was only 17 when she won a new car in a local singing competition. Soon after, she was offered a spot, which she turned down, on a reality television show. Then she got married and began a career as the musical director at her church, New Life Center, where her parents — and her husband — are also employed. These days, she's also become an accomplished wedding photographer. It's a lot for someone still in her early 20s.
Music has been her career since she arrived at adulthood both in the church and playing her own music, releasing a full-length album in 2010 (she's no longer much of a fan of that one) and playing shows around town, including an opening gig for Allen Stone. And weekly she's singing for nearly 2,000 people at her church, giving her a built-in fan base.
The music Bradley and her band plan on dishing to their fans, however, isn't Christian music. Yes, she does write and play religious music in her church, but she shies away from that when it comes to her career as a solo artist, opting rather for an Adele-like take on emotion-laden and story-driven songs. While much of the music matches Bradley's sunny disposition, she also dips into a moodier, darker place from time to time, bringing to mind early Alicia Keys or Coldplay, a band she cites as a significant influence. It's hardly church music.
"I don't like to be tagged as that. I'm a Christian, but my music is not Christian," says Bradley. "It's more storytelling and personal."
Eric chimes in. "If you're good, you're good and if you believe what you believe, that will come through in your music," he says, just one of many pieces of praise he offers for his wife during the interview.
The two are clearly a team, but Bradley writes her music on her own — in the basement of their home, alone with her piano. She does take the occasional tip from Eric, but by and large, this is her music and Eric, as he puts it, is just the drummer in this band. He is also her biggest cheerleader, and he's clearly on board for the focused push Cami and the band are embarking on.
"We want to get after it for a while and see what comes of it," says Bradley. "I love my family and I love my job. It was never a pull for me to go make it big. For the first time, I've been feeling like I want to pursue something and if that opens up, I'll explore it and if it doesn't, I'm happy with that, too."
She looks up at Eric. "I don't want her to look back 20 years from now and say 'I had this talent and I never pursued it,'" he says, earning a heart-melting grin from his lady.
"We're willing to go on an adventure together, right?" she says. She reaches across the table and gives her husband a fist bump.

Cami Bradley with Horse Thieves • Fri, March 23 at 7 pm • Spokane Club • 1002 W. Riverside Ave. • $12, 10/Spokane Club members • 838-8511