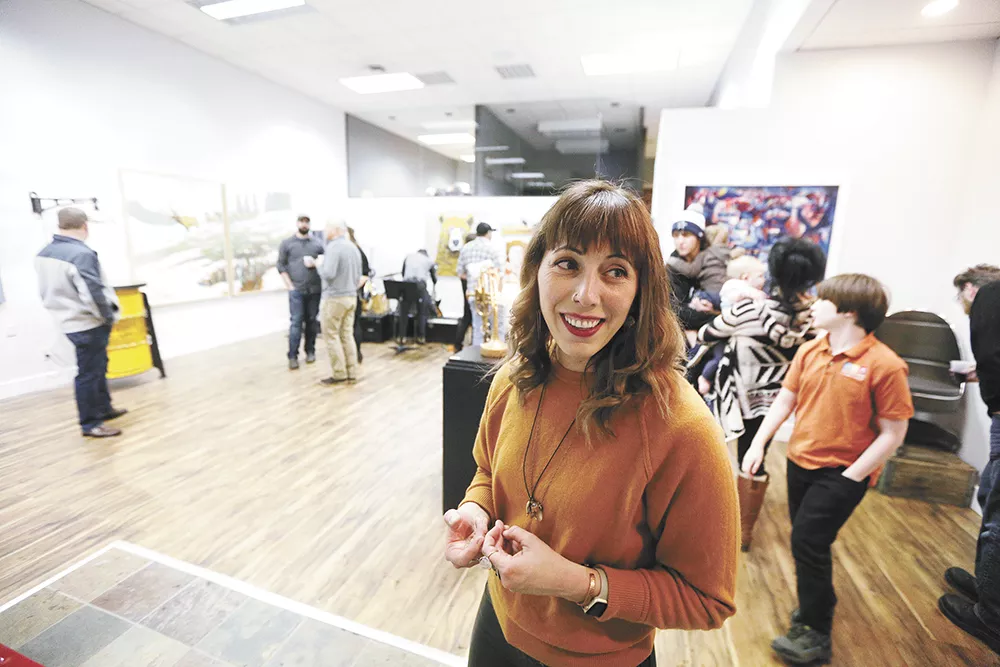 On Monday, Jan. 20, Jeni Hegsted awoke to a nightmare: Fire had ravaged several Coeur d'Alene businesses at Fourth and Lakeside. That's where Emerge, a contemporary art gallery and teaching space she developed six years ago, was located. She didn't yet know the extent of the damage that would eventually destroy five of her neighbors: 720 Haberdashery, Cole Taylor Salon, Heart City Tattoo, Schmidty's Burgers and the Farmer's Insurance office for agent Michael Shore.
When she arrived on the scene that morning, charred debris littered the streets and snowy sidewalks. She was relieved to find that not only had Emerge's firewall held, firefighters saved computers and a good portion of the artwork inside, temporarily relocating it to nearby Cisco's Gallery.
"Any time there's a fire, we always try to salvage anything we can," says Coeur d'Alene Fire Department Fire Inspector Craig Etherton. Weighing the possibility of fire spreading northward, they sent some crews to grab what they could until it was no longer safe, says Etherton, who notes the origin of the fire is still under investigation.
Fortunately, between social media, cell phones and the proximity of artists and art supporters living close to downtown, Hegsted was able to muster help retrieving more items before the building was sealed off. They hauled most of Emerge's pottery equipment and some of the photography darkroom, although supplies and other items are either damaged or sitting in what is now frozen water.
They then relocated the rescued artwork to the Human Rights Education Institute (HREI), with whom Emerge has partnered on numerous projects in the past and where Hegsted has set up a temporary office.
HREI is also hosting the current exhibit "Natural Selection" as well as Emerge's multisession Emerging Artist Incubator program led by Eastern Washington University adjunct Reinaldo Gil Zambrano. Emerge's pottery classes will be held at Gizmo, while Calypso's Coffee is the new destination for Emerge's Open Mic and Open Draw events.
Artist Jeff Weir, who got his start through Emerge and now has a thriving studio and business in Coeur d'Alene's Rockwood Building, raised $3,375 through the sale of several paintings.
"Now that my art career is doing very well I want to encourage others to follow a path that they are passionate about," Weir says, "and nobody encourages and drives artists like [Emerge does]."
Other businesses and individuals have stepped up, too.
Before the smoke had cleared, Lake City Playhouse offered to donate proceeds from a play, Art Spirit Gallery offered exhibition space and five locals — Armando Cantarero, Bre Gotham, Bronwyn Riley, Hanna Rebecca and Tyann Bjorkman — had created a Facebook page, "Here to Help: Cda Business Fires," to coordinate support for all the businesses affected.
"We're so thankful for all the different programs or businesses helping us out, for sure," says Hegsted, who is waiting to hear from the Fire Department, the insurance companies and the property owner. Then they'll determine their next move, she says. Until then, they're in limbo, unable to even look for a new space without breaking their lease.
Hegsted figures it would be at least $8,000 to get into a new place, yet she doubts a comparable space exists downtown.
"There's so many elements to Emerge that we were able to house in that space that it's going to be very challenging," says Hegsted, who estimates that in 2019 alone, they invested $30,000 into improving their rented space, from texturing the walls and installing gallery-appropriate lighting to redoing the floor. All of that was from fundraising and grants.
The 3,500-square-foot space encompassed three floors: teaching areas and a kitchen in the basement; a gallery, closet, bathroom and small stage for live events on the main floor; and offices and studio spaces on the uppermost level.
Rhys Gerwin, one of Emerge's tenants who taught music out of one of those studios, scrambled to rescue his baby grand piano and other instruments, many of which reeked of smoke but were otherwise structurally sound. Although he relocated much of his equipment to his home, the piano is sitting at his piano technician's showroom being treated with an ozone generator to remove the smoke odor.
"It's definitely affected its value," says Gerwin of the piano, who is quick to point out it could have been worse.
Like many in the arts community, Gerwin works multiple jobs: teaching music privately and at North Idaho College, as well as working in food service. And, like Hegsted, he's awaiting the fate of the building before considering finding a new studio.
"My first inclination is [I'm] probably not going to find something comparable," says Gerwin, who knows the $200 monthly rent, downtown location and supportive community will be hard to replicate.
"It was amazing to see all the people who were helping [after the fire], people I've never seen before," says Gerwin. "I was so stressed out I couldn't take a second to appreciate it but looking back, wow. What a great community."
Those wanting to help can donate to the "Rebuild Emerge" campaign via gofundme.com, or they can simply go out and support the artists of Coeur d'Alene.
"Show up for events, for art, for the artists," Hegsted says. "Just show up." ♦