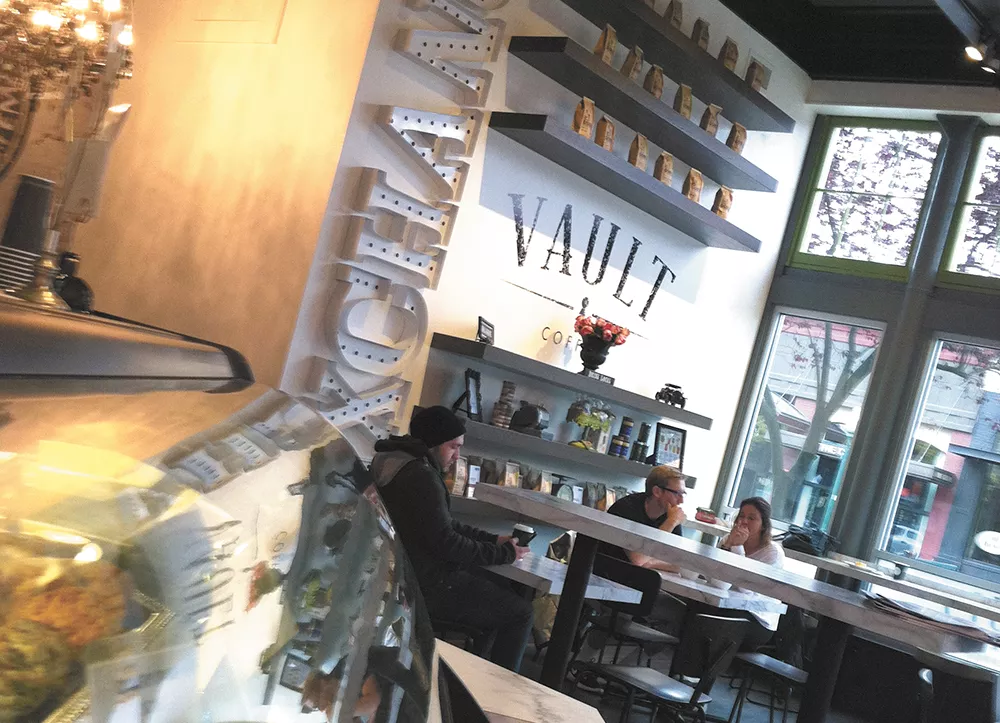 A new Coeur d'Alene coffee shop is banking on its central Sherman Avenue location and welcoming interior to earn its way into the hearts of area coffee lovers. Vault Coffee takes its name from the building's 1904 origin as the Exchange National Bank, which informs décor and even some of the menu.
According to owner Danelle Reagan, the "silver dollar" cupcake they offered on National Coffee Day in September was a nod to the bank's first president, William Dollar (no, we're not making this up). The Reserve Collection of coffee drinks includes the Combination ($3.80-$4.90), featuring Mexican chocolate.
Vault Coffee features a trendy blend of French, rustic, retro, vintage and modern elements such as hammered tin, elegant black chandeliers and barn wood-style flooring. Communal countertops of faux black-and-white granite create stand-up and sit-down eating areas, including along one windowed wall facing Sherman — prime people-watching — while clusters of plush gray chairs and little tables provide cozier spots. The word "Exchange" is spelled out in mammoth, wall-mounted metal letters, while grainy floor-to-ceiling images from the bank's history create visual interest.
"It feels like Seattle," said customers Kaylee Gimlin and husband Micah. She was especially impressed with the transformation of the space, formerly occupied by the Java on Sherman coffeehouse — they relocated four blocks west this summer (see the Update story in this section) — where she worked as a teenager.
He appreciated Vault Coffee's use of DOMA Coffee, a local business that supports eco-friendly roasting, fair trade, the use of organic products and sustainable business practices. Also nearby, Sweetwater Bakery and Pilgrim's Market provide the baked goods, such as fresh scones and Morning Glory muffins ($2.75).
While the market may be volatile, changes at Vault Coffee will be easier to digest. With the ink on their beer-and-wine permit newly dry and kitchen upgrades in the works, Vault Coffee is also looking into doing their own baking.
"We're slowly easing into those other things," says Reagan. ♦
Vault Coffee • 324 Sherman Ave., Coeur d'Alene • Open daily, 6 am-6 pm • vaultcda.com • 208-966-4193