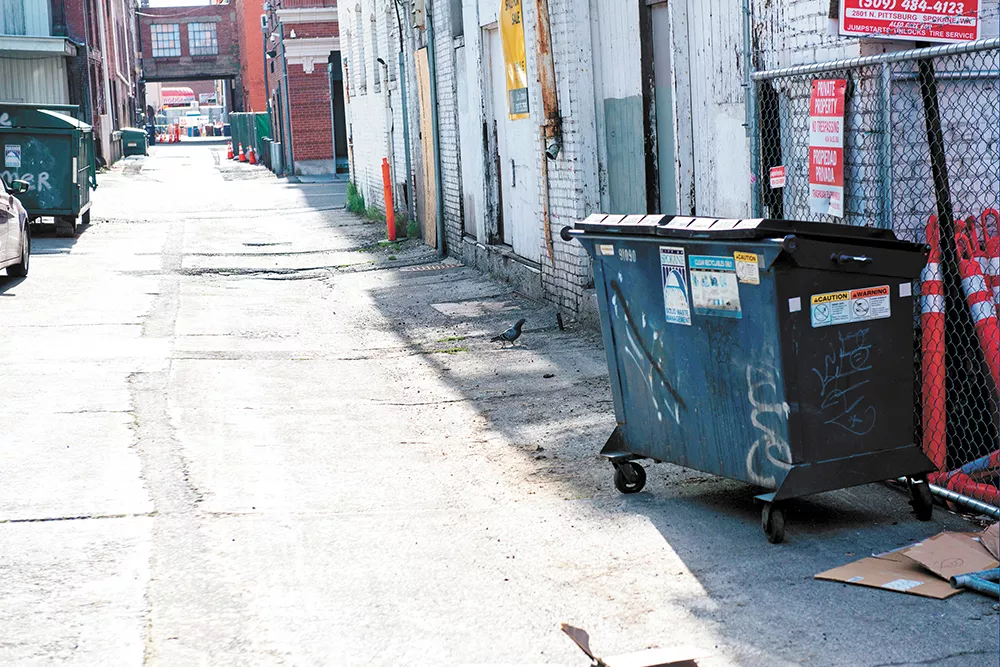 For now, Railroad Alley — at least the part that bisects the downtown core from Europa on Wall Street to the Spokane Ballet Studio on Adams Street — is not exactly evidence of the city's revitalized downtown.
Bike-tire-popping glass litters the cracked and pothole-pocked asphalt. The handful of pedestrians and Lime bike users using the alley during rush hour get a tour of rusted back doors, crumbling brick and pipes leaking into puddles.
But when the city's community programs coordinator Maren Murphy looks at Railroad Alley, she sees opportunity.
"I think it's a great starting point," she says.
Railroad Alley is about 4 feet wider than your typical alley, she notes, providing more space to make changes. It's one of the only alleys to include entrances of businesses, like Heritage and Whistle Punk Brewing. It's rife with development potential. After all, in downtown Spokane, every square foot of land is precious.
And so right now, there are two separate efforts from the city to "activate" alleyways, turning them from ignored or dilapidated corridors into vibrant pathways — or even destinations.
UNEXPLORED PATHS
On First Friday this month at River Park Square, Murphy and a few other city planners man a booth outlining a vision for what downtown's alleyways could be. One posterboard outlines a variety of other possibilities: The walls could be become canvases for vibrant paintings from local artists. You could string up bright lights — like the kind they use for outdoor weddings, across the building. You could suspend temporary art installations in the air. You could put out seating for patio dining, or shut it down occasionally to hold movie nights.
And on brightly colored sticky notes, mall patrons add their own suggestions.
Install streetlights. Use the alleys to hold concerts. Turn them into long miniature parks. Multiple notes stress the importance of keeping the alleys clean. One proposes a complicated bike storage system.
One woman who lives at the downtown Parsons Apartments in front of Railroad Alley writes, "I would love an ice cream spot @ Railroad Alley," complete with an impromptu sketch of a scoop in a waffle cone to drive the point home.
"Honestly, it's exciting to hear the community's feedback," Murphy says. "I really vibe off of everyone's energy about it. It's exciting to find these little pockets of the city and make them something."
This isn't a new idea. In 2008, the Downtown Spokane Partnership's "Fast Forward" plan sketched out an opportunity to turn the Railroad Alley, in particular, into something special.
"Railroad Alley between Monroe and Adams provides a unique opportunity to become a secondary retail and pedestrian way that could be shared with vehicular traffic," the plan outlined.
Cars would still be able to drive down alleys, the 2008 plan proposed, but they would be strictly secondary. Instead, the alleys would become an "extra dimension" to the transportation network, a corridor for "pedestrians, bicyclists, and wheelchair users." They'd be well maintained and provide outdoor seating and additional business entrances. During the day, some alleys might be shut down, while at night temporary barriers could be removed in order to allow delivery vehicles to enter.
A decade later, not much of that plan has happened. But last summer, says Murphy, the mayor's office started asking the planning department to bring business owners, property owners and community members together to begin thinking what activating alleys would actually look like.
"The guts run right through the middle of the entire downtown."

tweet this
With this initiative, the city doesn't propose spending money so much as giving property owners more freedom to invest in the downtown alleys that, effectively, are their back porches. Since the city owns the alleyways, right now if a business wants to improve one, it requires leaping through all sorts of bureaucratic hoops. Ideally, this process would streamline that.
"It's not one-size-fits-all," Murphy says. "What works for one part of the alley may not work for the other part of the alley."
Sometimes, she says, it could be as simple as putting paint on a wall.
Already, some businesses are excited. Jordan Tampien, co-founder of 4 Degrees Real Estate, has both their office and their upcoming seven-story building at the western end of Railroad Alley. He says the alleys are underutilized — they end up being tagged with graffiti and become an illegal sleeping space for people. But he, too, sees the possibilities.
"The guts run right through the middle of the entire downtown," he says. Imagine if businesses could benefit from that.
His firm enlisted their architect, former City Council candidate Evan Verduin, to dream up sketches of "Railroad Avenue," a reinvisioned alley featuring sleek lighting, landscaping and pedestrian pathways.
But, if anything, local artist and art gallery owner Jim Kolva is even more enthusiastic. Kolva's living room actually spans over the western entrance of Railroad Alley. And he wants to use neon lighting — maybe with the word "art" — to showcase the entrance to the alley. On top of that, he envisions a well-lit, well-paved corridor, possibly with booths for artists and food trucks.
Meanwhile, there's already a separate alleyway project downtown that could be completed as soon as this summer. With $30,000 of leftover money from the city's 2017 arts and culture budget, City Councilwoman Lori Kinnear has been championing an effort to improve the alley near Soulful Soups. One piece of that, Spokane Arts Executive Director Melissa Huggins says, will be a mural from local artist Rolf Goetzinger, who will merge together artwork from local artists with disabilities.
Murals aren't just a place people can see art without needing to visit a museum, Huggins says.
"They create destination, they create a space for community," Huggins says. "I think they're a really lovely way to use public space that could feel dark or unsafe or intimidating."
ALLEY POOP
If you want a dissenting opinion on the magic of alleyway activations, your best bet is developer Jerry Dicker. Dicker owns multiple properties along Railroad Alley, including the Ruby, Ruby 2, and Montvale hotels. It's not that Dicker is against improving alleyways — he says he's adding gates and landscaping and balconies to his properties to make the alleys look nicer.
But he argues that the alleyway conversation doesn't help with the central problem he sees downtown, which he describes as disorder, criminality and vandalism from "a combination of vagrants and mentally ill and drug-addicted people and other unfortunate people.
"We're doing our best to improve the property we own. The city should do their best to perform city functions," Dicker says. "The city should be inviting and feel safe, and be free of garbage, graffiti and people peeing and pooping in the streets."
But Murphy says that improving alleyways and making the city feel safer are actually part of the same effort.
"Activating alleys is actually a public safety strategy," Murphy says. "By adding in lights, by adding comfortable seating or greenery, by activating the spaces, bringing people to the alley is a proven strategy for public safety."
She notes that that's a concept used by one of the city's partners in the alley activation effort, the arts nonprofit Terrain. Terrain's Window Dressing program aims to improve neighborhoods by turning vacant storefronts into art galleries
It's a concept that planners call "Crime Prevention Through Environmental Design." That design can be aggressive or confrontational — like the controversial rocks put under the freeway in 2017 in part to evict a homeless camp. But the Downtown Spokane Partnership's website points to other strategies: Simply making a place look nicer, with more of a "pride of place" can make crime less likely. So can the use of "natural surveillance." In theory, the more foot traffic, the more eyes on the street, the more criminals will feel nervous about committing crimes.
But Dicker remains skeptical. The railroad viaducts may have been "beautified" with murals but they still get marred with garbage and graffiti. And even the swankiest properties, he argues, can be targeted.
"If people are pooping in front of the Davenport, why wouldn't they also do the same in the alley?" he asks.
But Tampien argues that experimentation is a crucial part of creating a vibrant downtown — and the alleys are an ideal canvas to test that out.
"I'm starting to get in the mindset," Tampien says, "if we don't add things, we'll never know if it's going to work or not." ♦