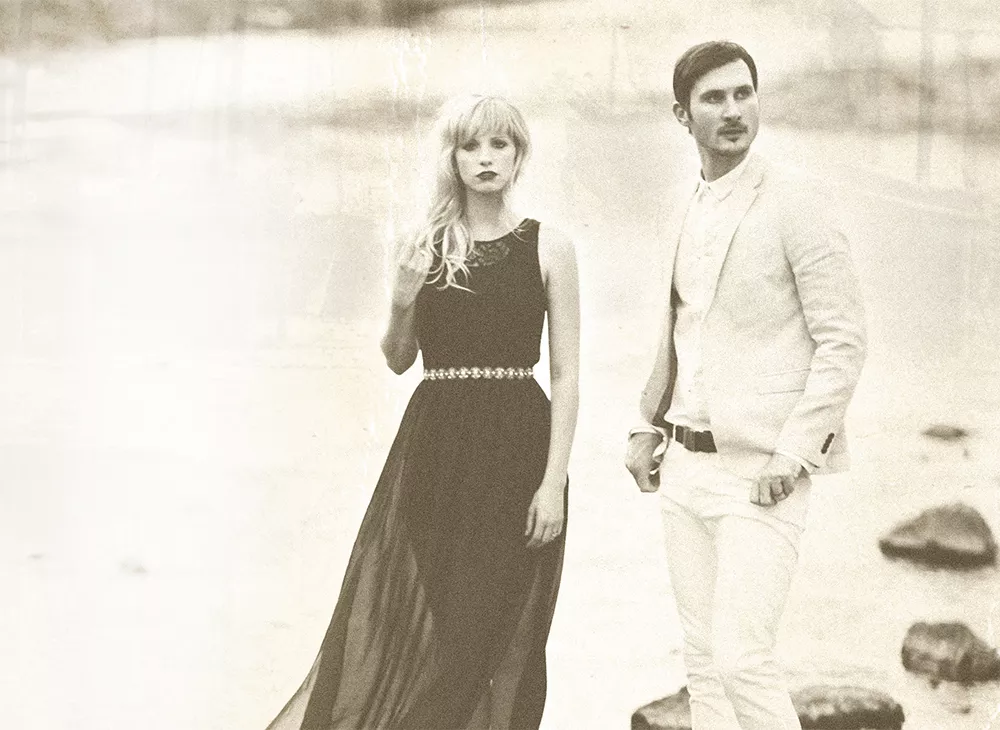 It's been a year since Cami Bradley's sixth-place America's Got Talent finish and subsequent tour, and we haven't heard too much from the singer-songwriter since. She's released a few music videos, all cover songs. She performed at Volume and Hoopfest. But over the past months she's been cultivating a new project, one she's ready to unveil to her hometown fans at last — the Sweeplings.
On Friday, this cinematic folk-pop duo, which includes Bradley and Huntsville, Alabama, singer-songwriter Whitney Dean, perform in Spokane for the first time.
Dean and his wife Bethany have been on the ground in Spokane for about an hour. After a quick coffee stop to warm up (it's 85 degrees at home) and jolt the mind through the three-hour time difference, they're with Bradley at Life Center Foursquare Church, where Bradley still volunteers as part of the worship team, something that was once her full-time job. Her husband Eric works here, too. The new friends and collaborators have a full week of activities planned before their show Friday night, including dinner with Bradley's parents.
Meeting up is not cheap or easy. Huntsville is more than 2,200 miles away from Spokane. An airplane ticket ranges from $500 to $800. So when they get together, it's a whirlwind. But what is effortless is what transpires when Dean and Bradley write and play music together. Within one weekend of the pair's first meeting in Spokane in April, the output was an impressive eight songs. Since April, the duo's arsenal has extended to 20 songs. They've also released a four-track EP and multiple music videos, performed five times (mostly in the South) and even had one of their songs picked up by ABC, although they're not sure yet which TV show it will play on.
"To have that many songs we felt really good about after one weekend, we knew this was special, so we knew we couldn't just walk away from this," Bradley says.
Last year, just as millions of Americans were watching Bradley perform on AGT, so was Bethany Dean. She asked her husband to come to the living room and watch one of Bradley's ethereal performances, telling him that's who he should be collaborating with.
"I told her, 'Good luck with that,'" recalls Dean, who speaks with a light drawl. "I told her she could reach out to Cami if she wanted, but it wasn't going to be me."
A songwriter for Nashville artists — "None of which you've heard of," Dean says — the 30-year-old has had many brushes with fame. He played lead guitar and sang backing vocals with John Paul White just before the artist would go on to create the critically acclaimed (but now defunct) Civil Wars.
While on the reality show, Bradley received many emails from admirers, many of them a little out there. She remembers Bethany's email being the most normal of the bunch. When Bethany followed up a couple of months later, Bradley was intrigued.
"For some reason we decided to go forward with it," says Bradley, 26. "My husband and I were sitting in the airport parking lot the first time Whitney came here, and we said to each other, "What if he's crazy?"
"I had no preconceived notions that I would win her over," Dean continues with a laugh.
But everything came naturally. Even with varying musical backgrounds (him: country, her: jazz, pop, blues) they were able to find a sound that's different from other singer-songwriter duos out there. As Dean describes, even with Bradley's angelic vocals and his sparse tones under hers, their songs have weight and texture. When writing, Dean sees the big picture of the song, and Bradley paints in lyrical pieces. While the songs are mostly about love and come from a place of love, they're obviously not about being in love with each other.
"We want to make sure our chemistry is musical and doesn't come off another way," Bradley says.
On stage the group appears to be two people, but the Sweeplings are really four — two couples changing their lives to make this project work. Both spouses have helped with various aspects of marketing, recording and video production and are involved with every big decision. This means they've gotten to the point where they can be very honest with each other. Like now, when Bradley explains why she kept the Sweeplings semi-under wraps.
"I wanted to be careful. I didn't want to confuse the fan base if this wasn't it," she says. "That's why I put out those solo covers, because I wanted people to remember me while I was figuring this out."
She looks at Dean.
"I guess for Whitney, he was always ready with this, but finally after searching, this makes me excited because it is something I would be willing to sacrifice for," Bradley says. ♦
The Sweeplings with Patchy Anders (early show) and Betty and the Boy (late show) • Fri, Oct. 17, at 7 and 9 pm • $15/$18 day of • All-ages • The Bartlett • 228 W. Sprague • thebartlettspokane.com • 747-2174