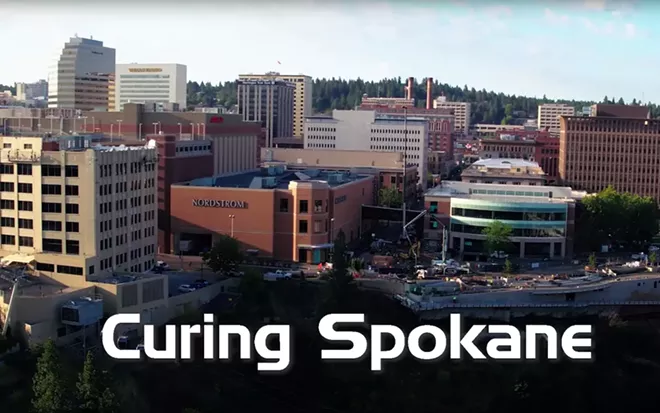 By this point, you've probably heard that "
Seattle is Dying
."
For some, the hour-long news special by Seattle's KOMO television station this year bravely presented the true impacts of addiction and homelessness in the Emerald City, with a rightful call for forced addiction treatment, while many others felt it crassly demonized the less fortunate and presented unrealistic and questionably legal solutions to substance abuse.
While no one has similarly diagnosed Spokane with terminal illness, at least via journalistic TV news special, there are some looking for ways to cure the city.
In a new video "Curing Spokane," privately funded by Spokane developer Larry Stone, downtown business owners, residents and visitors describe issues they've had with increasing property crime and visible drug use, and their discomfort being around such activities.
"I love Spokane and over the past three years I have seen the increase in criminal activity both downtown and in other neighborhoods," Stone says in a statement, "so I decided to fund a video which, hopefully, will start real conversations about fixing Spokane's issues before they get even worse."
While insisting it is about crime and not homelessness, in a fashion similar to "Seattle is Dying," the video features images of people shooting up in public and acting strangely, apparently under the influence of drugs, and shows transient individuals walking and sitting with their possessions, interspersed with shots of litter, used needles, graffiti and broken windows in the area.
Some in the video describe how they will cross the street to avoid interactions while others describe taking guests on a multi-block detour to specifically avoid the STA Bus Plaza.
Over 17 minutes, the video compares Spokane to Boise, saying the two cities are nearly identical by both population and ethnic makeup, but, according to 2017 crime statistics, Boise somehow has significantly lower rates of property crime and far fewer people counted as homeless in their once-per-year count.
In a nutshell, Stone's video argues Spokane should mimic Boise in four ways:
1. build a new, bigger jail;
2. have police enforce misdemeanors and all crimes and generally be more proactive on foot or bicycle;
3. sell the STA Plaza and move the bus station underground and;
4. solve perceived parking problems by offering some free time in garages and on-street stalls and standardizing rates.
To the first two points, the video highlights that Spokane has less capacity for inmates than Boise, and a common struggle voiced by local law enforcement is that the people they book for minor crimes are sometimes released within hours of being booked. It also calls for more visible police presence by using the existing number of police to patrol areas on foot and bicycle more than by vehicle.
On the
website
for the video, some questions about the proposed solutions are preemptively answered.
For example, to the questions of whether the video will "make Spokane look bad" and whether addiction-driven crime should be treated primarily by addressing addiction problems, the "Curing Spokane" website states:
"Spokane is a wonderful city, but it has a growing crime problem and there must be steps taken to stop it. We can no longer ignore what is happening. Broken windows, graffiti, aggressive panhandling, and open drug use are visible to all that visit downtown, and many Spokane neighborhoods are experiencing property crimes. All cities face crime problems from time to time, but great cities do something about it. If we don't fix our crime problem now, Spokane's reputation will suffer for years to come. By fixing the issues, we can keep Spokane safe and beautiful.

Spokane is a very compassionate city equipped with many resources to help those in need who seek such help. We must remain compassionate. But we must also address our problems. The activity discussed in the video is illegal. We can be a city where residents feel safe and those who want treatment can get it. Addiction is not an excuse to commit crimes, and open, illegal drug use should not be tolerated."
The site argues generally that the STA Plaza has been a complete failure and waste of money, getting more police calls than anywhere else in town and causing "both bus riders and the rest of the public to feel unsafe."
We
reported earlier this summer
that while the Plaza does in fact show hundreds of calls for service, many of those are check-ins by the police officer stationed there, who also receives reports of incidents happening in surrounding areas. While more than 600 calls for service had been made at the Plaza as of early July, STA's figures showed only 99 actual incidents there and 54 that resulted in arrests or citations.
As for how parking ties into all this, the idea is that making parking easier will increase the number of visitors and sales tax revenue, and dilute "the vagrant element."
The video, however, doesn't give any cost estimates for its recommendations, including a new jail or a new transit center.
The
Inlander
has reached out to Spokane Police and STA and this story may be updated as their comments on the video become available.
Stone's assistant wasn't immediately able to say who produced the video or speak to the timing of its release — downtown homelessness and associated crime has been a focal point of Spokane's mayoral race between Nadine Woodward and Ben Stuckart — but did set up an interview with Stone for Friday.
Boise made headlines recently for another of its approaches to issues closely linked with homelessness: making sleeping outside illegal. After the Ninth Circuit Court of Appeals held that the city's anti-camping ordinance couldn't be enforced unless there was shelter space available that didn't also have religious requirements, the city has
asked the U.S. Supreme Court to take up its case
.
Here's the video, released today, Aug. 29:
Stuckart posted
his thoughts about the video
Thursday afternoon, noting his disapproval: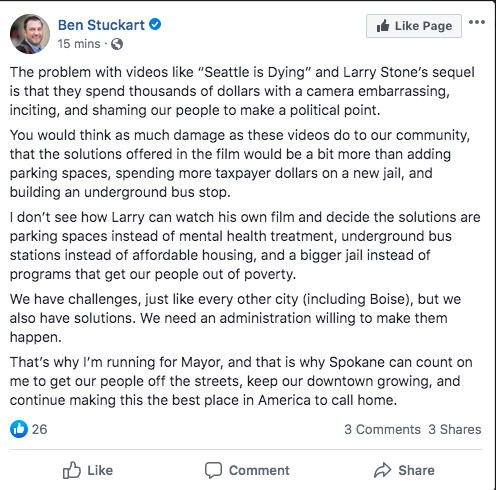 Woodward hadn't yet posted her thoughts.