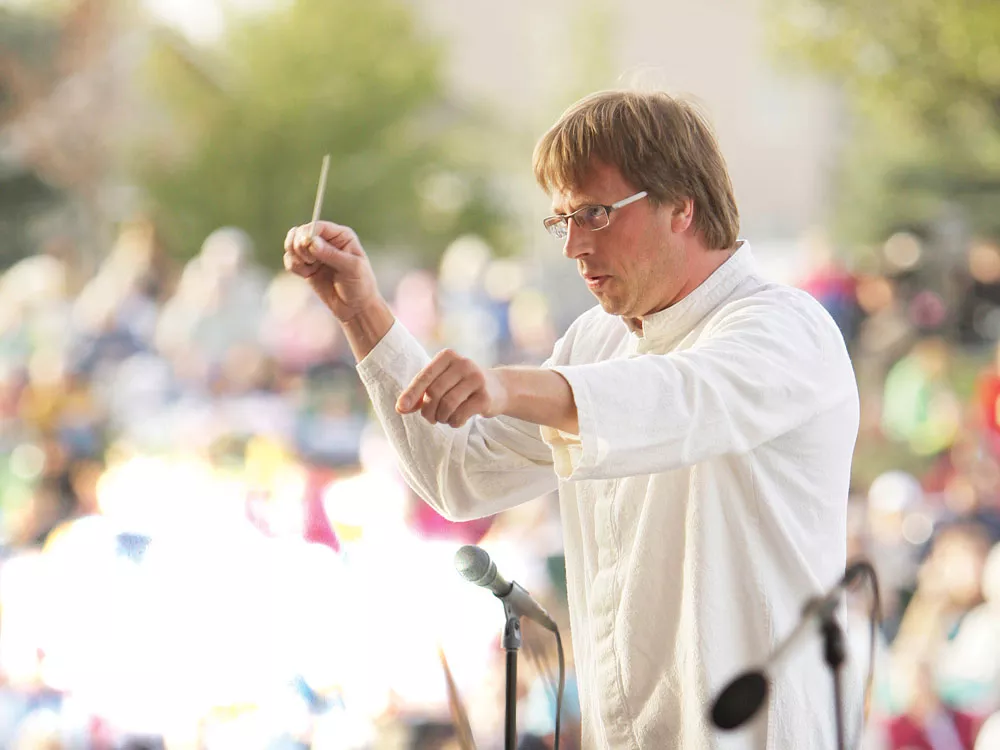 Last Monday, a 24-year tradition was broken: The Spokane Symphony Orchestra didn't play a free Labor Day concert at Comstock Park. The SSO also canceled its October Super- Pops concert, downsized its office space and dipped into its endowment to the tune of $350,000. Last year, for the first time in a decade, it ran a deficit (a budgetary shortfall of $200,000). At a concert two seasons ago, in an undisguised plea for money, it literally passed around the hat.
But it's just the recession, right? Classical music's been around for centuries. All those South Hill gray-hairs with pots of money aren't going to let one of the prime signifiers of their chosen home's cultural relevance fade away.
Spokane has had an orchestra for 65 years — and by every measure, the SSO is the region's largest arts organization.
Fortunately, an examination of steps taken to minimize the shortfalls — along with a look at what three comparable orchestras are doing to cope with the Great Recession — suggests that the SSO, while needing to rein in its ambitions, is taking prudent financial measures aimed at preserving one of Spokane's cultural jewels.

The Symphony has improved its balance sheet by revamping its development department and, just last year, freezing musicians' salaries. Still, those canceled concerts seem like a portent. Are there any assurances that further cuts can be avoided?
"We're hoping that this will be the last time. A lot of people — our donors — have responded, and our board made some tough decisions," says Executive Director Brenda Nienhouse. "We know that the economy will not turn around quickly.
"We're pretty lean right now. The board is committed to increased fundraising in hopes of eliminating the need for further cuts, but we are still looking at the possibility of further cuts."
And yes, "After nine years of balanced budgets, we ran a deficit last year," Nienhouse says, adding that "most orchestras did run a deficit" in 2008-09. But the relatively small size of that $200,000 deficit is significant, she says, because the orchestras that are in the most trouble, like the one in Rochester, N.Y., have run much larger deficits for much longer periods of time.
Annie Matlow, the symphony's marketing and P.R. director, says "What we're doing is prudent. If we continued doing the same, that would be reckless, and with disregard for our future. This decision was not made lightly."
For this season, Matlow says, SSO management examined revenue from last season's comparable concerts, then lowered expectations slightly — but with an emphasis on hitting each and every concert's ticket-sales goal.
Matlow points out that, compared to most other mid-level orchestras, the SSO is already performing more frequently. (The League of American Orchestras, grouping organizations purely with regard to budget numbers, places the SSO at the third of five levels, among orchestras with annual budgets of $2.5 million to $5.5 million.)
"Most Level 3's never did do as much as we do in the way of concerts," Matlow says. "I mean, 20 Classics concerts? [There are 10 concerts in the SSO's Classics series, each performed twice.] Nobody else of our size does that many. Even with the cuts, we're doing more."
This year, for example, the Tucson Symphony Orchestra eliminated two entire concert series, reduced the number of concerts in other series, and then went even further, reducing the number of times each concert is performed. (See table.)


A thriving symphony orchestra improves a city's quality of life, even for the majority who seldom or never attend classical concerts. Nienhouse points to physicians and med school students who are looking for a place to study and practice — for them, an orchestra is a cultural indicator.
And some may scoff at the graying of the classical audience. But that's always been the case, Nienhouse says: "As people get more income and the kids are gone, that's when they go to live theater and concerts." At the same time, she acknowledges the need for the classical world to attract younger concertgoers — which is why you can find the SSO on Facebook and Twitter.
The SSO is changing, in other words, along with the cultural tides. In the face of retrenchment and reduced programming, local classical concertgoers may have to do the same.

| | | | | | |
| --- | --- | --- | --- | --- | --- |
|   | APPROX. METRO AREA POP. | BUDGET | NUMBER OF TICKETED PERFORMANCES | % INCOME FROM TICKET SALES | RECENT CUTBACKS |
| SPOKANE | 600,000 (Spokane and Kootenai counties) | $3.9 million | 38: 10 Classics concerts (with two performances each); five Pops concerts; nine chamber music concerts (Soirees and Casual Classics); and The Nutcracker (four performances) | 43 percent (35 percent is typical; higher is better) | One pops concert, one parks concert |
| MADISON, WI | 600,000 | $3.6 million | 27: Seven Classics concerts (three performances each), one Pops concert (three performances); 10 Organ Music concerts (three ticketed, seven free) | 40 percent | An eighth Classical concert (with three performances) was cut this year; budgets for marketing and post-concert receptions have been reduced. No deficits in 85 years. |
| KNOXVILLE, TN | 1,000,000 | $3.4 million | 51: Eight Classics concerts (two performances each); six Pops concerts (one with four performances); 10 chamber music performances; six Young People's Concerts; 10 performances with opera and ballet companies | 34 percent | NA |
| TUCSON, AZ | 1,000,000 | $3.6 million | 22: Seven Classics concerts and four Pops concerts (with two performances each) | 50 percent | Two Classics and one pops concert were eliminated; performances in both series were reduced from three to two. Two entire series were cut. |