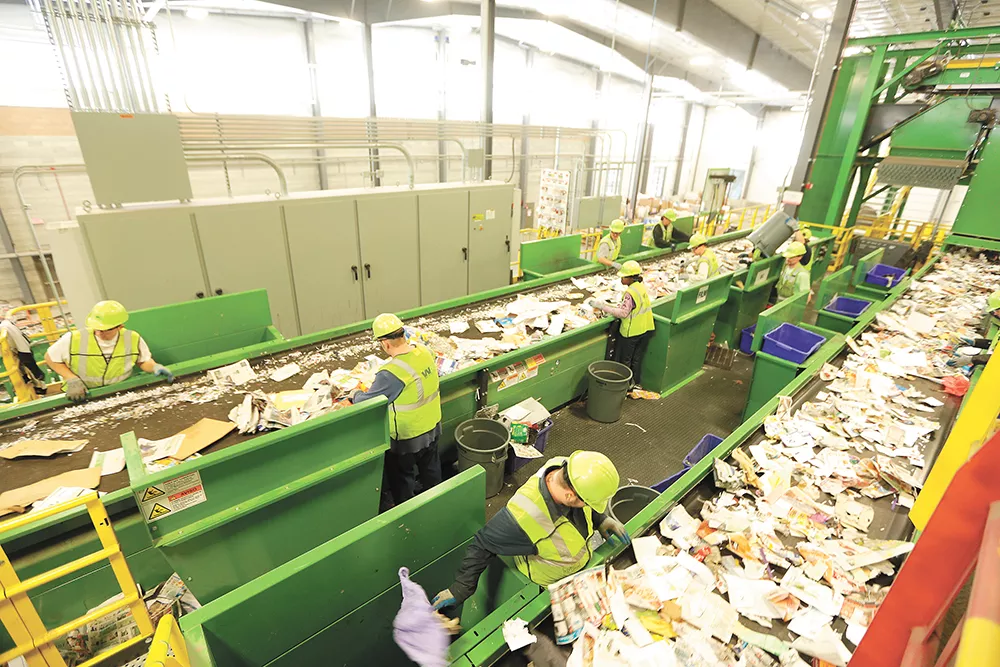 Six days a week, truckloads of plastic bottles, cardboard, glass and newspaper run along an intricate set of conveyor belts and bins to be sorted at Waste Management's Spokane Materials and Recycling Technology (SMaRT) Center.
Rubber wheels with teeth grab bottles and containers while pushing paper and flat cardboard up onto another belt. One magnet sucks up tin, another spins to repel aluminum cans into another bin. And at the end of a belt moving at seemingly impossible speed, an optical robot snaps photos, decides in a fraction of a second what is what, and blasts puffs of air to separate different types of plastic onto the right path.
But walk along the system, staffed by workers in protective gloves, coveralls and goggles, and you'll find boxes and boxes filled with garbage they work constantly to pull out of the system: garden hoses, window blinds, plastic grocery bags, a pillow, garland.
"The Pacific Northwest is very conscious about recycling, but that leads to its own pitfalls," says Steven Gimpel, recycling Education and Outreach Coordinator for Waste Management's Pacific Northwest area. "People think because they want something to be recyclable, it is."
While materials recovery facilities like the SMaRT Center do their best to keep those contaminants out of the products they separate and sell to mills and manufacturers to be recycled into new materials, a small percentage of contamination makes it through.
That's become a big problem for China, which takes almost two-thirds of the world's recycling. In an effort to improve environmental conditions there, the country has announced that it is cracking down on contamination: As of November, the country won't take recyclables with more than 1.5 percent contamination, and by March 2018, that could drop to 0.5 percent.
Reaching the new requirements likely won't be possible in such a short time. Up to this point, the industry standard had been about 3 percent to 5 percent, according to the Washington Refuse and Recycling Association (WRRA).
"We're dealing with a very emergent and unclear situation," says Brad Lovaas, WRRA executive director. "We're closer to 1.5 [percent] than we've ever been. We've slowed down the conveyor belts, fine-tuned all the equipment, and added a lot of people to pull out the material."
But while the industry knew that some stricter regulations were likely coming, they also thought they'd get more time to comment before they took effect, Lovaas says.
As West Coast facilities in particular try to meet the standards and find alternative markets should that be necessary, Lovaas says they're also being open with customers: People should keep recycling just like they do now, but know that some material could end up in landfills if there isn't a market for it.
"We like to hope for the best, but we're planning for the worst," Lovaas says. "I'm hoping the worst doesn't come to pass."
PENCILING OUT
Since China first announced its plans to the World Trade Organization in July, the impacts have been rapid in parts of Washington, but vary widely as each local government can dictate what is recycled and where it goes.
For many counties in the state that only collect very specific items that are sorted before drop-off, contamination isn't a large problem, explains Alli Kingfisher, statewide recycling coordinator for the Department of Ecology.
"The account from all of those counties is they are finding places for it to go," she says.
But for "commingled" or "single-stream" collection sites, where everything that is accepted is put in the same bin and later separated at a materials recovery facility, contamination is more of a factor, and can influence who is willing to take it and how much they'll pay.
More than half of Washington's waste is diverted for recycling, but while about 90 percent of source-separated recycling is turned into another product or beneficial use, that drops to about 75 to 80 percent for single-stream, according to an August 2016 study by Ecology.
"The economics have to pencil out in some form or fashion. It's day by day, because right now markets are really kind of in flux," Kingfisher says. "When I've talked to collectors and processors, people are like, 'Last month the sky was falling, today we're OK, we don't know what tomorrow will bring.'"
By August, Walla Walla's commingled recycling was breaking even, and after it started to cost money with the new policy changes, the city decided to stop collecting the less desireable plastics, says Meagan Gilmore, an environmental planner with Ecology.
Every month, Whitman County Solid Waste & Recycling Director David Nails checks recycling markets to determine where to send Whitman's material, which is also single-stream.
Not unlike Walla Walla, Whitman was at least breaking even this summer, Nails says, but things have since turned.
"The single-stream actually at this point in time costs us to get rid of," Nails says. "The China thing has definitely put a damper on the markets."
For the most part, Whitman is currently selling to a Republic Services facility in Seattle. While they're getting about $10 per ton for the single-stream material, Nails says processing it at the county's transfer facility and shipping it by train from Spokane to Seattle ends up costing about $55 a ton.
For those facilities near Puget Sound ports, it makes the most financial sense to send recyclables to China on ships "backhauling" the material after dropping off goods, says Lovaas, the WRRA director.
But the vast majority of the materials recycled at the SMaRT Center, which opened in Spokane in 2012, are recycled at mills domestically, Waste Management's Gimpel explains.
Much of the paper fiber gets recycled into newsprint at Inland Empire Paper Company, and other facilities use it to make things like the liners that separate layers of apples for shipping, Gimpel says. Tin and aluminum largely goes to the Midwest, and plastic may be exported to Canada but can go all over the place, he says.
It remains to be seen if those domestic connections might result in more recycling coming to the Spokane facility. Spokespeople for Waste Management said that for now, they did not know of any plans to divert material from the company's other facilities to Spokane for that reason.
The facility already takes recycling from parts of Canada, the Idaho panhandle, Western Montana, and Eastern Washington, and with plenty of capacity, will take anyone who wants to send their recycling there, says Tami Yager of Waste Management.
CHANGING FOR THE BETTER
At a minimum, whether the regulatory changes wind up being temporary or long term, WRRA's Lovaas says he's glad that the situation has given people pause to reconsider how the recycling system is working.
He and others involved in waste management and recycling all emphasized that people can help the system in general by making sure they only recycle clean and dry items that are accepted in their area, and remember "when in doubt, throw it out."
"China is looking more than anything for the U.S. to clean up some of the residuals that are in these materials," says Nails, Whitman's recycling director. "I believe that should probably be our focus in the U.S. to get that sort of message, to clean up our single-stream recycling."
For Spokane's SMaRT Center, Gimpel emphasizes that plastic grocery bags and things that can wrap around spinning sorting equipment can be especially detrimental and should be thrown away or taken to grocery stores for recycling there.
And one silver lining in all this is that it's increased interest in developing a plastics recovery facility in the Pacific Northwest, Ecology's Kingfisher says, with one Oregon company already announcing plans to open another facility in the region in the next few years.
"That's a huge development," Kingfisher says. "It might keep us from shipping overseas where we don't know the environmental regulations or realities for the people working there." ♦