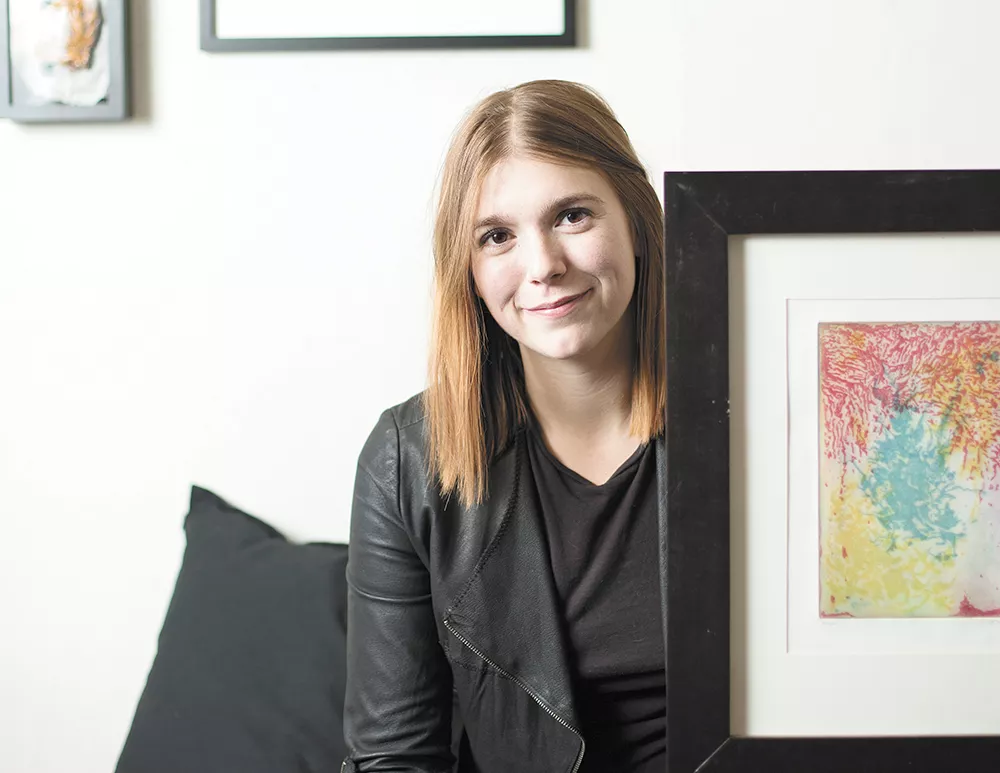 Her activity in the arts community has been sporadic over the past year or so, causing some to maybe wonder if she's an artist in hiding.
Devon Plopper hasn't had a solo show in Spokane since last spring, but the artist's most recent series of ink-on-paper drawings took nearly a year to create. If you've seen them, you'd know why.
On the black painted wood floor of her 100-year-old Browne's Addition apartment, the leggy 26-year-old kneels over a 3-by-3-foot sheet of paper. A tasteful mix of vintage and contemporary furniture fills the space, and the walls are mostly adorned with Plopper's own art. Behind her, books on a set of four shelves are organized not by author or genre, but rather by the dominant spine color, in a cool-to-warm color spectrum.
Leaning forward on her knees, a wisp of bobbed, strawberry-blonde hair escapes from behind her ear and swings below her chin. Most of the paper is still blank — an early-stages work in progress — but is tentatively planned to be a larger version of the tiny, circle-stippled patterns from her latest series, shown at the Baby Bar last April.
"I don't usually work like this," she explains as a fine-point Staedtler pen in her hand barely moves over the paper beneath her. "Usually I get really comfy on the couch because I sit for hours at a time working on these."
Any attempt to describe the tedium of the countless hours she's invested into her most recent work seems futile until one has seen the minute detail of the untitled, nine-piece series.
A richly textured gradient of cellular circles, the centerpiece of Plopper's "Black & White Series" is simply titled "No. 5." Circles and ovals fill the entirety of the 11-by-14-inch sheet from corner to corner. Most are less than a millimeter in diameter, uniting by the thousands to form larger shapes and undulating curves. The cellular pattern looks like something under a microscope — maybe a hand-drawn version of the 400-times-magnified view of animal tissue, sliced microscopically thin and affixed to a glass slide.
Many viewers draw a similar comparison from the series, but that's not what inspired the organic textures and patterns.
"I am really inspired by detail," Plopper explains. "I prefer non-representational art, and that's a lot of the reason I don't title my art. People should appreciate it for their own right and not have perceptions going into it, and what they think they should see."
While pen on paper is Plopper's focused medium of late, the Spokane native studied philosophy and fine art, including printmaking, at Whitworth University. Intaglio printmaking was her favorite technique mastered in college. She still has a series of copper plates created then, and longs to have access to a printmaking lab again.
"The technique is difficult to master — printmaking in general is a lost art," she reflects. "People see the word 'print,' and they think printed on a computer."
Although the bulk of her recent portfolio, including the intaglio prints, was created a year or more ago, Plopper describes her creative drive as constantly fluctuating. She also works two jobs, waiting tables and bartending at the Flying Goat and selling high-end fashion at Cues boutique in downtown Spokane.
Thus, time spent working on art, she says, is "usually on a whim, and I like to start things and put it away and come back to it. I do make assignments for myself, but I don't have anything like that in the moment that's really dialed in."
Bent over the mostly white sheet she's spent 20 hours so far working on, she says, "I just pick away at it every few days. For me, it's really cathartic, and I think it's neat to look at art that's non-representational, and think about the humanity of people and what it took to create it." ♦