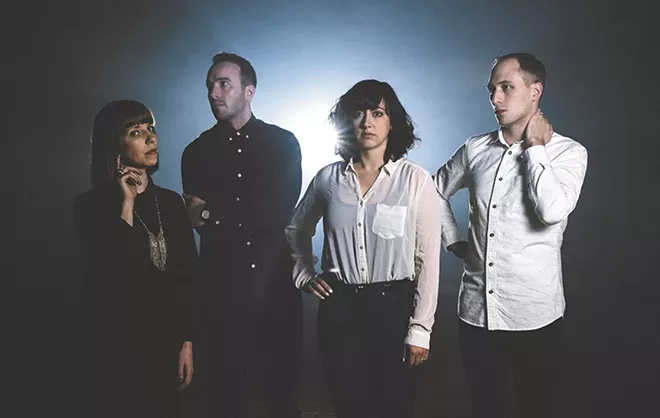 They say this is the first real album. It's the sound they've been coming to for some time now — a mix between petal-soft rock, pop-laced melodies and jagged layers of instrumental and vocal harmonies. Like today, when they've come from various corners of Spokane to meet at Stella's Café, Cathedral Pearls is a convergence of four musicians trying to make a push within their city's scene — and their new record Etchings is the fulfillment of that.
"It honestly feels like starting over as far as building a fan base again," says Karli Ingersoll, a singer-songwriter and guitarist for the group. "We got to a point where I feel like people knew about us, and then when we took a break for so long it's hard to rebuild."
Cathedral Pearls began in 2011, and was quickly named as one of 12 Washington Bands You Should Listen to Now by Paste; a pre-The Heist Macklemore also was on that list. But the past two years have proven hectic for Ingersoll and husband Caleb (drums/sound engineer) as they've gotten their live music venue the Bartlett off the ground. In that time, married couple Max (singer-songwriter/guitarist) and Carrie (keys) Harnishfeger welcomed another baby girl. As a band, they've performed fewer than a dozen times.
But they can't have been completely forgotten; their Volume set in May packed out nYne. Karli has played in local bands for years, including her recent solo project Windoe. Caleb plays drums in multiple bands and produces local groups' records, while Max's experimental electronic two-piece Water Monster was named a 2015 Inlander Band to Watch.
For those who haven't heard their names and their solo efforts, Etchings is the place to start. This grouping of 10 songs has been in the works for about a year and a half. They collectively wish that the album has been released sooner, but there wasn't time.
"When you say Cathedral Pearls, some people may think Americana or folk, but that's not what we are," Max says.
They describe their previous release, the eight-track EP Off My Chain, as a sort of random project that ended up being a lot more folk-inspired than expected. In 2013, when that disc dropped, that genre was still all the rage. Now, twentysomethings are distancing themselves from the folk pigeonhole, and Etchings, with its sonic landscapes and catchy pop hooks, couldn't be confused with an indie folk album.
With the new record's release there's a new sense of urgency. Between the laughs and bites of sandwiches, there are dreams to move their band somewhere beyond the confines of Spokane.
"I think about the Bartlett, so much of our drive and vision is to help the Spokane scene be bigger and better and influential, get this city some wider recognition," Caleb says. "I have drive with the band, with our music, to get some national attention but still represent this town."
While they're here to take this seriously — "what would be the point after all these years?" Karli asks — what will always remain are their relationships. Even when the band was on its hiatus of sorts, the quartet still got together every week or so.
"The difference with this band is the friendship is the most important thing," says Max. "It's more important to care about each other as people if you want a band to be lasting."
Practices and recording sessions happen, when they do, in the Ingersolls' upstairs or the Harnishfegers' basement. Often they'll have dinner beforehand and watch YouTube videos of musicians who inspire them. There's a lot of goofing off, with Caleb and Max concocting wild scenarios for bands they wish they were in — one involves a group that simply sets up their truckload of equipment on stage without ever playing a note. Karli and Carrie reel them into the songs at hand, in which everyone has a say. Expect fresh tracks not featured on the record to make an appearance at their album release show on Saturday.
"Caleb and I grew up being in bands with family. This feels a lot like that," Karli explains. "I don't think anyone is afraid to say what they think. There's more of an open feeling. We each bring ideas, but we don't hold tightly to them."
That translates to their shows — at which they all agree that Carrie looks the coolest — where they feel at home with each other, playing their found sound. ♦
Cathedral Pearls album release show with Us Lights and Dust Covered Carpet • Sat, Aug. 8, at 8 pm • $5/$10 includes CD • All-ages • The Bartlett • 228 W. Sprague • thebartlettspokane.com • 747-2174