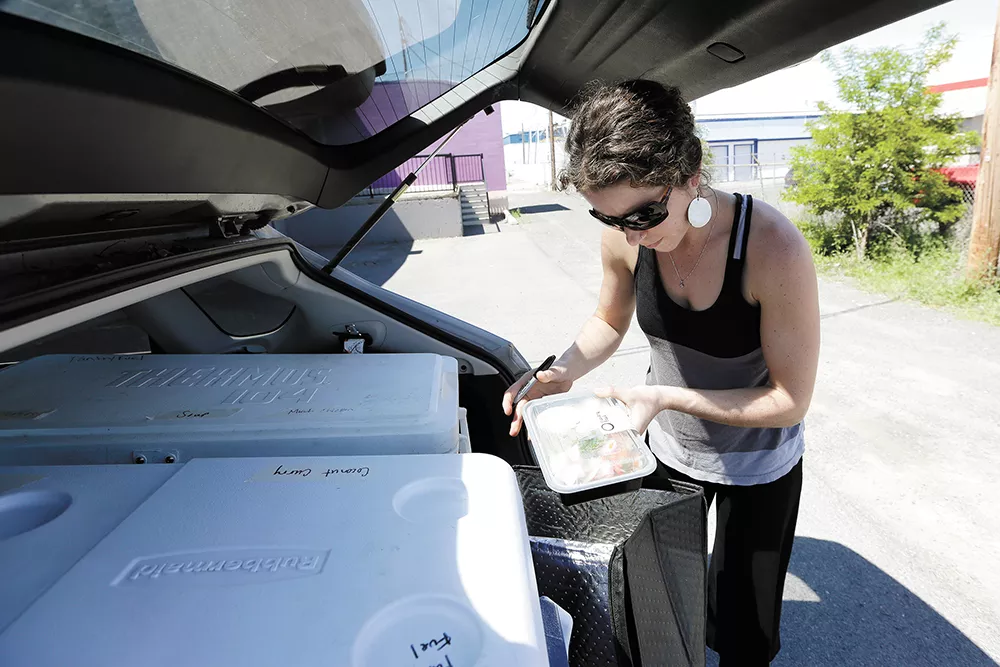 Culinary trends have come a long way since the advent of Chef Boyardee canned spaghetti, Swanson TV dinners, and microwaveable Hot Pockets, yet convenience is still a powerful factor in how we eat. Our on-the-go lifestyles often rely on fast food and fast-casual restaurants, takeout, delivery pizza and groceries, and even sit-down restaurant food.
For the sake of convenience, however, something may have been lost in the process. As we've migrated away from the necessity of actual cooking, we've moved closer to the prospect of forgetting how to cook. By the estimate of Omnivore's Dilemma author Michael Pollan, Americans spend less time cooking than in any other nation; about 27 minutes daily (nine minutes per meal), and half the time we'd spent cooking in 1965.
Part of the problem, says Spokane-based nutrition and wellness consultant Jennifer Van Cott, who's also a USA Triathlon coach, is that people lack essential knowledge. Van Cott founded her local business Pantry Fuel two years ago to provide home-cooked, healthy and locally sourced meals.
"People only know what is being marketed to them, which is not necessarily backed by sound science or non-biased research," Van Cott asserts.
Indeed, grocery stores and food purveyors can both help and harm shoppers through such simple practices as product placement and food labeling. People often don't have the time or know what to plan, adds Van Cott, which leads them to "make choices based on hunger or convenience, versus health and nutrition support."
Lack of necessary meal prep space, equipment or cooking ability — and having too many individual eating habits or personal schedules to accommodate — may be problematic as well.
"There are no more home economics classes being held as requirements for students, so those people not interested in cooking will not have the chance to learn basic cooking skills," says Van Cott, who also teaches cooking classes out of a Spokane Valley space that Pantry Fuel shares with the Kitchen Engine.
While grocery stores have capitalized on heat-and-eat sections to simulate home-cooked meals, delivery services continue to evolve, ranging from ready-to-eat meals to pre-portioned kits you cook at home.
For example, Freshly delivers meals like meatloaf with creamy potatoes and spinach to your door in insulated boxes from its Phoenix kitchen via FedEx at a cost of $9 to $13 per meal, depending how many meals you order at a time.
"The meals are cooked fresh daily, then individually packaged in a tray and vacuum-sealed for freshness," according to Jordan Finger, Freshly's vice president of marketing. All meals are gluten-free, include detailed nutrition information, and are typically microwaveable.
Rose Backs, a busy mother of three from Hayden, Idaho, who owns the local business Elite Auction with her husband Matt, likes Hello Fresh, which delivers meal kits in three plans from around $9 to $10 per meal.
"I like that it forces me to try new things. It gets me out of my chicken-and-grilled-veggie routine," Backs notes.
She also appreciates the time savings and convenience: "I don't have to look up recipes on Pinterest, then hope that it is actually good. I feel like the food is consistent, and everything you need is in the box. It saves me from missing that one last ingredient or obscure spice."
Dale Sirek likes Blue Apron, which is similar to Hello Fresh in price and process, although Blue Apron emphasizes local and sustainable sourcing, albeit from around the company's New York home base.
"The menus are clever," says Sirek, who shares a one-bedroom apartment with his partner Lori Novitski in Seattle. "It's not about convenience," he continues, but rather trying new things, and not having to commit time, money or storage space for ingredients they might only need a small amount of.
"Our only critique is that you literally [only] get what you need to prepare the meal," says Sirek.
Meal-kit delivery seems to be gaining traction with millennials, according to market research firm ReportLinker, which notes that for people who do cook at home, cost savings is the No. 1 reason, followed by health. Indeed, studies find that eating minimally processed whole foods and cooking at home are key indicators of dietary health.
Yet one-to-one cost comparisons of cooking with ingredients purchased at a local market versus using a meal service are tricky. Traditional cooking involves both time and the expense of going to the grocery store (or stores), along with prep, cooking and cleanup. It also increases the potential for wasted food. And most of us typically don't go to the store for just one item, so figuring out the actual cost of a single meal is another challenge.
For those who use meal delivery services, the decision often comes down to personal priorities, and whether the service is the right lifestyle fit. Van Cott has tried Freshly, Blue Apron and Plated, finding the companies' price points similar to her own for Pantry Fuel ($11 to $13 per meal), yet the excessive packaging is a downside, as is the break in the local food chain, she says.
By contrast, Pantry Fuel works with local vendors such as Urban Eden Farm and LINC Foods to deliver seasonal meals, with minimal and reusable packaging that customers can exchange each week. Consumers can pick up their orders at select locations, such as Farmgirlfit and Fleet Feet, or have food delivered to their door in Pantry Fuel's cooler or their own (both options also minimize packaging). Meals — Pantry Fuel's most popular dish is Asian turkey meatballs over brown rice, with a Washington asparagus and ginger-teriyaki sauce — can also accommodate vegetarian, dairy- and gluten-free requirements, and all come with nutritional information.
Says Van Cott: "My thoughts can be summed up with, why would anyone sacrifice nutrition — which is the main reason we eat — for convenience?" ♦
---
COMPLETE MEALS
Factor 75
factor75.com; $11-$15/meal
Freshly
freshly.com; $9-$12.50/meal
Magic Kitchen
magickitchen.com; $10-$18/meal
Pantry Fuel (Spokane region only)
pantryfuel.com; $11-$13/meal
PeachDish
peachdish.com; $12.50 and up
Plated
plated.com; $12/meal
---
MEAL KITS
Blue Apron
blueapron.com; $9-$10/meal
Chef'd
chefd.com; $12-$15/meal
Gobble
gobble.com; $12-$14/meal
Green Chef
greenchef.com; $11-$15/meal
Purple Carrot
purplecarrot.com; $12 and up
Sun Basket
sunbasket.com; $10-$11/meal