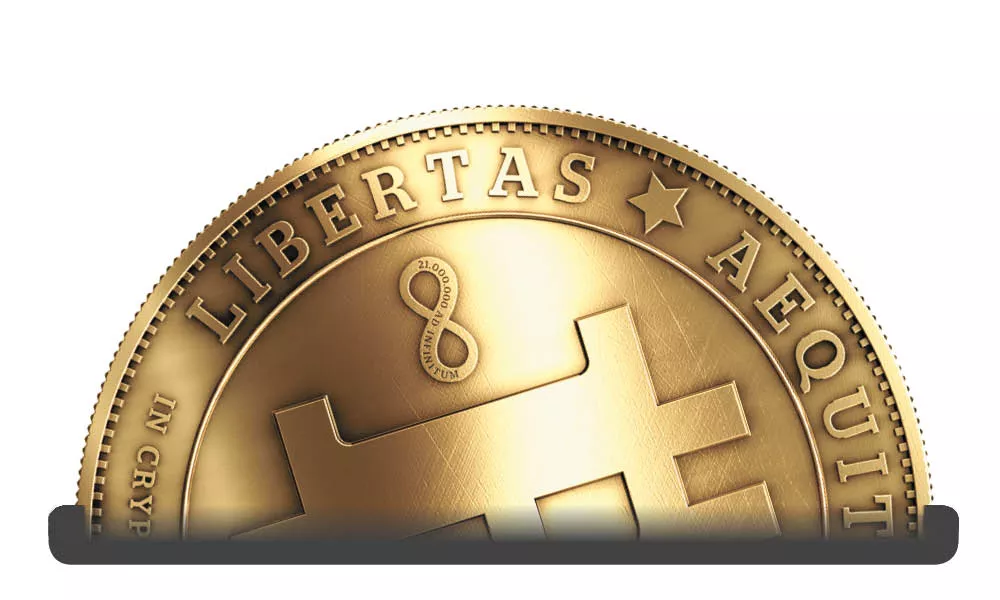 Somewhere in Eastern Washington — though he won't say exactly where — Dave Carlson has a mining operation. He's spent more than $1 million creating it, it relies on vast amounts of high-tech equipment, and it's purported to be bringing in millions of dollars.
And there isn't a drill bit or pickaxe in sight.
This, perhaps, is the logical next step in an increasingly digital economy: Mining that churns through incredible amounts of power, makes money, but doesn't dredge up a single tangible substance.
Carlson, you see, may have the largest Bitcoin-mining operation in the world. KOMO-TV news cameras pan across the expanse of one of his two Eastern Washington warehouses, a forest of cables, wires and computer servers lined up on racks in neat rows — heavy-duty fans cool them — all tasked to crack codes to find more Bitcoins.
"It's one thousand trillion calculations per second," Carlson, a bearded man in a knit sweater and glasses, tells KOMO.
Wrapping your head around Bitcoin — much less the mining of it — takes some explanation. Bitcoin is a currency, like dollars or yen, except you can't withdraw it any from an ATM. There's no colorful paper festooned with royalty, nor coins bearing the visage of eagles. It isn't backed by the full might of the United States or any other government. It isn't controlled by any other state, municipality or board of advisors.
Even its inventor is a mystery: A recent Newsweek cover story purporting to reveal the father of Bitcoin received a torrent of criticism and an unequivocal denial from the accused.
But because of that, it has its own advantages. It's immune to chargebacks. Transfer fees are so small as to be nearly nonexistent. In places where banks are unavailable, unreliable or prone to fraud, it can be a useful tool.
And because Bitcoins aren't tied to identities, it's been the currency of choice of shady markets like "Silk Road," an anonymous network used to sell and purchase illegal drugs before being shut down by the FBI last year. Slowly, merchants have begun to adopt it. Right now, you can use Bitcoin to pay for a round of cocktails, using your phone, at the Volstead Act in downtown Spokane.
Dollars and pesos are printed and minted. But Bitcoin's entire gimmick is decentralization, so instead Bitcoins are introduced through "mining," and the supply is kept limited with a sort of game: Computers chug away, guessing at big numbers and solving complex mathematical problems, while simultaneously checking the validity of Bitcoin transactions worldwide. Those who solve the problems first win a tidy sum of the currency.
Sounds like free money? Not quite. In the early days, your average desktop computer could pump out a tiny stream of Bitcoin over a period of time. But like mining for gold, the more you mine, the tougher it is to strike a profitable vein: The algorithm has a built-in system to combat inflation. As Bitcoins are mined and introduced to the market, the computations required to mine new ones get increasingly difficult, and the number of Bitcoins given as a reward begins to dwindle.
"I would say the golden age of mining is over," says Torin Rozzelle, a digital currency consultant from New York. "For many people, the energy cost of mining is going to outweigh the cost of investment."
Today, solving those types of equations takes a vast array of specialized equipment and a phenomenal amount of electricity. That's where Eastern Washington comes in. Thanks to hydroelectric dams, this region has some of the cheapest electricity in the United States.
Carlson is in an enviable spot: Not only does he have access to that specialized hardware, his company — MegaBigPower — is the U.S. distributor.
The KOMO reporter says Carlson was bringing in millions of dollars a month when they visited. But that profit is in danger of quickly dwindling: The more miners who pop up in the industry, the less profitable mining gets. There's a maximum number of Bitcoin that can be mined an hour, and the better the competition, the harder it is to win. That leaves miners with just the small reward for verifying transaction fees. "He's going to have to figure out if he can break even or drive a profit through transaction fees," Rozzelle says.
It's a precarious business. That's fitting. Bitcoin is a particularly precarious currency, with its per-coin value climbing from just over $20 to more than $1,100, then plunging back down below $700.
The entire Bitcoin world is defined by rise and falls. A trading website for Magic: The Gathering — the card game you saw kids playing at cafeteria tables back in middle school — evolved into Mt. Gox, the biggest Bitcoin exchange in the world. Then it collapsed. Last month it filed for bankruptcy protection, admitting it may have lost nearly half a million dollars of other people's money due to hacking. Rozzelle sees a lot of possibility with Bitcoin. Possibility for things to go very right — and very wrong.
"We've had exchanges disappear. We've had an exchange owner abscond with the money," Rozzelle says. "It's really the Wild West right now." ♦