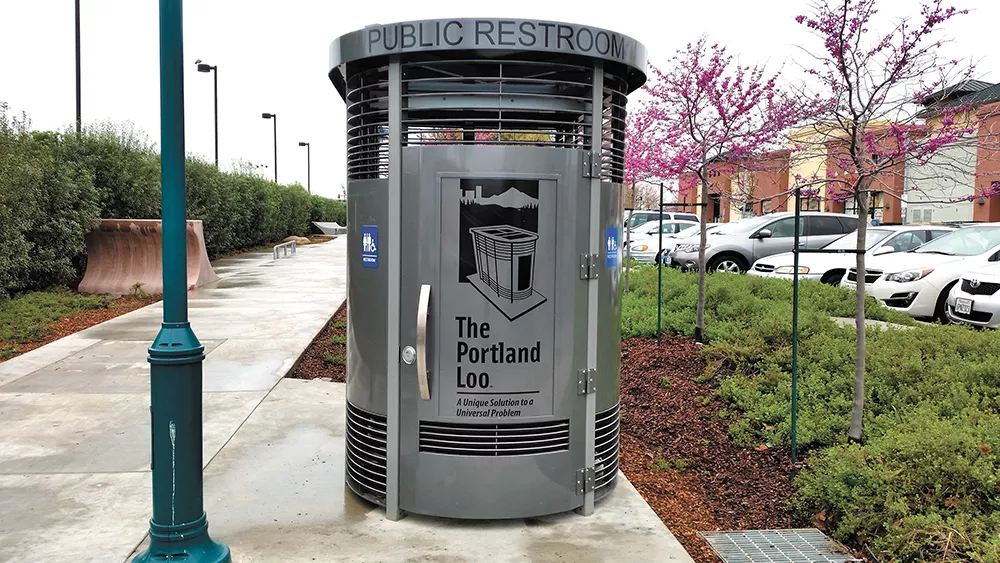 Living on the street comes with a constant stream of basic survival questions: Where do you find food? How do you stay warm? How do you stay safe? But there's another question that isn't talked about as much but can feel even more immediate: Where do you poop and pee?
Kristina Reisdorph, a homeless woman eating outside City Hall, says she knows the struggle well. The House of Charity — the city's biggest homeless shelter — has bathrooms, but she doesn't feel safe there. So she sometimes sleeps outside. And with most public restrooms downtown shuttered to non-customers late at night, she says the only place she's often able to use the bathroom is the Piggy Mart on Third. And that's if they let her.
So instead, she has to plan ahead.
"You don't drink water," Reisdorph says. "You know when to not drink fluids and hold it until the morning."
Another homeless woman, listening nearby, suggests another alternative: "You find a corner, you have your boyfriend hold up a blanket and you pee in a cup."
For all the city of Spokane has done recently to try to improve conditions for the homeless, advocates say the lack of public restrooms remains a serious challenge.
"They don't care about taking care of us or our needs," Reisdorph says.
But City Councilwoman Kate Burke says she does. She's been raising questions about the availability of public restrooms for years.
Burke was the lone vote against the city's revised ordinance concerning homeless camping, raising concerns that there were still too many gaps in the city's homeless shelter and community court system.
But now, Burke is looking to gather council support to investigate installing new public restrooms downtown — possibly even purchasing "Portland Loo" bathroom facilities specifically engineered to withstand the rigors of the urban experience.
"If there's no collaboration we can have here, and compromise, our city's just going to stay the same as it is: A lot of homeless people — and homeless people peeing and pooping in places where they shouldn't," Burke says. "Something has to change."
DOING YOUR BUSINESS
Burke says her concern about city bathrooms started nearly a decade ago: She was working near the House of Charity at a business that regularly had its stoop urinated and defecated on.
"The attitude of the business owner was so much hatred toward the HOC," Burke says. But if it wasn't for the House of Charity and other nearby social services, Burke says, where would the homeless people go?
"I saw it as, 'Let's give them a place to go to the bathroom,' right?" Burke says. "[But] all the businesses downtown say, 'No, you can't come in here!'"
She says she's sympathetic to their concerns. About two years ago, while she was still working as the legislative aide for state Sen. Andy Billig, she spoke with Downtown Spokane Partnership president Mark Richard about the issue.
"A lot of this is just this unfortunate reality," Richard says. "There's an unfortunate amount of the population that tends to use the restroom for things other than restroom activity."
Ryan Oelrich, former chair of the Spokane Homeless Coalition, says he's heard plenty of similar complaints from businesses. Their public restrooms get trashed or vandalized. People try to flush things they shouldn't. They use the sink to shave or as an alternative to a shower. They use stalls for injecting drugs or even just as a place to sleep.
"[Sometimes] homeless folks will go into the bathroom, lock the doors and basically camp out," Oelrich says. "In colder months, you're desperate for shelter. And desperate for privacy. It's one room you have to yourself."
Several places on the north side of downtown generally offer public restroom access during the day, including the Spokane Public Library, the Spokane Transit Authority Plaza, Riverfront Park and River Park Square shopping mall. But the hours at the library and plaza are limited, and for nearly a year, construction made Riverfront Park inaccessible.
Fawn Schott, director of the local Volunteers of America, says that lack of public restrooms has been a major challenge.
"Not having access to a restroom has an economic impact on our downtown and our tourism and our businesses," Schott says. "It's a basic human need."
On Third, closer to where homeless encampments once flourished under the freeway, McDonald's, Jack in the Box, Carl's Jr., Zips, Taco Bell, Arby's and Taco Time all have restricted bathrooms. For patrons only, many of the signs said, festooned in corporate logos. See an employee for the key or the code.
On this stretch, only Atilano's — the Mexican place open until 3 am — has an open public restroom. Historic Spokane institution Dick's Hamburgers strikes a compromise. The bathrooms are closed, but there are two outhouses that are available about 50 feet away on the Dick's lot — if you can stomach the smell.
The Starbucks on Second near the House of Charity still has a keypad on the bathroom door. But after a controversy over bathroom access and racism in a Philadelphia Starbucks went viral, a new company-wide edict went out: The bathrooms would be open to everyone.
But around the same time, however, the Starbucks on Second in Spokane slashed its hours: It would now close at 10 pm instead of midnight.
Even the Community Building — a building that houses, among other things, progressive organizations like the Center for Justice — has struggled to balance issues of cost, compassion and safety.
Last year, Pat Coleman, property manager for the Community Building and the Saranac Commons, says the bathrooms in the buildings had become frequent drug injection sites. It wasn't just that needles and syringes had been left — sometimes, there were spurts of blood from the injections sprayed on the wall.
Once or twice, Coleman says, people had overdosed in the bathroom. And there was a daycare in the building.
After about six months of monitoring the situation, the Community Building took action: They shuttered public access to the bathroom in the mezzanine in the Saranac entirely and paid a security company around $2,000 or $3,000 a month to monitor the bathroom in the Community Building. For such a progressive organization, it was a difficult choice.
"We are progressive," Coleman says. "We do believe that being a community looking out for each other is vitally important to our sanity and our health for our society. It's difficult for us."
IN LOO
Burke says she understands all the concerns from the businesses, but she believes the city can't let fears about substance abuse or vandalism stop providing restrooms. Overdoses will happen, she argues, whether there's a public restroom or not.
She suggests the city look at adding more public restrooms itself.
In 2013 and 2014, the city tried a version of that, City Council President Ben Stuckart says: It installed outhouses near the homeless encampments under the freeway.
But Stuckart says the feedback from the business community was overwhelmingly negative. They worried that the portable toilets were drawing the wrong crowd, encouraging people to sleep on the street instead of finding shelter.
On the other hand, Stuckart's personally seen what happens when there aren't enough available public restrooms.
"Two weeks ago, I was in Seattle when I ran across one of the tent cities near the aquarium, and I accidentally stepped in human waste," Stuckart says.
It can be even worse: Last year, San Diego suffered a hepatitis A outbreak — sparked by unsanitary conditions due to the lack of restrooms near homeless encampments. It sickened nearly 600 and killed 20.
That's why Burke is interested in the Portland Loo. Back in 2008, Portland designed a 24/7 public restroom specifically to withstand the urban challenge.
The Portland Loo is solid, largely made from stainless steel. It's hard to vandalize. The material on the walls makes it easier to wash off graffiti and buff out pocketknife scratches. It comes outfitted with a hose that makes it easy to clean. And crucially, the bathrooms are outfitted with angled slats at the bottom, protecting privacy while still making it easy to see if the bathroom is occupied — or if a person is sleeping or passed out.
It's even designed to make drug use difficult.
"It has blue lights in it," Burke says, "so you can't see your veins."
The city of Portland has sold the patented bathrooms to cities across the country.
"I got 53 locations in about 20 states, three countries," says Evan Madden, sales manager at Madden Fabrication, which constructs the Portland Loo.
Burke says she wants to talk to other members of the council about the possibilities of better public restrooms. Both councilmembers representing the downtown region, Lori Kinnear and Breean Beggs, say the question of adding additional public restrooms is worth exploring.
"I would advocate that public restrooms are not just for homeless," Kinnear says. For anyone walking downtown — especially for older people or people with kids.
Ideally, Burke would like the city to consider a pilot, installing one or two Portland Loos. One could be near the House of Charity, she says, while the other could be on the northern border of Riverfront Park. Both would be open 24/7.
She even suggests the clean team for the Downtown Spokane Partnership could handle restocking and cleaning.
But the Downtown Spokane Partnership is skeptical.
"I don't know if it's the wisest investment on behalf of the city, rather than getting these folks the help they need," Richard says. The restrooms can be expensive.
For the basic bare-bones model, it's about $90,000 to purchase one, not including installation. Maintenance costs can vary. In 2013, Portland was paying $90,000 a year simply to clean its six Portland Loos.
Portland had to face an initial backlash of angry condo owners and angry utility ratepayers when first installing the Loos.
And in San Diego, attempts to build Portland Loos backfired, becoming a "magnet for crime and one of the more notorious financial boondoggles in recent San Diego history," according to the San Diego Union-Tribune.
By 2016 — a year before the hepatitis A outbreak — San Diego tore one of the Loos out and dumped it in the city's storage yard.
The Downtown Spokane Partnership has repeatedly championed — and helped to fund — the city's efforts to provide 24/7 shelters for everyone. But Richard argues the city should be focused on helping people get out of homelessness, not on making the city a haven for homeless camps.
"I'm entirely comfortable saying that we have no desire for the streets of downtown to look like Portland and Seattle," Richard says. "I do not believe that just encouraging someone to pitch a tent or set up a sleeping bag or just giving them a dollar on the street is a dignified way to treat somebody in need."
But to Burke, not having a place to go to bathroom isn't dignified either.
"We need to humanize these people and give them dignity," Burke says. "I don't think we should putting up more barriers."♦