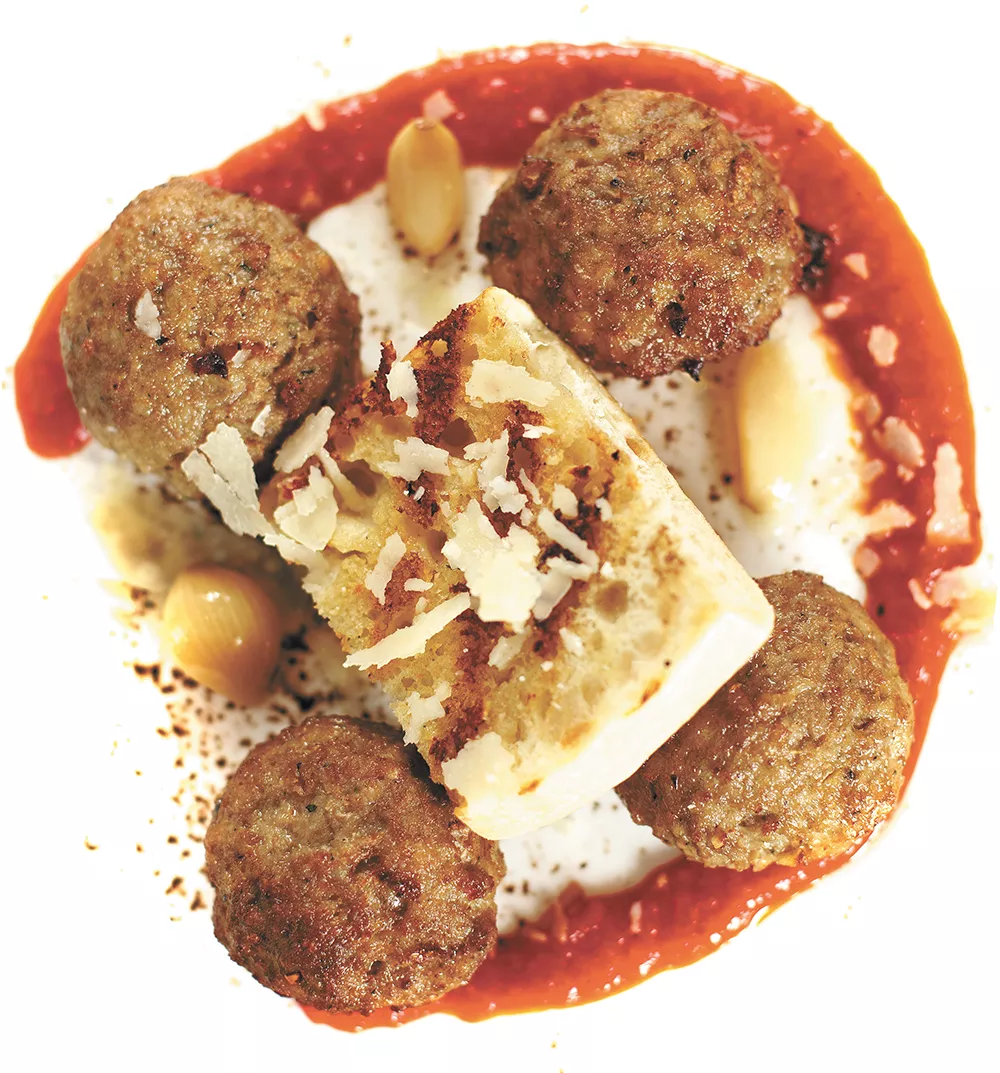 By definition, tapas are dishes of Spanish origin served on smaller plates, typically as snacks or appetizers and often with beer or wine. As this culinary trend has grown beyond happy hour in major metropolitan areas, the interpretation of what's considered to be tapas has loosened to generally include any small plate-style dish that's ideal for sharing, whether it's a party of two or 10. Because of this casual approach and the appeal of sampling a variety of flavors, tapas can be a wallet-friendly group dining experience, great when splitting the check. The Inland Northwest is home to at least one tapas-centric restaurant, Chef Adam Hegsted's Wandering Table in Kendall Yards. Often disguised on menus as appetizers, they can easily become a full meal when several dishes are shared. For this feature, we sought options that cost about $10 per person.
BISTRO ON SPRUCE
1710 N. Fourth St., Coeur d'Alene,
208-664-1774, bistroonspruce.com
With a wide range of cuisine, the Lake City isn't lacking when it comes to tapas-style dining. In addition to the Bistro on Spruce, varied small-plate offerings are found on the menus of 315 Martinis and Tapas at the Greenbriar Inn, as well as Satay Bistro. Your dollars should stretch far during the tapas and wine bar social hour at the Bistro on Spruce, offered Monday through Saturday from 2:30-5:30 pm, and featuring a $4-$5 tapas menu and half-off glasses of wine, as well as dollar-off draft beer. Try splitting the popular beef-and-fungi polenta, made with seasonal fresh mushrooms ($5) and the crostini caprese ($4) and Mediterranean plate ($4) between a party of the same size, for less than $10 each — maybe even including drinks.
ZOLA
22 W. Main Ave., 624-2416
With portions so large, even two small plates split between two people during Zola's pub tapas happy hour (Monday through Saturday from 4-7 pm) is enough for a filling, substantial meal. The maple smokehouse tacos ($5 for three tacos during happy hour; choose between fish and shredded pork as a filling) could serve as a one-person meal on their own, but can be enjoyed tapas-style when paired with anything else, like the bar's rosemary tavern fries ($5), served with a thick and savory garlic blue cheese sauce, or the lighter hummus and greek skewers ($6). Depending on the size of your party, Zola's various slider sandwiches ($4-$8) are another split-and-share option. Add a $2 domestic beer or $4 well cocktail, and it's not impossible to keep food and beverages under $10/person.
WANDERING TABLE
1242 W. Summit Pkwy., 443-4410
Sharing and sampling a host of flavors and locally sourced ingredients is the Wandering Table's — one of Kendall Yards' newest restaurants — prime philosophy. At any time, the seasonally changing menu lists more than 30 items. That could be overwhelming when trying to choose dishes that pair well, but the restaurant's chef-guided dining option allows diners to predetermine the amount they'd like to spend per person ($15 and up), and can be an easy entry into Wandering Table's tapas domain. Similarly, the restaurant offers a lunch special ($12/person), letting diners choose one item from each of three menu categories, served in smaller portions. Still, just about any combination of small plates split between any size party can be ordered with a specific budget in mind. Choosing one dish from each of the menu's four categories to be shared between three to four people provides a varied sample of Chef Hegsted's creations, and can be coordinated in a way to meet a $10/person spending cap. For a savory, lighter meal, try the chicken-fried garbanzo beans ($4) market vegetables ($7) and nettle flatbread ($11). ♦