ALBUM
Out this week comes Dropkick Murphys' ninth album, Signed and Sealed In Blood. You know the deal: the gang choruses of punk rock, the folk-style storytelling lyrics, the Irish brogue of bagpipes and tales of parties and wakes. While it doesn't have the focus of 2007's The Meanest of Times or the intensity of 1998's Do or Die, the Murphs are still a hell of a lot better than 90 percent of what's out there.
BOOK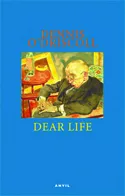 Dennis O'Driscoll is a dead Irish poet, though regrettably, he joined those ranks with his unexpected death at age 58 on Christmas Eve. His final collection of poems,
Dear Life,
caps 30 years of books filled with droll observations of the middle-class office existence. Like this:
The hidden pain of offices: a mission statement admonishing me from walls/the volatility of top brass if sales volume/for a single line falls one per cent./And customers' righteousness, their touching/faith in the perfectibility of man.
In
Dear Life
, Driscoll also tackles the Internet era, money and climate change. A barrel of laughs? Maybe not. But insight? Hell yeah.
MAGAZINE
Do you wish the world's happenings were conveyed in the grainy swoosh of a graphic novel? You, dear reader, have stumbled upon fortune.
Symbolia,
a new Tablet magazine, hooks up narrative journalists and graphic artists to produce a pulpy, altogether human manifestation of news. Six issues a year. Subscribe for the art, stay for the storytelling. If you don't have a tablet, you can still sign up to get it in PDFs, which you can then print out on the your work computer. Sweet!