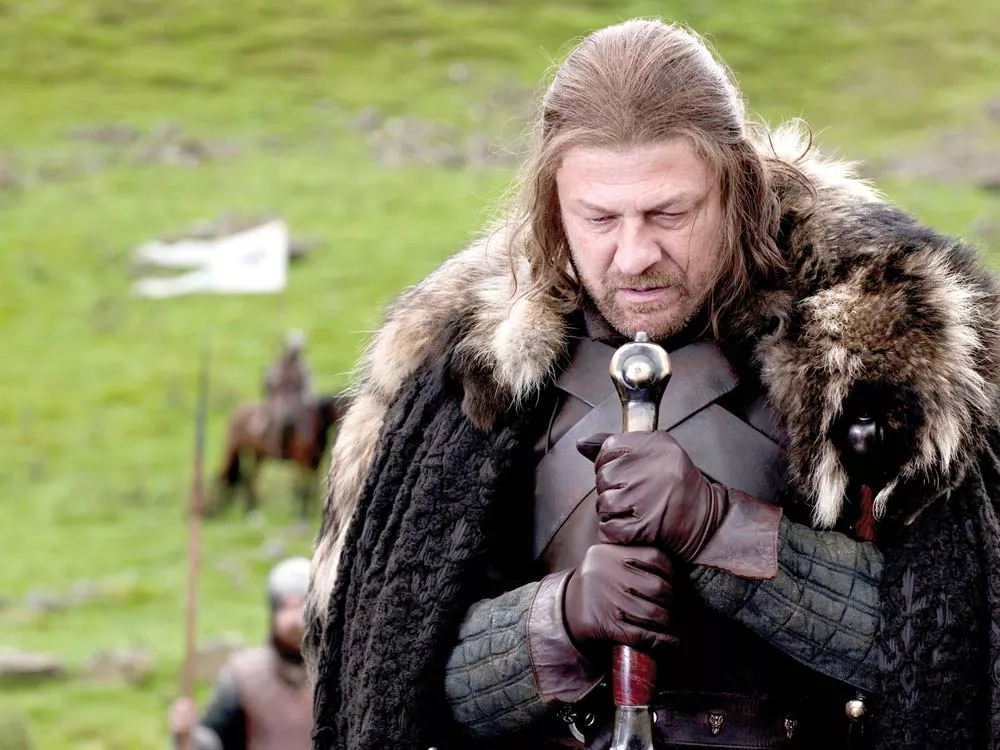 Game of Thrones, thank God, does not happen in medieval England. It doesn't happen in ancient Rome or Renaissance Italy or Prohibition-era America or any other pay-cable historical prestige-drama setting.
Instead, it happens in Westeros, where summers sometimes last years and brutal winters often drag on for decades. It's a world where a fool king — replacing a mad king — rules precariously, while a marauding horde of horsemen gathers forces across the sea. It's a world where a 700-foot-high wall protects the land from the untamed horrors to the north, where rumors of horrific "White Walkers" whisper through the chill air, where the slightest shift — a misunderstanding, a confluence of ambitions — could mean war.
That world makes the Game of Thrones much more exciting for a simple reason: The events it depicts haven't yet been summarized in your AP European History class.
Instead of being constrained by the flawed arcs of real-life history, Game of Thrones is an adapted work of George R.R. Martin, an actual storyteller.
Fantasy normally fails on television, usually because of budget. Orc battles and wizard lightning are pricey. But here the fate of Westeros rests on politics — and gossip and lies and alliances — not on battles or magic. Personal betrayal isn't just superior dramatically to special effects. It's cheaper.
Unfortunately, the opening Thrones episodes suffer from three classic HBO flaws: breasts, bosoms and boobs. They're heaving, and they fly free. The nudity in Game of Thrones shifts gleefully from mature to titillating to just silly.
And those first episodes threw so many new characters at me, I was downgraded to a "Hey, pause it, who's that guy with the sword again?" viewer. The Lord of the Rings had about 20 different important characters; Game of Thrones has more than 30.
But give it time, and Game of Thrones dials back the excessive sex and violence, shifting them from gratuitous to crucial and catalytic.
More importantly, most characters become distinct and vivid — more than vivid, iconic. Most series thrive with one or two truly great characters. But Game of Thrones — with its smirking and devious adviser, its rich and sarcastic dwarf, its bombastic and short-tempered king (I could go on) — has dozens.
And then they fight, seduce, deceive and destroy each other with glorious high-def melodrama. And without casting a single Magic Missile.
(Sundays, 9 pm, HBO)
---
TIVO - WORTHY
Eagleheart
The universe of an Adult Swim show is a malleable one. The laws of physics, the rules of character, the substance of space-time itself, can always be rewritten for any given punch line. In Eagleheart, featuring U.S. Marshal Chris Monsanto (Chris Elliot), every punch is accompanied with a shower of blood, and every one-liner is accompanied by an actual wink. (Thursdays, midnight, Adult Swim)

Jesus: The Lost 40 Days
With Easter just around the corner, even the History channel has caught Jesus fever. This two-hour special purports to unveil what Jesus did in the 40 days after his resurrection. Considering that it seems to both take Jesus' resurrection as fact and draws from bonus gospels like "Secret Revelation of John" and the "Gospel of Mary Magdalene," expect it to peeve both atheists and Christians. (Wednesdays, 9 pm, History)

The Paul Reiser Show
If you are a comedic entertainer and you must name your sitcom "The [YOUR NAME] show," make sure you actually have some name recognition. And no, Mad About You doesn't count. (Thursdays, 8:30 pm, NBC)