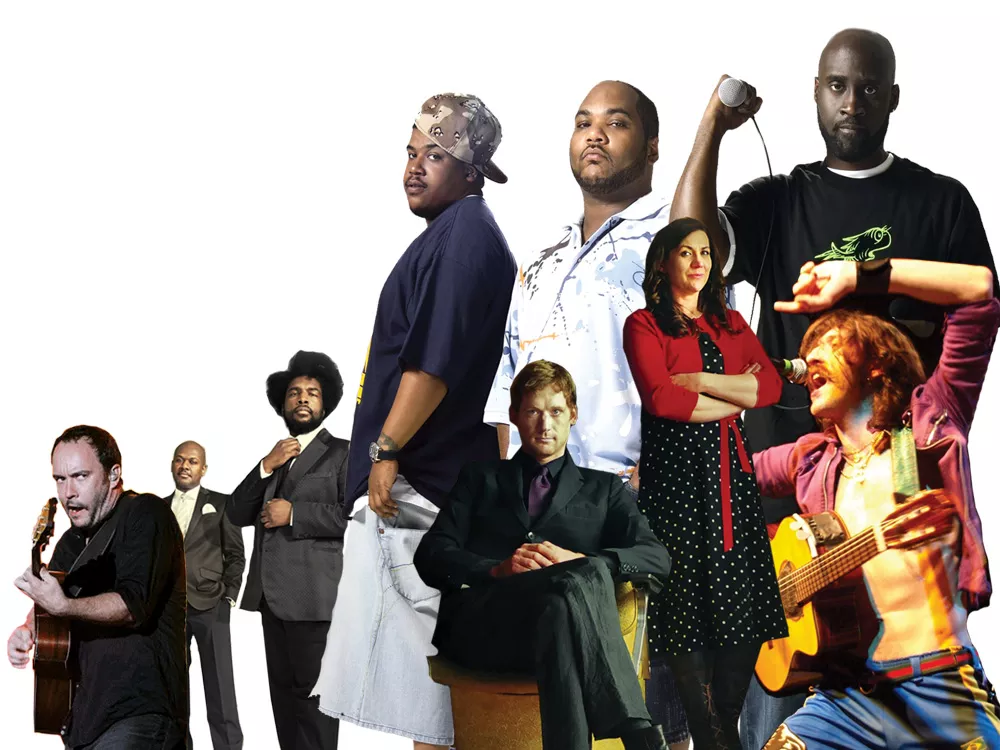 What new can be said about the Dave Matthews Band's annual late-summer lovefest at the Gorge? If you're a fan, you're going — for the fifth or fifteenth time. But even if you're not a DMB fan, this year's caravan is worth a look — the three-day fest, which stops at the Gorge over Labor Day weekend, has a new format. This year, your pilgrimage to the Gorge won't be to just see Dave but a diverse lineup ranging from hip-hop to indie rock that's apt to interest music fans of all stripes. Read on for this year's not-to-be-missed acts.
John Butler Trio
Trawling the JBT fan forum, I rediscovered the phrase "puff, puff, give." This may not engender confidence in non-jam band circles, and neither will John Butler's gauged ears, nose ring, scruffy facial hair, and white-dreads past. But consider that the band holds three number-one albums in their home country, Australia, earning Butler the nickname the "Million Dollar Hippie." He does good work with his largesse, lobbying for environmental preservation. He also founded a nonprofit that provides grants for musicians and artists.
Gogol Bordello
My favorite Gogol Bordello moment has nothing to do with the band. Rather, it's frontman Eugene Hutz's appearance in the 2005 film Everything Is Illuminated. Lacking his trademark mustache and wearing a tracksuit and Kangol hat, Hutz looks nothing like the begrimed singer of a gypsy-punk band. But the movie's Bordello-studded soundtrack (and the band's appearance in one scene) makes the connection between fiction and reality.
De La Soul
The rap in the Gorillaz hit "Feel Good Inc." is a recent highlight for hip-hop godfathers De La Soul, garnering them the first Grammy in their nearly quarter-century career. Their 1989 debut, 3 Feet High and Rising, remains their best-selling album. But their consistent innovation changed underground hip-hop forever and influenced artists from the Black Eyed Peas to Digable Planets.
The Roots
Roots drummer Questlove has become a brand in his own right, with nearly 1.7 million Twitter followers and a profile photo in which he poses with President Obama. His heady intellectualism, tempered with humor, is characteristic of his band's unapologetically cerebral bent. Emcee Black Thought is one of the most original lyricists out there, while the band's dedication to live instrumentation sets them far apart from your average major-label signee.
Devotchka
This mellowcore act from Colorado includes incorporates the theremin, sousaphone, and bouzouki into its calculated, ornate songs. Reminiscent of a sleepier Beirut, they've become a favorite of Hollywood music supervisors. You'll recognize their sound from the sleeper film Little Miss Sunshine.
Edward Sharpe and the Magnetic Zeros
You've no doubt heard the infectious song "Home" blaring from every frozen yogurt joint, Hollister playlist, and NFL commercial in the past two years. But what you might not know is that "Edward Sharpe" does not exist, per se. Rather he is the alterego of Alex Ebert, who fronted dance punk act Ima Robot ("Dynomite," anyone?) before trading striped sideburns for a Jesus beard and synths for acoustic guitar. It's quite the transformation.
Antibalas
Modeled on the great Fela Kuti's Africa 70 band, Brooklyn's Antibalas features a dozen members playing music influenced by jazz, dub, and traditional drumming. They are also responsible for the music in the acclaimed Broadway show about Kuti, Fela!
Dispatch
Fans of Jack Johnson, G. Love, and Sublime were undoubtedly overjoyed when Dispatch announced the end of their nearly decade-long hiatus earlier this year. Since then, the band has played a series of shows, released an EP, and played Jimmy Fallon. Lovers of acoustic guitar and talk-singing, rejoice.
Other Must-See Acts
The Moondoggies, The Fruit Bats, The Low Anthem, Josh Ritter and Blind Pilot. So, pretty much everyone.

Dave Matthews Band Caravan • Sept. 2-4 • Gorge Amphitheater • George, Wash. • $85-$195 • All Ages • dmbcaravan.com