Dancing, drumming, singing, regalia, storytelling. They're not just vital to many tribal cultures; they're sacred. That makes for challenges in sharing essential aspects of one's culture with the community at large, in a manner respectful to all members of the cultural group, says Coeur d'Alene Casino Resort and Hotel Cultural Affairs Director Quanah Matheson.
"We're trying to find a balance," says Matheson, who formerly served three years in a similar position for the Coeur d'Alene Tribe, and has been working this past year on a new cultural tourism program of day and overnight trips, offered from June 13-23.
The four packages, says Matheson, are designed to connect casino guests and interested parties with Coeur d'Alene tribal culture, as well as the land itself.
"They're going to hear some history, some stories, some Indian humor," says Matheson, who describes the packages as adventure tourism with a cultural bent.
The Wander package, for example, offers guests a choice of two out of three outdoor options: canoeing the nearby waterways, hiking, or biking the Trail of the Coeur d'Alenes ($50/person). Boxed lunch and $10 gambling credit are included.
The Bison Ranch package gives guests an up-close-and-personal look at Warren "Buzz" Howard and his wife Melissa's H2H Bison Ranch in Worley, Idaho. It includes transportation, a guided tour, box lunch and $10 in gambling credit ($75/person).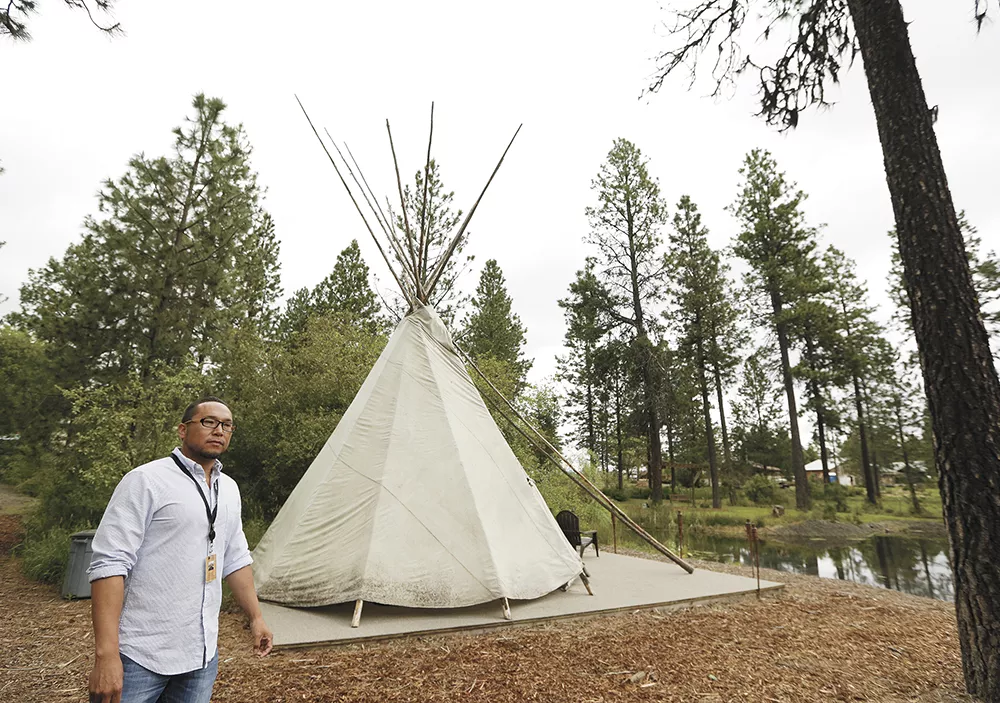 An overnight stay can be added to either package, which includes a room with a single king-sized or double queen-sized bed in the Mountain Lodge, additional gambling credit, and a grilled bison burger for lunch. Also included is an evening of listening to Native American storytelling and watching traditional dancing.
In addition, the expanded Wander package gives guests the option of exploring the outdoors — canoeing, hiking or biking — or a guided trip to the Cataldo Mission, which features a 5,000-square-foot exhibit entitled Sacred Encounters: Father De Smet & the Indians of the Rocky Mountain West. The mission dates to the early 1850s, making it the oldest building in Idaho, and was a joint construction effort by Catholic missionaries and members of the Coeur d'Alene Tribe.
Matheson is fascinated by the region's history, and has spent considerable time talking with not only tribal elders, but also longtime residents, many of them homesteaders. He has also traveled to indigenous visitor and interpretive centers across the country, gleaning ways in which the Coeur d'Alene Tribe might share its culture in a way that is respectful and honors native traditions.
"I don't want to move too far from that, but also want to share who we are," he says.
The packages are designed to appeal to people who might want a break from or an alternative to golfing or gaming, says Matheson. They may also appeal to those curious about regional history and culture.
They're also a work in progress. In the future, says Matheson, guests may be able to visit a traditional village being constructed in Chinook Meadow. They're also looking at connecting with other events, such as the upcoming Crave! NW festival's "Fire and Smoke" barbecue tasting on June 17.
"We'll keep developing," says Matheson. "See where the interest lies." ♦
Coeur d'Alene Casino • 37914 S. Hwy 95, Worley, Idaho • cdacasino.com/culturaltourism • 800-523-2467