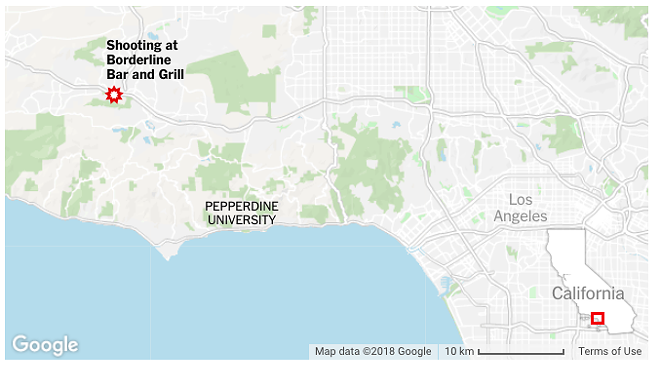 By Jose A. Del Real, Gerry Mullany and Russell Goldman
New York Times News Service
THOUSAND OAKS, Calif. — At least 11 bar patrons and a sheriff's deputy were killed late Wednesday in a shooting at a country and western dance hall in Thousand Oaks that was holding an event for college students, officials said.

The gunman is dead, officials said early Thursday, adding that there was no longer a threat to those at the bar, the Borderline Bar & Grill, which had been filled with about 100 people at the time of the attack. Witnesses described a chaotic scene: A gunman opening fire, first at a security guard, as patrons dropped to the dance floor, hid under tables and broke windows to escape.
"He died a hero because he went, he went in to save lives, to save other people's lives," Dean said.
When other law enforcement officers arrived at the scene, he added, the suspect was already dead. Dean said the suspect had not been identified, authorities had "no idea" whether he had links to terrorism, and it was not clear if he had taken his own life. President Donald Trump said on Twitter that he had been "fully briefed on the terrible shooting."
Country music was playing in the dimly lit bar when people first heard gunshots sometime before midnight. Some said they had initially mistaken the sounds for firecrackers.
One young woman inside the bar, Teylor Whittler, said the gunman appeared focused and did not appear to be targeting anyone in particular.
"I saw him shoot," Whittler said, adding that someone had yelled, "Everybody get down."
She said she saw him quickly reload his gun and fire again.
"People started running to the back door," she said, and she heard someone shout, "Get out — he's coming." She then fled the venue and heard another burst of gunfire.
Brendan Kelly, 22, helped several people escape from inside. "It's your worst nightmare," he said. "It's terrible."