H
alloween is upon us.
Since the haunting holiday this year falls on a Thursday night, opportunities for donning costumes and spooking your friends and family abound this weekend and into next week. Here's a roundup of highlights from the
Inlander
's online
events calendar,
from horror films to kid friendly activities, parties for the 21+ crowd and more.
FAMILY-FRIENDLY

The Amazing Maze

Explore a giant box maze covering the entire floor of the local church's gymnasium. Snacks and beverages are available for purchase.
Oct. 25-26 from 6-8 pm. Free and open to the public. Spokane First Church, 9004 W. Country Homes Blvd. (467-8986)


Ghoul Old-Fashioned Fun

Join Camp Fire volunteers for spooky, safe and family-friendly Halloween fun at Camp Dart-Lo, including a haunted house, treat hunt, bingo, costume parade, crafts and more. Wear warm clothes and sturdy shoes for traversing Camp Dart-Lo's outdoor terrain.
Fri, Oct. 25 from 4:30-7 pm and Sat, Oct. 26 from 11 am-4 pm. $5/child. Camp Dart-Lo, 14000 N. Dartford Dr. (747-6191)

SpookWalk

Meet the ghosts of Browne's Addition on a walking tour of the neighborhood. Meet at "The Secret Garden" behind Browne's Bistro to sing "Pumpkin Carols" and drink apple cider between 6:30-7 pm.
Fri-Sat, Oct. 25-26 and Thu, Oct. 31 from 6:30-8:30 pm. $20. Browne's Bistro, 1924 W. Pacific. tinyurl.com/BrownesTours
The Great Pumpkin Race

The highlight of this annual Meals on Wheels Spokane fundraiser is seeing pumpkins on wheels racing to the finish line. Dress up in costume for a 1K or 5K walk/run and enjoy vendors and music in the fall setting of Greenwood Memorial Terrace.
Sat, Oct. 26 from 8 am-2 pm. $15-$25. Greenwood Memorial Terrace, 211 N. Government Way. mowspokane.org
Colville Corn Maze & Pumpkin Patch

Visit the 12-acre corn maze and take home a pumpkin from the patch or choose from a display featuring all sizes, shapes and colors.
Open daily from 11 am-7 pm through Thu, Oct. 31. $6-$8/maze admission. 73 Oakshott Rd., Colville. colvillecornmaze.com
Moonlit Monster Cruises

Spend Halloween weekend on the waters of Lake Coeur d'Alene during fright filled 45-minute cruises featuring spooky decor, a photo contest, Halloween cocktails and more.
Oct. 25-27; hourly departures from 5-8 pm. $10. The Coeur d'Alene Resort, 115 S. Second St. cdaresort.com


Ancient Tales of Magic: The Music of Harry Potter and Other Halloween Favorites

The Spokane Symphony's annual concert tradition features pre-show activities in the lobby, including cosplayers, photo ops and more, followed by a program of music from the
Harry Potter
films and other seasonal favorites.
Sat, Oct. 26 at 2 and 8 pm; Sun, Oct. 27 at 3 pm. $22-$55. Martin Woldson Theater at the Fox, 1001 W. Sprague. spokanesymphony.org
Slightly Spooky Celebration

Celebrate Halloween with slightly spooky activities. Kids of all ages are welcome to wear and show off their costumes.
Sat, Oct. 26 at 10:30 am. At the Moran Prairie and Airway Heights libraries. scld.org/events

Trunk or Treat: Spokane Humane Society

A dog-friendly trunk or treat festival. Bring your decorated car trunk and hand out candy, or dress up for costume contests, including dressing yourself and your dog alike.
Sat, Oct. 26 from 1-4 pm. Suggested $1 donation at the door; ages 6 and under free. Spokane Humane Society, 6607 N. Havana St. (467-5235)
Spark-o-ween

Spark Central gets spooky for a day of creative learning and trick-or-treating. Help build a monstrous LEGO mansion, enchant a drawing to light up and type a scary story on our haunted typewriter. Costumes welcome, but not required.
Sat, Oct. 26 from 2-5 pm. Spark Central, 1214 W. Summit Pkwy. spark-central.org (279-0299)
Rosalia Halloween & Fall Festival

The inaugural event in the small Palouse town includes a dessert walk, kids crafts, wagon rides, glow light parade, street dance, food and drink vendors, photos, trunk-or-treat and more.
Sat, Oct. 26 from 3-9 pm. Free. Rosalia, Wash. facebook.com/RosaliaChamberofCommerce


Haunted Hope
A free family event with games, prizes, a spooky cabin, bounce house, face painting and more.
Sat, Oct. 26 at 4 pm. Free. Hope Marketplace, 620 Wellington Place, Hope, Idaho. (208-264-5696)
Goodwill Trunk or Treat

Join Goodwill Industries and the Local Finesse Car Club at the South Hill store for candy and treats, a car decoration competition and more.
Sat, Oct. 26 from 6:30-7:30 pm. Free. Goodwill, 2927 E. 27th Ave. discovergoodwill.org

Trick or Treat: Downtown Coeur d'Alene

A safe, family-friendly event at participating businesses throughout downtown Coeur d'Alene. Also stop at Sixth and Sherman for a trunk or treat event hosted by First Presbyterian Church.
Thu, Oct. 31 from 4-6 pm. Downtown Coeur d'Alene. (208-415-0116)


Trick or Treat: Whitman County Library

Come dressed in costume and trick-or-treat at the Colfax, Garfield, Oakesdale, Rosalia and St. John branches of Whitman County Library.
Thu, Oct. 31 from 5-7 pm. Free. whitco.lib.wa.us.

Campbell House Halloween

Wear your costume to this family-friendly Halloween experience offering a scavenger hunt, candy and crafts for all ages.
Thu, Oct. 31 from 5-8 pm. $5; ages 3 and under free. Northwest Museum of Arts & Culture, 2316 W. First. northwestmuseum.org (456-3931)
Trick or Treat So All Can Eat

WSU College of Nursing students hosts this third annual event for kids with dietary restrictions or other special needs, offering games, crafts and prizes, plus carb counts on all treats, gluten-free options and a peanut-free environment.
Thu, Oct. 31 from 5:30-7:30 pm. Free. Girl Scouts HQ, 1404 N. Ash. St. (324-7340)
Trunk or Treat: East Central

Decorate your trunk, meet the neighborhood and pass out all treats to local kids (only prepackaged items can be distributed).
Thu, Oct. 31 at 6 pm. East Central Community Center, 500 S. Stone St. (868-0856)
Neon Jungle

An immersive glow fun house experience for all ages. Proceeds benefit local students with learning disabilities through the Wired2Learn Foundation.
Oct. 30-Nov. 1 from 6-9 pm. $5. 1800 N. Hwy. 41, Post Falls. w2lfoundation.com
MUSIC + NIGHTLIFE
Elektroween
The Pin's annual Halloween EDM party, with a haunted house inside the venue, demos from special effects makeup artists, live painting, DJs and more.
Fri, Oct. 25 from 7 pm-2 am. $10-$20. Ages 18+. The Pin, 412 W. Sprague. thepinspokane.com
Baby Bar Halloween Cover Show

Local artists perform as some of their favorite musical acts, including a few Hall of Famers: BaLonely taking on the slick Swedish pop of ABBA, Atari Ferrari strutting their stuff as the Rolling Stones, William Brasch as husky voiced Bob Seger. Also on the docket are tributes to the Replacements, Jesus and Mary Chain, the Go-Gos and Ween.
Sat, Oct. 26 at 9 pm. Free. 21+. Baby Bar, 827 W. First Ave. (847-1234)

Halloween Cover Show

Featuring Heart of an Awl as Knocked Loose, Local Sports Team as blink-182, 4x4 as the Acacia Strain, Stubborn Will as Alkaline Trio and Skunktopus as NOFX.
Sat, Oct. 26 at 7 pm. $5; free admission with costume. The Pin, 412 W. Sprague. thepinspokane.com
Moonlight Monster Cruise (21+)

An adults-only cruise on the lake with music, dancing, cocktails and more.
Sat, Oct. 26, departures at 9, 10 and 11 pm. $10. The Coeur d'Alene Resort, 115 S. Second St. cdaresort.com
Spooky Family Dinner + Open House

A quarterly open studio potluck event for community members to visit Richmond Art Collective studios to get to know resident artists. Costumes not required, but encouraged.
Sat, Oct. 26 from 6-9 pm. Free. Richmond Art Collective, 228 W. Sprague. (805-895-1419)
The Rocky Horror Picture Show

The Garland's regular screenings of the 1975 cult classic include prop bags, shadow casts and other revelries.
Sat, Oct. 26 at midnight. $7. Garland Theater, 924 W. Garland. garlandtheater.com.
Moscow's Kenworthy Theater is also screening
Rocky Horror
, with four possible showtimes and for-purchase prop kits.
Fri-Sat, Oct. 25-26 at 9 pm and midnight. $15. The Kenworthy, 508 S. Main, Moscow. kenworthy.org
Monster's Ball Halloween Party

Featuring a cash prize costume contest, live DJ, no-host bars, beer pong, photo booth, happy hour specials and more. 21+.
Sat, Oct. 26 at 9 pm. $25-$30. The Coeur d'Alene Resort, 115 S. Second St. cdaresort.com
Spoopy in Spokane

Hip-hop gets a Halloween twist, as local artists Brotha Nature, Willis the Realist, Rouzer and Exzac Change & Matisse hit the Big Dipper stage. Expect merch giveaways and prizes.
Sat, Oct. 26 at 7 pm. $15. The Big Dipper, 171 S. Washington. bigdipperevents.com
American Horror Story Halloween
!Lyyv! Events hosts this themed Halloween event with tricks, treats, games, costume contests and live music.
Thu, Oct. 31 at 5 pm. $5-$10. The Roxie, 5201 N. Market. (475-2500)

SCARES

Northwest Horror Fest

See a selection of regionally made horror shorts. A panel of independent judges present awards in a number of categories, including special effects, editing, direction and a prize for best overall film.
Fri, Oct. 25 at 7 pm. $15. Garland Theater, 924 W. Garland. (327-1050)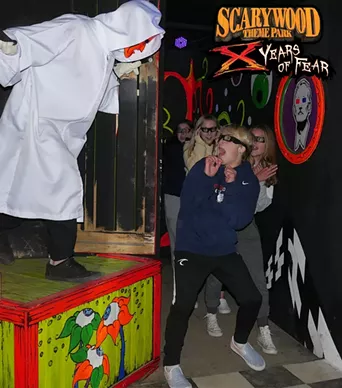 Scarywood Haunted Nights

The 10th annual spook fest at Silverwood Theme Park has already been running since the start of the month and is bound to be busy during its last two weekends as locals flock to scare themselves silly at multiple "scare zones" throughout the park.
Thu from 7-11 pm; Fri-Sat from 7 pm-midnight through Sat, Nov. 2. $27-$41. Silverwood Theme Park, 27843 US-95, Athol, Idaho. scarywoodhaunt.com
Adult Scary Storytime

Too frightening for kids, grownups (ages 21+) can enjoy scary stories by Stephen King, Edgar Allen Poe and other authors while enjoying complimentary treats, spirited beverages and other scary surprises.
Fri, Oct. 25 at 7 pm. Free. Colfax Library, 102 S. Main St. (397-4366)
Nightfall with Edgar Allen Poe

A highly theatrical adaptation of four tales that Poe himself considered his best: "The Raven," "The Fall Of The House Of Usher," "The Pit and the Pendulum" and "The Tell Tale Heart."
Oct. 25-27; Fri-Sat at 7:30 pm, Sun at 2 pm. $10-$12. Pullman Civic Theater, 1220 NW Nye St. pullmancivictheatre.com

Terror on Sierra
A local haunted house.
Oct. 26-31 from 7-10 pm. $5. 619 E. Sierra Ave., Spokane stevenmcintosh4413@gmail.com
King Family Haunted House

The annual family-organized haunted house in North Spokane this year is taking donations to support Make-A-Wish.
Oct. 25-26 and 28-30 from 7-9 pm. 15604 N. Freya. facebook.com/thekingfamilyhauntedhouse