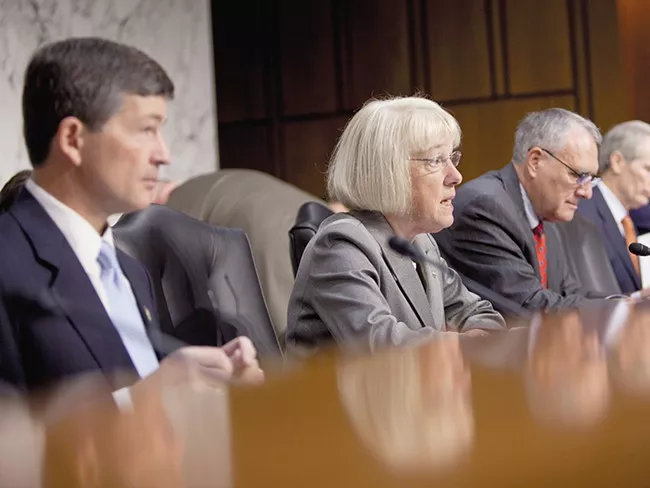 UP IN SMOKE
Across the Inland Northwest, AIR QUALITY reached unhealthy levels last week, and hazy conditions could persist for months.
Wildfires are burning in over 709,000 acres of Washington state and 182,000 in Idaho, according to figures from the National Interagency Fire Center. Smoke from those fires has diminished air quality in Spokane and in North Idaho.
On Aug. 21, the Spokane Regional Clean Air Agency designated the air as being "hazardous," the most unsafe category, and encouraged people to stay indoors and keep their windows shut. Lisa Woodard, the agency's spokeswoman, can't remember the last time the air quality reached such an unsafe level. As of press time, the air quality in Spokane was designated as "unhealthy," a step above "hazardous" but still at a level where the agency urged people to stay inside. Last week, the Idaho Department of Environmental Quality issued similiar alerts for the state. In Idaho's five northern counties, the air quality was designated as unhealthy and was expected by the department to remain in those levels in the coming days.
In October of 1991, Eastern Washington experienced a large firestorm. Papich says that while the current fires are not as bad, it'll be longer until the skies clear.
"I think one of the major differences," Papich says, "is that we have a lot of people who are saying there might not be an end to this until it snows." (JAKE THOMAS)
RUNNING OUT OF TIME
Washington state officials are in danger of missing the January deadline for reducing wait times on court-ordered MENTAL HEALTH competency evaluations, according to a court-appointed monitor. In April, a U.S. District judge ruled that wait times beyond seven days are unconstitutional.
Danna Mauch, appointed to monitor the Department of Social and Health Services' progress, released a report last week saying the department has made some progress, but she is concerned that seven-day waiting periods won't happen by the deadline.
Mauch is also concerned that health officials' efforts aren't enough to help those currently waiting. Indeed, as of Aug. 24, 24 people had been evaluated but were waiting for a bed at Eastern State Hospital, and 138 people were still waiting for an evaluation.
It's not like DSHS is doing nothing. In July, the legislature passed a biennial budget allocating $40.9 million for 90 more beds and 13 more forensic evaluators between both facilities. Western will get eight more evaluators and 45 more beds; Eastern will get five more evaluators and 15 more beds.
Hiring those evaluators might be an issue. In July, the state made offers to 12 evaluators. Eight accepted positions at Western State Hospital, but no one wanted to work on the eastern side of the state. (MITCH RYALS)
THE REAL DEAL
While both the U.S. House and the Senate are controlled by Republicans, the survival of President Obama's NUCLEAR DEAL with Iran will come down to the Democrats. Republicans need 67 votes to override Obama's threatened veto.
For months, Washington Sen. Patty Murray hadn't taken a position. But on Tuesday, via a nearly 2,000-word post on the website Medium, Murray came out in favor.
"I support this deal not because I trust Iran, but because I don't trust Iran," she wrote. "This deal gives us more tools to respond — not less, and it keeps the international community behind us in that effort."
Supporters of the deal say that it is the only reliable way to avoid war with Iran while dramatically increasing the amount of time it would take for Iran to develop a nuclear weapon. Opponents, including Israel's leaders and Democratic Sen. Chuck Schumer of New York, argue that the outlined inspection process is too weak, and worry that lifting economic sanctions will allow Iran to funnel more money to terrorist groups.
Murray, who calls herself a strong supporter of Israel, shares some of those concerns, but she has faith in the deal's inspection guarantees, and stresses that if Iran cheats, the sanctions would snap back into place.
Idaho Sens. Jim Risch and Mike Crapo have both made statements indicating they opposed the deal. Washington Sen. Maria Cantwell, according to her office, is still reviewing her position. (DANIEL WALTERS)