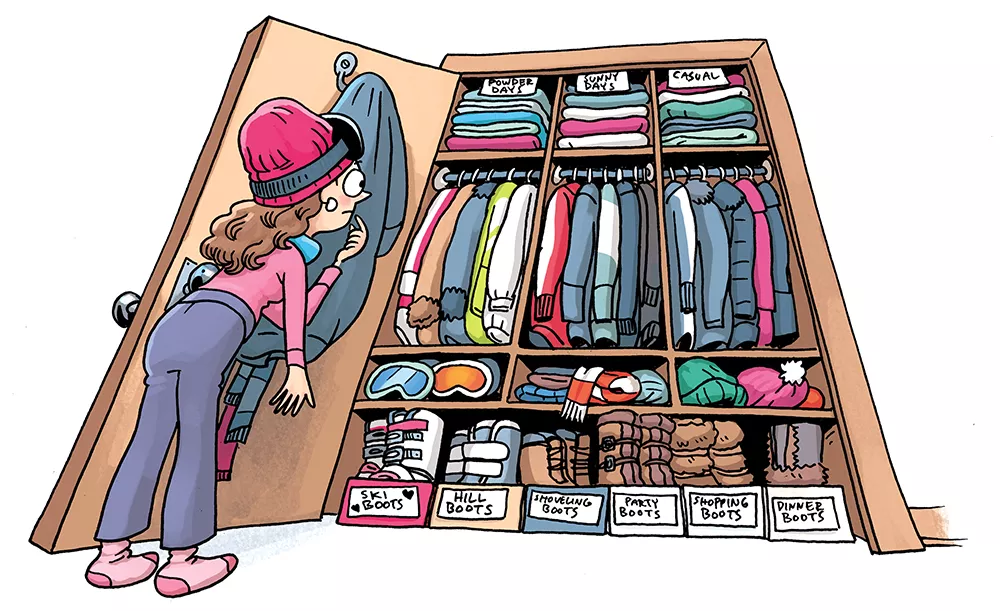 Living in a mountain town during ski season can be summed up in a couple of cold realities: four months of sleep deprivation and neglected personal responsibilities. Not much happens other than "ski, eat, sleep and repeat." Hundreds of dollars are spent to acquire new gear. My justification? I don't have an expensive jeans or purse habit, but an expensive ski habit. I spend all fall simplifying life so once ski season arrives, life can go on autopilot until spring. That said, ski life presents some mountain-town living woes.
Clothing Conundrum
Simplicity stops when I go to my ski closet. Some of my hardest decisions during the season have to do with what to wear. I have a puffy jacket for every occasion — eight puffy jackets, to be honest.
Powder Problems
During the season, I live for powder days when we get snow down in the valleys. This typically ensures a "blower" powder day on the mountain. The blanket of snow in town comes with annoyance that I must shovel snow, thanks to city ordinances. I'll assess if I can neglect snow removal until after "hot lapping" my favorite powder stashes for the day. The neglect continues due to the powder-day ritual of toasting a great day with an après-ski beer. Upon returning home, I hope my neighbor has cleared my sidewalk. If so, a bottle of wine goes a long way to say "thank you." But it's not always that simple. Why I don't just buy a snowblower? I can't — I have superstitions. If I buy one and we have a bad snow year, it's because I bought a snowblower. Now if someone gives me a snowblower? That's different. Hint, hint.
Work Woes
Certain days require me to ski, then go to work. This is the only way I can reach 100 ski days in one season. This routine sees me heading up the hill to get in an hour of skiing before heading back down the mountain to go to work. Usually after changing quickly in the parking lot, brushing my hair, pulling it back to hide my helmet hair, and arriving at work with wind-burned, goggle-indented cheeks, complemented by an ear-to-ear smile.
Travel Troubles
My travel routine could be classified as "burning it at both ends." The 100-day goal typically requires me to ski my "home mountain" then drive to my destination, only to arrive in the middle of the night in a blustery snowstorm, and somehow justify that it makes no sense to get a hotel room, but rather to just sleep in the car in the parking lot — that's why zero-degree sleeping bags and headlamps were invented, right? After a couple of days of hard-charging a new mountain, the drive home is usually in the wee hours of the night. I arrive home sleep-deprived, too tired to shovel the newly accumulated snow that fell while I was out of town. Again, I neglect it so I can find the comforts of my warm bed and rest my tired legs. I fall asleep promising myself I'll get up early to do some snow management before heading back up the mountain the next morning — unless, of course, it's another powder day. Living in a mountain town can bring its own vicious cycles. ♦